Storytelling for social justice
DePaul University's Center for Identity, Inclusion and Social Change hosted a hip-hop and social justice workshop with Aisha Fukushima last Tuesday morning, Oct. 25.
In Student Center 120AB, there was plenty of room for attendees to get up and participate, and they did just that.
Fukushima is the founder of a program called Raptivism, a hip-hop project that spans ten countries and four continents "highlighting the ways culture can contribute to universal efforts for freedom and justice by challenging oppression with expression," according to Fukushima's website.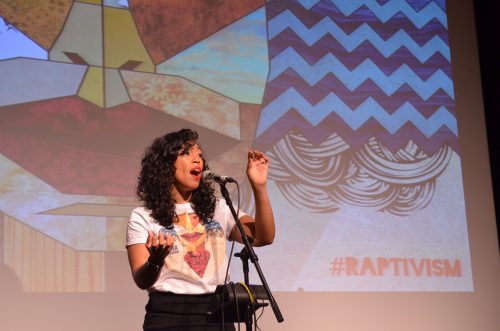 Fukushima hosted the event as both a lecture and a workshop. For the first half of the event, she had everyone up and out of their seats to join a "cipher circle," where attendees created beats and rhymes of their own.
For the middle portion of the event, everyone returned to their seats. Only this time, attendees all sat in front of the lecture hall and next to strangers, rather than scattered across the room as they were before the cipher circle.
By the end, Fukushima had attendees creating and sharing their own poems and stories over hip-hop beats.
"Today I saw a lot of emotion that was bubbling beneath the surface, and would come out in different forms of poetry or different forms of song, people taking some courageous choices that I thought was really exciting," Fukushima said. "I saw a huge evolution from the beginning to the end of the workshop, people opening up and sharing. I think that was really inspiring."
The event was just one of the Center's many events per quarter, which all focus on social justice and storytelling.
Johnny LaSalle, the programming coordinator at the Center, is in charge of the cultural programming component for event planning. This year's theme for cultural programming is "Envisioning A New Beginning."
"I am tasked with finding innovative, transformative individuals in the form of speakers and artists that are connected to the theme that we're putting on every year," LaSalle said. "We really wanted the opportunity to showcase how spoken word artistry can be put to transformative use for social change."
LaSalle particularly wanted to bring Fukushima in to speak because of her global awareness. As an African American Japanese woman who has traveled outside the country many times for performance, Fukushima's work and talks are influenced by her experiences around the world.
Fukushima's workshop even brought in non-DePaul attendees for the event. Gerald Guevarra, 26, graduated from Loyola University but heard about the event from his girlfriend. Both are fans of Fukushima's work and how she involves people in social justice discussion through artistic mediums.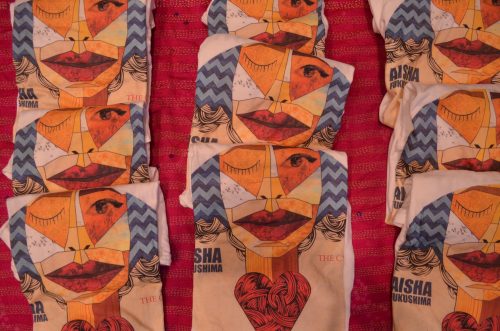 "It's good for me to be reminded of the different degrees of where people are at within social justice and in the context of hip-hop," Guevarra said. "It made me feel grateful for my undergrad years, and being exposed to spaces similar to this and to other like-minded people that are compliments to what I'm thinking."
With tensions building in our country's current political realm, some feel spaces and discussions such as these are more important than ever. They can offer a chance to reflect with a group of people, and step away from the tumultuous atmosphere out in the world.
"I think spaces like this provide creative alternatives to what's possible for grounded debate, discussion and reflection. My reflection of the workshop this morning was more of an opportunity for people to just reflect," Guevarra said. "I think sometimes in moments of silence there's a powerful presence of people just needing time to unpack, and I think in reference to what's happening in this country, there's a lot of emotion there that people are still processing. I think spaces like this provide an outlet."
Fukushima also believes that with all the political tension, people are more and more curious about workshops such as these. It's a way for people to channel their activist work and feelings in a peaceful manner, and come together in the process.