Levi Cook steps into big role
Typically, a breakout player isn't a freshman.
Usually it's an upperclassman who is finally getting their shot to break into the starting lineup and have a career year. It's because they have their past experience that they can break out into a star from.
Sometimes, however, that opportunity comes earlier.
"There are coaches that don't like playing a lot of freshman, and I can see why," head men's basketball coach Dave Leitao said. "You can see the lack of experience and how that can cost you. That's where my patience comes in with (Levi Cook) and just having him know that I know he's learning and that he'll have to play through some mistakes instead of watching someone else play and learning that way."
Freshman forward Levi Cook is The DePaulia's pick for the men's basketball breakout player of the year. As a freshman, he is poised to be a starter and pick up a bulk of the big man minutes.
"The biggest adjustment is just realizing what I need to do to help the team," he said. "I think my role on this team is different than any other team I've been on the past two or three years. I just got to remember that's my role."
Cook is 6-foot-10 and 293 pounds. He's the biggest member of the Blue Demons' roster this season and comes to DePaul from Glen Daniel, West Virginia. He was a three-star forward coming in according to 247sports.com, and shot up the depth chart after the Blue Demons lost four forwards to transfer.
Then, senior forward Peter Ryckbosch broke his kneecap over the summer, which gave Cook his opportunity to shine.
"He brings a very positive energy," Leitao said. "He's got good hands, he's got pretty good feet, determination. It's like anybody else, he's learning."
Cook has turned to the veteran forwards for advice on adjusting to college ball.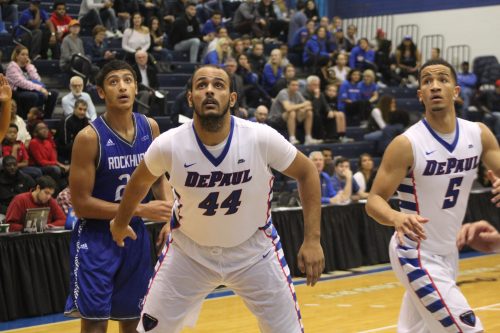 "I feel like I'm adjusting pretty well," he said. "All of the older guys, especially (Joe Hanel) and (Peter Ryckbosch) help me with the process every day. They're always talking to me and giving advice. It ain't not worked yet so I'm going to keep using it."
Part of that advice has been adjusting to the college level in terms of stamina.
"He's learning, while at the same point in time, trying to get himself in shape," Leitao said. "Not necessarily where his weight is but where his stamina is at. He's carrying a heavy load so as a young guy, understanding the work ethic needed to get yourself in tip top condition is new to him."
The Blue Demons have five forwards ready to go by opening day: Cook, freshman forward Al Eichelberger, junior shooting forward Tre'Darius McCallum and walk-on seniors Joe Hanel and Dave Leitao III. Since there's not a lot of big options, the Blue Demons have had to mix and match with their guards and forwards.
"The practices have been very physical," Cook said. "You've got guards having to guard bigs at times, they got to do what they've got to do to guard them. Me and "Big Al" (Eichelberger) have been battling hard every single day. We go hard because we know we're young and we both know we have to step up."
Part of what has helped Cook so far is his positive attitude, because it helps him move on when he doesn't succeed.
"Because he's got a positive attitude when he has a bad moment, he doesn't let it linger," Leitao said. "When he has a bad day he comes back the next day with some positivity. It allows him to fit in and allows the other guys to see what his potential is."
While the load will be heavy for such a young player, Leitao is confident that Cook and the other freshmen will be able to step up.
"My challenge to them is 'isn't that what you ask for? Isn't that why you go to college," he said. "So now, here's the answer. You've got to make the most of it and ramp up everything."
Cook is ready to ramp it up.
"I'm a basketball player at the end of the day," Cook said. "Nobody goes to college to play basketball to not play. I'm excited for it. I've been dreaming of this since I was a kid and it's here now."