Duckworth wins Senate race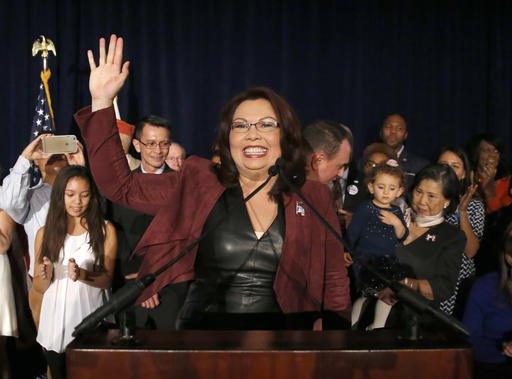 As polls closed across the nation Tuesday evening and Americans anxiously awaited for results of the presidential election to roll in, supporters at U.S. Rep. Tammy Duckworth's (D-8th) election day headquarters were noticeably confident their candidate would be victorious in her race for the Senate. Less than two hours later, Duckworth's opponent — incumbent Sen. Mark Kirk (R-IL) — was giving his concession speech.
"Everybody, I have just called senator elect Tammy Duckworth to congratulate her on a well-fought race," Kirk said. "I told Tammy that I would do everything possible to make sure Illinois has the strongest possible representation in the United States Senate. I will continue the tradition I started in 2010. I invited her to join me at the Billy Goat Tavern. This … will show kids across Illinois that opponents can peacefully bury the hatchet after a tough election and that what unites us as Americans is much stronger than what divides us."
The message of goodwill in Kirk's concession speech is similar to the core theme of Duckworth's campaign: unity in diversity. In her acceptance speech, she emphasized the importance of fighting what divides us and sticking together as a nation.
"With the circus that has been the 2016 election coming to an end, these challenges will remain," Duckworth said. "But so will the opportunities, and it is up to us to meet them. It starts with a basic understanding that no matter who you voted for today, we are all in this together."
Duckworth also touched on major platforms of her campaign, including making college affordable, improving Illinois' renewable energy systems and continuing her mission of improving programs for veterans.
"I will work everyday to make sure our veterans are getting the best care and receiving the benefits we promised them," she said. They did not hesitate to answer the call when America asked them to serve and we should not make them wait now."
The two-term congresswoman is a veteran herself. She lost both legs and partial use of her right arm when an RPG hit her helicopter in Nov. 2004 during Operation Iraqi Freedom. After recovering from her injuries and an unsuccessful run for Congress, Duckworth worked as Director of the Illinois Department of Veterans Affairs until being appointed by President Obama to Assistant Secretary of Veteran Affairs in 2009.
"I'm here because of the miracles that occurred 12 years ago this Saturday above and in a dusty field in Iraq," Duckworth told the crowd. "As we celebrate this hard-earned victory, let's keep in our sights and our hearts those who aren't celebrating tonight because they've been knocked down by life's unpredictability."
Cesar Ravelo, a 30-year-old Chicago resident and Duckworth campaign volunteer, said her experience as a veteran is a big part of what drew him to her campaign.
"Everything she says is genuine," Ravelo said. "She's here to help our vets, herself being a veteran as well, and that's pretty much what hooked me in because a lot of my friends are veterans and did serve and a lot of them are still serving."
Forty-year-old Jamie Blakesley also volunteered for Duckworth in her senate race and past congressional races. She said the congresswoman's "enthusiasm, spirit, dedication to public service and perseverance " compelled her to volunteer for Duckworth. Like most of the other supporters in attendance she felt confident walking into Duckworth's headquarters Nov. 8 that her candidate would be victorious.
"I really had a good feeling that she was going to win," Blakesley said. "I felt like it was her time."
Commissioner of the Metropolitan Water Reclamation District Debra Shore has been a friend of Duckworth's since the two met in 2006. Shore said Duckworth's life experiences and abilities make her completely prepared for her upcoming term as U.S. senator.
"Her empathy (and) her ability to connect with people no matter their station in life (will be essential)," Shore said. "She was not part of a privileged elite and experienced hardship and knows what it's like to pull yourself up by your bootstraps and how important it is to have a government that provides a safety net."
Despite the country's deeply divided politics and the struggle that will continue after this election season, Duckworth remained characteristically optimistic.
"While there may be disagreements from my friends on the other side of the aisle — which is healthy — I pledge to start (my term as senator) with a presumption that my colleagues regardless of party love this country as much as I do and that all we want is what's best for our children," Duckworth said.