DePaul routs Appalachian State 99-58 in their first game of the season.
The DePaul women's basketball team opened up their season at the tenth annual Maggie Dixon Classic by defeating Appalachian State 99-58.
"I just want to make sure we remember Maggie on this day," coach Doug Bruno said. "That's a young women we're never going to forget (and) the Maggie Dixon Classic is never going away at DePaul."
The DePaul women had a slow start to the game, but only by their standards. After a couple back-and-forth possessions the Blue Demons set the pace for the game. A pace Appalachian State could not keep up with. DePaul led 30-5 at the end of the first.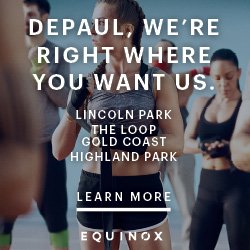 In her first game as a starter, junior guard Ashton Millender started the game strong for DePaul. She drove to inside to score the first two points of the game then shot a deep three showing she can generate offense from any point of the court. Millender ended the game with a career-high 19 points.
"It's just about playing hard," Millender said. "You can't focus on not getting fouls, you just got to play aggressively."
The Blue Demons' other first-time starter, junior guard Amarah Coleman also put up a career-high 16 points. She had a team-leading 27 minutes and recorded three assists and steals.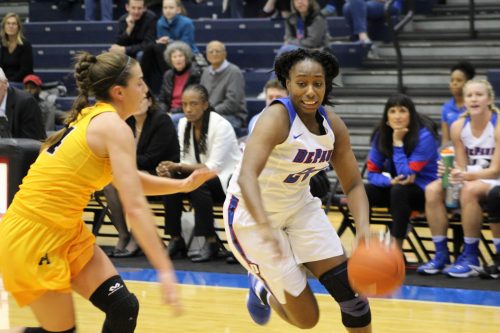 "She didn't play a whole lot last year, so she needs to get more pure minute time, to get experience on the floor," Bruno said. "We're a different team than we were a year ago, but I think we're going to be a really good team."
Because the Blue Demons were leading early, Bruno subbed quickly, giving senior guards Jessica January and Brooke Schulte as well as senior forward Jacqui Grant an early rest.
Although she exited the first quarter early, January had already stolen three balls due to the suffocating full-court press run by DePaul.
Midway through the second quarter, DePaul got hot. Freshman guard Kelly Campbell sunk a three-point shot from the right which was the first of four consecutive threes. The other three were scored by freshman guard Deja Cage, freshman guard Claire McMahon and Coleman respectively.
At half DePaul led 65-20.
"It was great to get a lot of the younger players a lot of good playing time," Bruno said. "At the same time you get to see why there's so much about developing a basketball team. (. . .) We didn't score as well in the half court especially in the second half especially with our reserve players."
After the starters left midway through the third, the Mountaineers started to get some life. They finished the third quarter on a 9-0 run that would become a 17-0 run before Coleman scored on a fast break in the fourth quarter.
Because they got time in the game, the freshmen got to show off toward the end of the game. Freshman forward Chante Stonewall stood tall defensively and came up with nine rebounds. Deja Cage showed her scoring versatility by driving to the hoop for a few layups and sniping from deep.
The Blue Demons finished the game strong and every player that came into the game also got on the score sheet, a staple trademark of DePaul ball. Millender summed up why the team continues to push themselves even after going up by such a large margin and so early in the game.
"There's no such thing as garbage time, there's just getting better time," Millender said.
This game also marked the return of sophomore guard Tanita Allen who had missed the past six weeks with a broken hand. She struggled to score for most of the game, but finally sunk a shot late in the game.
"I got to give my players a little slack (. . .), Tanita Allen hasn't practiced in six weeks," Bruno said. So, as great a job the training staff has done with Tanita (by) keeping her fit and everything, you can't stay basketball fit without playing basketball."
However, the return of Allen meant the loss of junior guard Lauren Prochaska. In Allen's first practice back, she and Prochaska collided, leaving Prochaska with a concussion.
"You can't make this stuff up," Bruno said.
The DePaul women can't seem to catch a break when it comes to injury this season. Kelly Campbell was also limited due to an infection she contracted last Sunday.
Although the team was plagued by injury this week, other players on the team stepped up and helped DePaul convincingly win its first game. DePaul will play the University of Alabama at Birmingham in the Maggie Dixon Classic final game Saturday.