DePaul stays resilient and beats Robert Morris 78-72 in season opener
The DePaul men's basketball team opened their season with a nail-biting 78-72 win over Robert Morris (0-2) Sunday night.
The Blue Demons (1-0) were led by sophomore Eli Cain, who scored a team-leading 21 points and went seven of nine from the free throw line.
Junior forward Tre'Darius McCallum also was a large factor in his first Division 1 basketball game. The forward recovered a team-high eight rebounds for DePaul. Senior guard Billy Garrett Jr. finished the home-opener with 10 points, five rebounds and four assists.
"We stretched (the lead) out to, I think, 12 a couple of times," Garrett Jr. said. "We finished the game, I mean we got a victory, but we didn't keep our foot on their throats very well and we let them back into the game."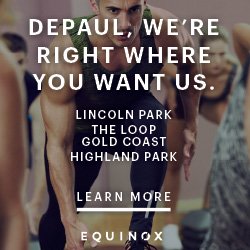 However, Cain, McCallum and senior guard Billy Garrett Jr. all got into foul trouble at key moments and coach Dave Leitao was forced to take them out. Leitao believes confusion on defense and foul trouble is due to the fact the players are still uncertain of their roles on the team.
"When you're still trying to figure things out, especially when you're young and you've got a ton of new people in new roles, it creates apprehension and sometimes confusion," Leitao said. "I think we're trying to get more definition for each guy in his role."
Late in the second quarter, the Colonials drew within one point, but failed to take the lead.
"There were points during the game and especially late where they kept coming at us and I thought we did a decent job of handling whatever," Leitao said. "Whether it was offensively getting more high quality possessions (and) getting shots, (. . . but) I don't think we handled ourselves well on defense. (. . .) We were vulnerable, but we didn't break."
At half, the Blue Demons led 34-31.
The Blue Demons also got some great play off the bench. Senior guard Darrick Wood showed his experience with a few key drives to the net and finishing the play even after getting fouled. He finished the game with 13 points.
Senior guard Chris Harrison-Docks played well off the bench for the Blue Demons. The graduate student who spent three years at Western Kentucky played solid defense up front especially during the first half when DePaul ran its full-court press.
With 6:44 left in the second half, DePaul had their largest lead of the night of 13 points, but the Colonials refused to go away.
The foul trouble DePaul got itself into early on finally caught up when Cain had to leave the game after racking up five personal fouls. McCallum and Garrett Jr. both had to play the remainder of the game safe with four fouls apiece, and the robert Morris men began to mount a comeback.
With only 10 seconds left in the game, the Colonials had brought the game to within two points after the Colonials' leading-scorer, sophomore guard Isaiah Still, sunk two threes for his team.
"We probably handled adversity better than we did the successful moments,"Leitao said. "It's my belief that we have enough guys in the locker room that want the same things. Hopefully we'll keep building on it and use it as a learning experience to get better."
The Blue Demons have their Allstate Arena debut Thursday where they face off against Rutgers (2-0).