Chicago's 2016 homicide rate highest in two decades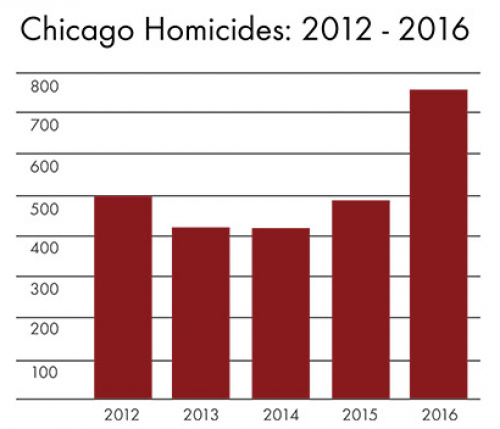 At the end of 2016, the Chicago Police Department (CPD) reported 762 homicides and 4,331 shooting victims. This has been the highest homicide rate since the mid-1990s. The reported number of 762 deaths does not include deaths by police-involved shootings, expressway accidents, self-defense or death investigations.
In a Jan. 1 press conference, Chicago police Supt. Eddie Johnson correlated the high homicide rate to anti-police sentiments and gun violence. Although the 762 deaths in 2016 marked the unnerving violence that riddles Chicago, he expressed high hopes for the city in 2017 due to the additional 500 police officers CPD is hiring and new innovations. Johnson also stressed the importance of community engagement in order to reduce violence.
Located in Lincoln Park and downtown Chicago, districts recognized for their low rates of violence, DePaul University is playing an active role in response to Chicago's violence by keeping both campuses safe for its students.
Director of Public Safety Robert Wachowski said Public Safety is not taking extra measures as a response to the city's record homicide rate. Yet, he urges members of DePaul's community to stay safe when traveling outside of DePaul's campus.
"We are fortunate to have our campus fall within the safer districts of the city (…) Now that being said, we are still in the city of Chicago," Wachowski said. "Whenever you're in the environment (of Chicago) there is potential for anything to happen, from robberies to murders to burglaries. So are we doing anything majorly different? No, we are not.But on the other hand, what we try to do is prepare our students to have a good future and be safe on campus. We have been doing this for years."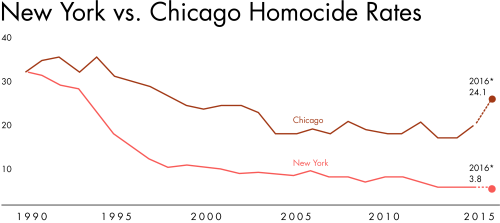 Students and members of DePaul's community are offered extensive resources by Public Safety and encouraged to use programs such as ClearMap, a program that allows users to insert an address to check for different types of crime in the area. Wachowski encourages DePaul students to take extra precaution when they are off campus.
DePaul junior Milton Olivares, who is from Chicago's Little Village, reflected on how Chicago's violence has affected him.
"Growing up I was always aware and conscious of violence and death because of it. Gangs were always around, even in Catholic schools," Olivares said. "I remember a couple times in grammar school when gun violence erupted while students were leaving class. Parents of students were in opposing gangs and gun fire went off. Now I can't help but feel a certain paranoia, no matter where I am. I feel like violence is all around me even though it is not. It's a paranoia that sits in my subconscious, though I do not really let it affect me, I know it's there."
As well as addressing the issue of violence in Chicago, the Steans Center at DePaul is well aware of the violence throughout the city and the impact it has had on Chicago residents.
Through service learning courses offered by the Steans Center, DePaul exposes its students to the reality of violence in Chicago and the positive impact of community engagement.
"With community partners that are on the ground and in the mix we are helping the resources that exist in that neighborhood become more prevalent," said Miranda Wallace-Standberry, academic and community service learning program coordinator at DePaul's Steans Center. "We're helping to advance their mission and by helping to advance their mission, we're helping to create that change in that climate in that community. So through these course partnerships and connecting with people who are already in the community doing their great work, I think DePaul is helping to create that change of climate in the community."