Obama warns of threats to democracy, says goodbye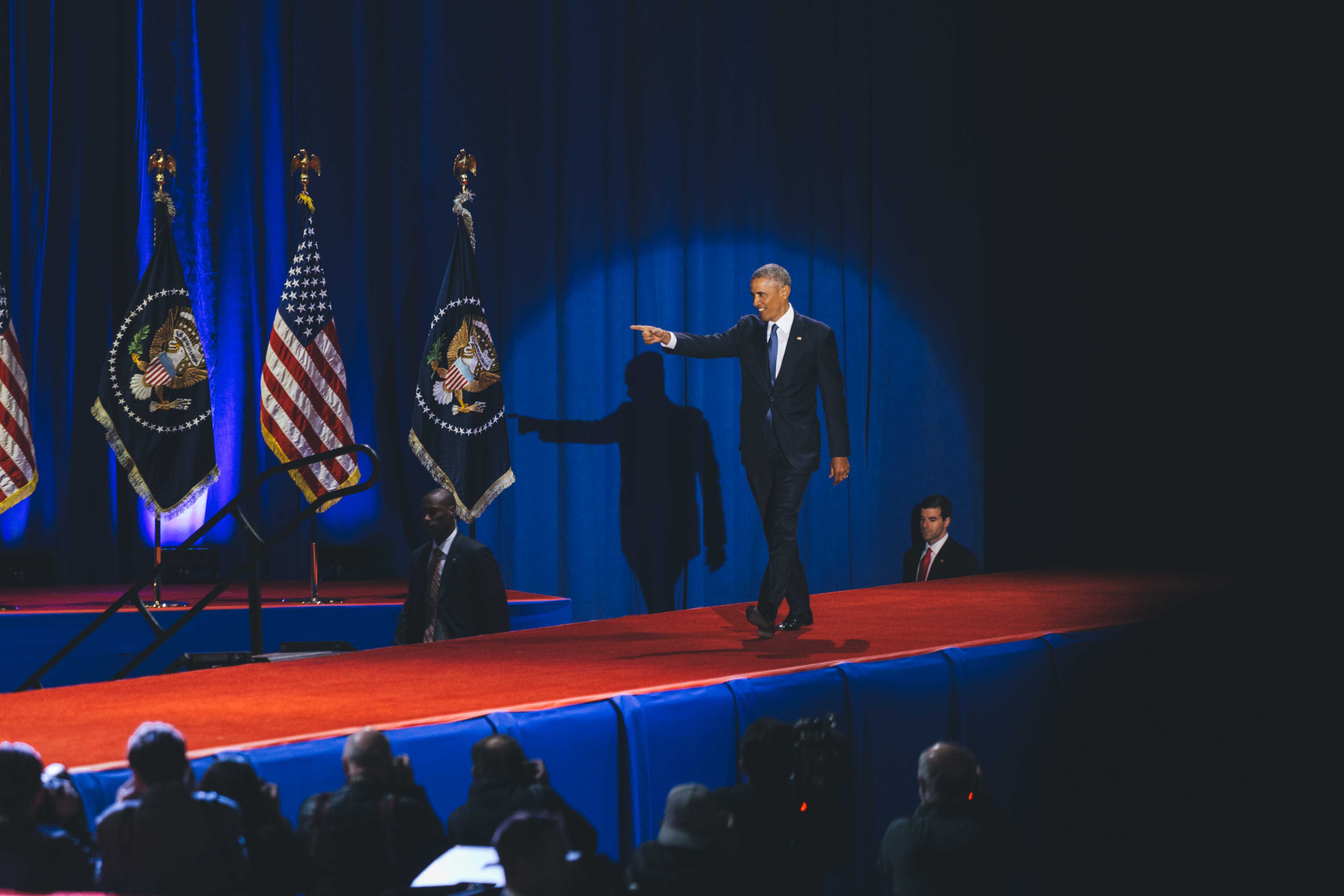 Speaking from his hometown of Chicago, President Barack Obama urged Americans to come together to address the core issues threatening democracy as he said farewell to the nation Tuesday night.
Emotions were high at McCormick Place as thousands, sometimes teary-eyed, packed the convention hall to hear Obama speak for the last time as president.
Obama focused on the state of American democracy, calling for a "new social compact" to address problems he called "corrosive" to the system.
"(O)ur democracy is threatened whenever we take it for granted," Obama said. "All of us, regardless of party, should throw ourselves into the task of rebuilding our democratic institutions."
The president identified economic inequality, rapid demographic change and the terror threat as issues that have contributed to much of American society's divides. With such issues, like immigration, trade and criminal justice, often appearing during last year's hyper-partisan election cycle, Obama urged Americans to dig deeper to understand one another and resist the urge to "retreat into our own bubbles."
"We have to try harder; to start with the premise that each of our fellow citizens loves this country just as much as we do, that they value hard work and family like we do, that their children are just as curious and hopeful and worthy of love as our own," Obama said.
Speaking on race, Obama acknowledged that a post-racial America, "however well-intended, was never realistic." Though he sought to weave together the struggles of working class minorities and working class whites, groups who are often on opposite ends of hot-button social issues, but in many cases share the same economic pain.
"After all, if every economic issue is framed as a struggle between a hard-working white middle class and undeserving minorities, then workers of all shades will be left fighting for scraps while the wealthy withdraw further into their private enclaves," Obama said.
Though Obama touted his record, such as a record-low uninsured rate and low unemployment, he did not address the prospect of his legacy items — Obamacare and various executive actions — being dismantled by his successor, President-elect Donald Trump.
With regards to a political system that became more and more partisan despite his promise to fundamentally change it, Obama evoked the spirit of the Enlightenment. Using the example of climate change, he urged "a faith in reason."
"Now, we can and should argue about the best approach to the problem," Obama said. "But to simply deny the problem not only betrays future generations, it betrays the essential spirit of innovation and practical problem-solving that guided our Founders."
Set to become a private citizen once more, Obama called on Americans to accept the responsibility of being an active citizen.
"It falls to each of us to be those anxious, jealous guardians of our democracy, to embrace the joyous task we've been given to continually try to improve this great nation of ours," Obama said.
The president was joined by First Lady Michelle Obama, daughter Malia Obama, Vice President Joe Biden and Second Lady Dr. Jill Biden.
The president said Mrs. Obama "made the White House a place that belongs to everybody." Of his daughters, Obama said he was most proud to be their dad. Of Mr. Biden, Obama said he "gained a brother."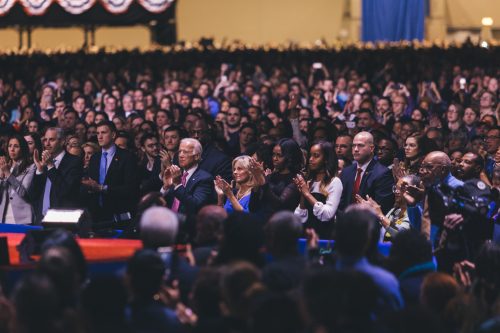 With an electric atmosphere throughout the night, attendees were satisfied with Obama's performance.
Illinois comptroller Susana Mendoza, who served in Springfield with Obama, said the speech was "amazing," especially the president urging everyday people to get involved.
"It's a moment of self reflection for all of us about whether or not we're willing to do better than we've done to this point," Mendoza said. "I think everyone of us should reflect on that and say yes, I'm going to try and make this country better, especially given the current circumstances many of us might not be thrilled about and rather than say, 'fired up and ready to go to Canada', let's say we're fired up and ready to get to work here in our own country and work hard and make this place even better."
DePaul sophomore Mareliz Gallogo, who woke up at 2 a.m. Saturday morning to ensure she got a coveted ticket, thought Obama represented the future.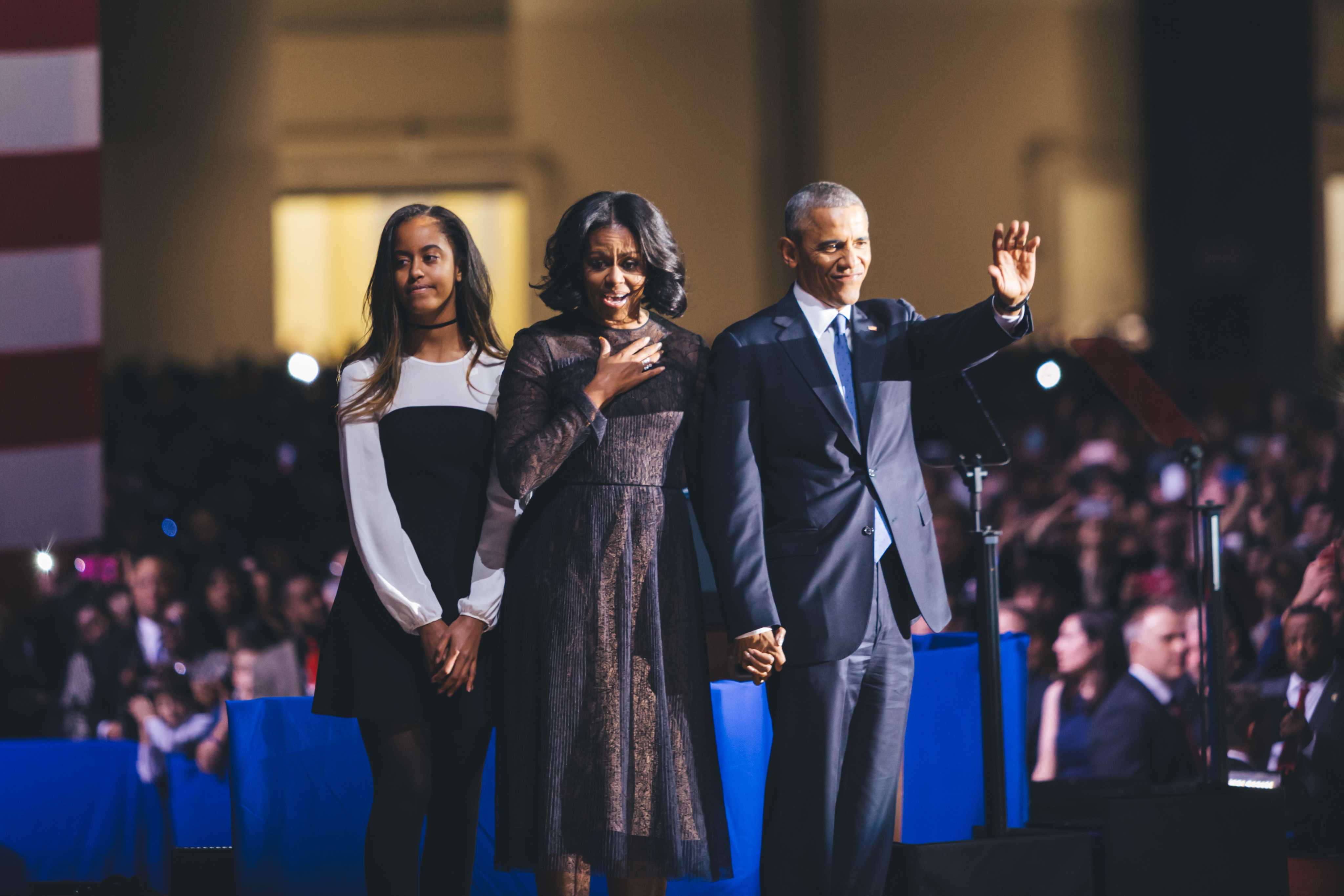 "I think he has a really good connection with the youth, more than any other president or any of the candidates who ran (in 2016)," Gallogo said. "The fact that Sasha is the first person in the White House born in the 2000s, it just shows that the future is coming."
Ald. Michele Smith (43rd Ward) found the speech moving.
"It was a very moving account of the Obama years and a real reminder that we all should continue to attain the ideals of America."
Ald. Tom Tunney (44th Ward) said Obama's remarks were a "clarion call" to get involved
"Get off the computer and get out on the streets and listen to people, especially people you might not necessarily agree with … All politics is local," Tunney said. "We need to take care of each other, even if we have our disagreements."
The president returned to Washington on Air Force One late Wednesday morning.