Walk-on this way: Joe Hanel emerges as starter for DePaul men's basketball
In the first nineteen games of his third season, junior Joe Hanel has played under twenty minutes three times. In the two seasons prior, over which he played 33 games, he had reached that plateau only twice. In his third season Hanel has become a consistent starter, seeing his minutes increase from 8.5 minutes a game in 18 games last season all the way to 25.5 this season. A walk-on earning limited bench minutes only a season ago, Hanel has taken advantage of the opportunity to start.
Originally from Savage, Minnesota, Hanel played his high school ball at Holy Family Catholic High School. In his senior year, Hanel would average fourteen points a game while helping his team to a 24-3 record and a thirdplace finish in the state. Hanel would rake in several accolades over the course of his carrer, setting the record for points in a game, with 37, in his junior year.
He was also a two-time team MVP, an All-Conference honoree and would earn third team All-Metro recognition after his senior season. Hanel capped it all off by graduating as the all-time leading scorer at Holy Family. However, after all this, his drive to accomplish his dream of playing division one basketball hit a road block.
"I didn't have any division one offers and only one division two offer, and I'd always wanted to play division one basketball," Hanel said. "I loved DePaul because of Chicago. You know DePaul is a great school, but you know, Chicago, obviously kind of a big draw. And I decided that I was gonna try and walk on."
But walking on to a division one NCAA basketball team is something much easier said than done.
"I worked out all summer, I came here, worked out in the fall with the guys as much as I could," Hanel said. So I didn't know if I was going to be on the team or not, but I knew it was something I wanted to shoot for."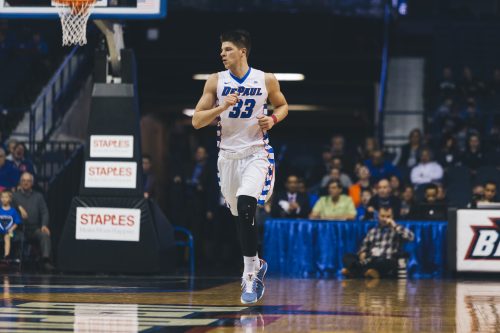 He was able to make the team, although that was about it. In his first year he would rack up just 60 minutes in 15 games. The following season he would get 153 in 18 games. Although it was a slight improvement, Hanel had bigger plans for himself.
"It was frustrating because, you know, you obviously want to play, but I understood that my game wasn't ready," Hanel said. "I wasn't there. So it was extreme motivation to elevate my game because I knew I had to be at a certain level."
Also a two time member of the Big East All-Academic team, Hanel used two years as learning experiences for moving forward.
"It taught me a lot too," Hanel said. "You see the game a lot, you watch it a lot and you kind of understand what you have to do to get on the court."
The observations would pay off. When a chance presented itself after fellow big man, senior Peter Ryckbosch, went down with a leg injury, he was ready. Although head coach David Leitao had been planning on starting Ryckbosch, who also happens to be a walk on, he knew he could trust Hanel.
"Joe was, by the time of the season, really as much as anybody, in the weight room, in the office, in the gym," Leitao said. "(Hanel) just put himself in the mindset that he was gonna work his tail off. And there was no promise that he was gonna play a lot or whatever it's just what he wanted to do."
Now 19 games into his starting role it has been far from all sunshine and rainbows for Hanel. At 6-foot-7 and 215 pounds, Hanel is undersized at center and it has showed. Despite the increased playing time he is averaging just 4.6 points per game and 5 rebounds. However, he is coming off a career-high twelve points against St. Johns, and Leitao believes that is a sign of things to come.
"Sometimes when he plays especially we have trouble scoring, but I think as evidence of last game, he went four-for-four, that there is more coming," Leitao said. "He is getting a little more comfortable and with comfort comes confidence, so I think he'll grow."
And the size is just another piece of ammunition for Hanel.
"Being undersized is like the same mentality as a walk on," Hanel said. "You have to go out there and you have to do extra because I'm not 6'10'', I'm not 250 pounds. You have to bring it and you can't fall asleep on plays and you have to be mentally prepared at all times because that's where I beat guys."