American carnage vs. hope and change in Washington, D.C. last week
In a sense, the events of Washington D.C. are one continuous house party. With an open invitation, folks from across the country and around the world arrive, stay awhile — perhaps even indulge in the pleasures of This Town — and eventually go home.
Margie Purkerson and friend Diane Krumel, of Pensacola, Fla., arrived early. And like any guests who show up to a party early, it was awkward and at times terrifying — their friends had not yet arrived and they were surrounded by strangers who all seemed to be focusing in on them, some with a ferocious rage.
The middle-aged women were not intentionally soliciting conflict, but among a sea of people proudly wearing their red 'Make America Great Again' hats, they stuck out like sore thumbs with their 'Stronger Together' buttons and shirts featuring President Barack Obama's likeness.
It was just one day before President Donald Trump's inauguration, and I'm interviewing Krumel in front of the U.S. Capitol Building. She, in town mainly for the women's march, is in the middle of telling me how she believes "Barack Obama will go down as one of the greatest presidents we've ever had," when a man, wearing a leather garb with 'Biker for Trump' written on the back, approaches.
Overhearing our conversation, the biker, who would not give his name, tells Purkerson smirkingly that she does not know what she's talking about.
"Are you here to support our (new) president?" he asked.
"No, I am not," Purkerson said defiantly.
"You know how this man got here?" the biker said.
"I don't know, the Russians?" Purkerson snaps back.
"We the people," the biker said before walking away.
This confrontation was just a sneak peek of the stark contrasts I would encounter over the three days I spent in the nation's capital covering Trump's inauguration and the women's march.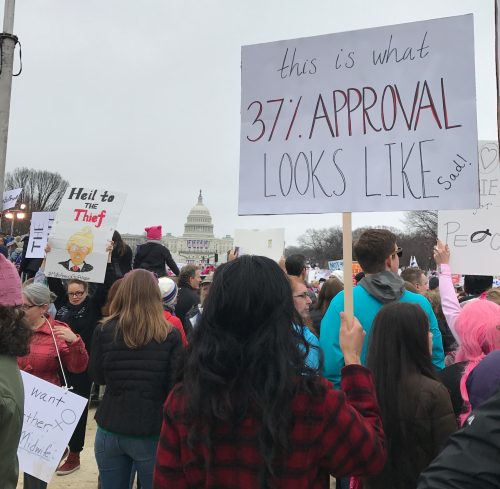 Basically, I went to Washington, D.C. and found two different countries within one. When these came into conflict, as Purkerson and the biker illustrated, sparks flied. But for the most part, thought bubbles went unpenetrated, mirroring a country bitterly divided on its direction and place in the world.
I had been to D.C. twice before, first in 2011 for my grandfather's funeral at Arlington National Cemetery and more recently, to cover Pope Francis' 2015 visit to the United States. So I was no D.C. novice, though it still took me a few minutes to once again grasp the frustrating Metro system.
Armed with my makeshift DePaulia press pass, pen, notebook and cell phone (which doubles as my recording device), I set out to talk to folks in town for the history-making events.
Thursday, I arrived on the National Mall around 11 a.m. Workers diligently performed final tasks as people wandered around, weaving around fencing and other security perimeters not yet in effect.
It was sparse and getting close to the Capitol was effortless. Folks snapped pictures, vendors sold pro-Trump and anti-Hillary Clinton merchandise, and it all seemed surprisingly quiet for the day before a presidential inauguration.
Having just witnessed the confrontation between Purkerson and the biker, I felt I had enough for a quick story.
I walked to the Mall and towards the Billy Goat Tavern. Killing three birds with one stone, the idea was to grab a bite to eat, have a spot to work, and perhaps run into some Chicagoans to talk to.
I killed the first two — no Chicagoans came for "cheezeborgers" and chips at the legendary Chicago haunt. But with a story under my belt and it being just past 1:30 p.m., there was plenty of time left to find other relevant storylines.
That night, I focused my angle on young people. After all, I was there with thousands of other reporters, so I had to differentiate in some way. What do young people think of this new president? Is he the antidote to the problems facing modern America or is he a relic of an America that is quickly fading?
Several groups, including the millennials I needed for my story, congregated near it's base. A group of four high school-aged local kids sat on a bench enjoying the unusually-warm winter night. Inauguration Day means no school for them, which they were happy about.
The next group I approached appeared to be a class trip of sorts. I asked where they were from. I was pleasantly surprised to hear one of them say, "Park Ridge, Ill."
Specifically, Maine South High School, also known as the alma mater of Clinton.
Predictably, they were not so enthused by Trump. Summing up their thoughts, students offered: 'angry', 'bad', 'interesting' and 'no positive thoughts'.
The school had planned the trip prior to knowing the outcome of the election, though being there for the inauguration of a famous alumna probably ran through their minds.
Next, I found some young Trump supporters. They seemed alienated by what was happening on their own campuses. William Bucher, a student at Biola College in California, spoke of his desire to see conservative commentator Ben Shapiro speak crushed by "rioters" who in effect shut the event down.
University of Connecticut student Eric Sullivan, proudly waving his Trump/Pence ag, lamented at the liberal environment he constantly finds himself in.
"I've been called many terrible things for being a Trump supporter: racist, homophobic, Islamophobic, all of these things," said Eric Sullivan, a student at the University of Connecticut. "You know President ( Theodore) Roosevelt said, 'to anger a conservative, lie to him, to anger a liberal, tell them the truth'. So that's what I do."
Sullivan for the most part was surrounded by like-minded Trump backers Thursday as he would on Inauguration Day — a strange dichotomy in is Town, which voted at a 91 percent clip for Clinton.
I had my story for the day. It was time to gear up for the main event on Friday.
I woke up Friday morning later than I had planned. This caused a little worry as there was no telling what the security situation would be like down by the Capitol. But the neighborhood where I was staying was quiet, the Metro ran without significant delay and it was not terribly full.
I was close enough to see the Capitol, though a jumbotron was set up. One did not need an aerial shot to tell there was no way 1.5 million people were there.
Despite being a member of the 'crooked' media, almost every Trump supporter I asked was willing to talk with me. Their backgrounds and characteristics varied, but there were a few universal thoughts in nearly everyone I spoke to: "Trump's not a career politician," "immigration is out of control" and "I'm tired of political correctness."
Enthusiasm climbed as the main event drew closer and closer. There were boos for Hillary Clinton, respectful applause for President Barack Obama and booming cheers as soon as Trump emerged from the Capitol.
The crowd grew antsy as the program went on. In particular, Senate Democratic Leader Chuck Schumer's remarks on the need for faith in government and institutions were met with chants of "Trump, Trump, Trump!"
Then, as has been the case for more than 200 years, Trump was sworn in as the 45th President of the United States at noon.
It started to rain the moment he began his inaugural address, a sign of God's blessing, according to evangelist Franklin Graham. Those in attendance certainly sensed the blessing, though the overwhelming feeling was vindication.
"From this moment on, it's going to be America first," Trump proclaimed.
"Every decision on trade, on taxes, on immigration, on foreign affairs, will be made to benefit American workers and American families," he said. "We must protect our borders from the ravages of other countries making our products, stealing our companies and destroying our jobs. Protection will lead to great prosperity and strength."
And the small, but enthusiastic crowd on the National Mall loved it, cheering as the billionaire struck populistic dents at the Washington political establishment. They were treated to a condensed version of the stump speech Trump used to great effect on the campaign trail.
It was their day; it was their party.
"It is time to remember that old wisdom our soldiers will never forget: that whether we are black or brown or white, we all bleed the same red blood of patriots, we all enjoy the same glorious freedoms, and we all salute the same great American Flag," Trump said.
The crowd found the speech to be hopeful and optimistic and stated their desire to see the country come together around its new president.
But it was also overwhelmingly white and ideologically identical. What they viewed as the renewing of American pride was seen by many as a dark, divisive speech.
Trump spoke in broad enough terms so his words could be interpreted as applying to everyone. But the hidden catch was that everyone in the country had to seemingly fit within Trump and his supporters' version of America.
It was a one size-fits-all speech. But, as he would find out Saturday, that strategy does not necessarily work in a nuanced and diverse country.
My walk to the Metro was different Saturday morning. There were more people. Lots more people. They, with cat hats and handmade signs in tow, accompanied me to the train. It was packed — so packed, trains were being held at stations to wait for platforms at stations ahead to clear.
I never got close to the 'official' Women's March. With that out of the question, I stayed back on the mall, where the large crowd congregated, holding up their witty signs and bellowing out their chants in solidarity against a president they despise.
"Women's rights are human rights!"
"Not my president!"
"Black Lives Matter!"
"Yes we can!"
It was disorganized and chaotic, yet passionate and enthusiastic. The scene could not have better represented the American political left — a mish- mash of different interest groups and factions.
They are constantly fighting with each other. But now facing down a common enemy in Trump, they came together in massive numbers here and elsewhere around the country. The message to the new president: "We're still here and we're going to hold you accountable."
"We have a common thread now, we have a common enemy and whatever differences we may have as people, we need to come together and put those aside and push forward," said Allison Kreucek, a former DePaul student who made the trek from Mount Greenwood on Chicago's Southwest Side.
It was a "women's march", but in many ways if felt as if attendees used it as a large group therapy session. The common line I heard from people: "I needed this."
"I think it was needed. I think that a lot of people felt that after the election, they really had nowhere to turn, nowhere to go to and were really just devastated," Kreucek said. "I know people that were absolutely destroyed by the results of this election. And I think this show people that they are not alone."
Perhaps a nod to Obama, the crowd did not appear to lose hope. It was their day, it was their party.
In the three days I spent in Washington D.C., I saw both Trump's America — the white, working class that propelled him to the presidency — and Obama's America — a diverse crowd that represents the emerging multicultural majority.
Such a divide should come as no surprise in a society where fault lines were so thoroughly exposed in the last election. Yet it was unsettling to see how far apart folks on each side are in their visions for the country.
Trump's America is a dark place where urban crime is rampant, immigration is out of control, and the country is being ruled by career politicians who inhabit a swamp and neglect the needs of citizens. It is inherently protectionist and insular — hence, "America first."
Obama's America is cosmopolitan and intrinsically inclusive. It is a country where existing power structures have been challenged, though not always with success. It believes that America has a responsibility to be a moral compass in the world, though some would dismiss as naive. But, it is fundamentally positive. Hence, "hope and change."
Trump won the election, but it is not clear yet which vision will win out. All I know is I went to Washington and what I saw was a country that was far from united.
It was as if you were at a house party and you only spoke to the friends you came with.
In his farewell address, George Washington warned of factions, saying that the domination of one over another can lead to a spirit of revenge and eventually a permanent despotism, which "gradually incline the minds of men to seek security and repose in the absolute power of an individual."
What I saw in Washington's namesake city made me think of those words. It's not good for the country and is something that will have to be addressed going forward.
That starts with acknowledging that we live in Chicago, a bubble where liberals can reinforce their beliefs and worldviews. And that 50 miles in any direction, there is a vastly different America. Believe me, I saw it with my own eyes.
Whatever one may think of Trump, who has shown a constant disregard for conventional norms (and the truth for that matter), there is a reason people supported him. Instead of hypothesizing on why they did, perhaps it would be a good idea to go to Trumpland and ask.
Yes, as intimidating as it may be, let's talk to some strangers at the house party. Perhaps we'll learn something. I certainly did.