Men's basketball falls to Marquette
DePaul men's basketball keeps coming close.
They came close against Villanova to open the conference schedule, they came close against Butler in a one-point overtime loss, and they came close against Georgetown this past Tuesday in a three-point loss.
On Saturday against Marquette (15-8, 6-5 Big East), the score wasn't as close but DePaul (8-15, 1-9) stayed in the game in their 92-79 loss to the Golden Eagles
"I don't know that I felt comfortable at any point in the game because part of strategy to play them is they can be lethal offensively," head coach Dave Leitao said. "They share the basketball and find open people and, most importantly, they have a multitude of people who can knock down shots."
Marquette did just that as they shot 63.6 percent from three. Their 14 three-pointers were effective enough to knock DePaul out of the game.
"If you look over the course of the season, when they've won they've had really, really good offense," Leitao said. "So it takes a yeoman's effort on defense to take their rhythm away and that's what happens in the games: they get a little off balance and their shots aren't as free."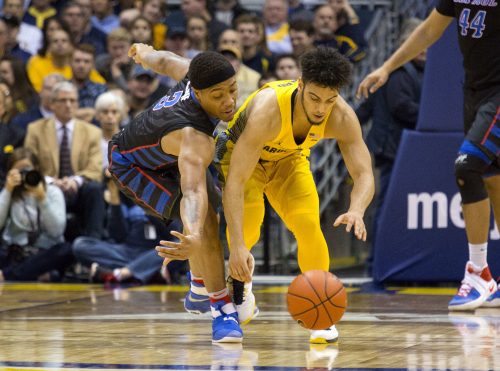 DePaul seemed to do that at the beginning of the game. At the U-16 timeout in the first half, DePaul led 14-7.
"I thought after the first four minutes we started to care for the ball more, we stopped turning it over," Marquette head coach Steve Wojciechowski said. "We have to take care of the ball and we have to play together, and when we've done those two things we've won."
Marquette soon took the game over as they went on a 18-0 run to take a 25-14 lead and turned the game's momentum the other way. From there, DePaul struggled to stop the Golden Eagles' offense.
"I don't know if we had a stretch during the game where I thought we had consecutive possessions where we locked it down," Leitao said. "They give up 79 per game, we scored 79. We got what they normally do by average but we didn't do a good job collectively at taking their rhythm away."
At the half, Marquette led 44-36.
In the second half, DePaul had stretches where it looked like they might cut the lead but could not get within a one-possession scoring deficit. They struggled to stop the Golden Eagles from beyond the arc and could not keep up offensively. The Golden Eagles started to pull away in the final minutes and ended up with a 92-79 victory.
Junior forward Tre'Darius McCallum led the Blue Demons with 21 points, including 12 of those points from three. His evolution as a three-point shooter this season has benefitted the Blue Demons, but he said he just tries to do whatever the team needs.
"I'm not really worried about scoring ,I'm just trying to do what I can to help the team win," McCallum said.
Wojciechowski praised DePaul and said that their play, even though their record doesn't show it, is indicative of the strength of the Big East.
"Watching DePaul's game against Butler, they could have very easily won that game, and with Georgetown they could have very easily won that game," Wojciechowski said. "There have been at least four games where one possession is different and DePaul has four more conference wins."
It's a departure from the notion of DePaul as the weak link in the Big East, especially because thew fell to 1-9 in the conference this season. They need two more wins to match their conference win total from last season, Leitao's first season.
"You're not talking about a team that hasn't had their chances," Wojciechowski said. "They've just been unfortunate at times."
Next up for DePaul is a trip to Xavier on Wednesday at 5:30 p.m. before they return home to play Creighton on Saturday at 1:00 p.m. at Allstate Arena.