Fake reports of ICE raids spread fear
False reports of immigration raids on Chicago schools and churches and identification checks at the Addison Red Line stop were widely shared on social media Feb. 14, increasing fears among undocumented immigrants. The Chicago Police Department (CPD) confirmed that they did administer "random bag checks" at the Addison stop alongside Department of Homeland Security (DHS) agents Feb. 14, but these checks were part of anti-terrorism bag screenings that began in 2014.
The fake reports were so widely spread that the Chicago Transit Authority (CTA) released a statement debunking the rumors.
"We are aware of rumors on social media about immigration status-related ID checks on CTA," the statement said. "We want to be very clear that there have been NO incidences of ID checkpoints for purposes of verifying immigration status anywhere on CTA by the Immigrations and Customs Enforcement (ICE) service (nor any other agency) on our system. We do not participate in or support this activity."
DePaul senior Jack Klein lives near the Addison Red Line stop and said he didn't see "a stronger police presence than usual on the day these fake reports happened.
He did, however, see a number of posts on social media warning about the fake immigration raids.
"I probably saw 10 to 15 Facebook posts saying the same stuff about ICE at train stops," Klein said. "I thought they were real at first but people started posting skepticism in the comments and I realized that the people that were sharing them probably weren't fact checking (the reports) but rather sharing them to do their own part. But it's actually hindering a cause, most likely."
Professor Kathleen Arnold quickly realized that the reports circulating social media Feb. 14 were untrue.
"I was listening to NPR that morning and they had the same sort of report in New York City. And it sent out reporters and found out that it wasn't true. So when they started spreading the same rumors in Chicago I thought, 'Oh, this is the same thing.'"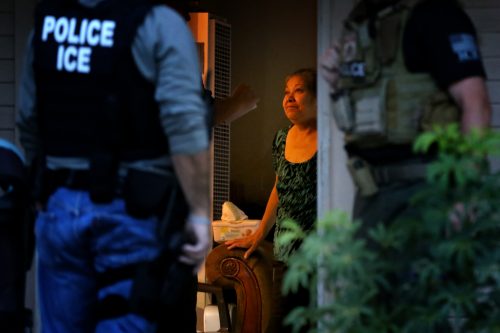 Chicago is a sanctuary city, meaning CPD is one of the 38 law enforcement agencies in the United States that does actively cooperate with ICE on immigration enforcement. Despite this, 48 Chicago residents were arrested in the first week of February in immigration raids according to WGN News. More than a dozen protestors gathered outside ICE headquarters downtown in response to the arrests Feb. 13.
Arnold explained such immigration raids can and do occur regardless of Chicago's status as a sanctuary city.
"Sanctuary just means a separation between the police and ICE," she said. "ICE could have gone to Addison, they just don't operate that way. It's not efficient. But they regularly wouldn't go into Chicago, they just wouldn't do that. So being a sanctuary city is better than not being a sanctuary city."
According to VOX, the arrests made in these recent immigration raids differ from those made under the administration in that they made "collateral arrests," or arrested "unauthorized immigrants who happened to be in the place they were raiding, even if they didn't have a warrant for them." The raids were also coordinated nationwide, "scooping up more people in less time than ICE raids typically do."
Similar immigration raids are likely to persist across the nation as Homeland Security Secretary John Kelly signed two memos Feb. 18 that will "empower federal authorities to more aggressively detain and deport immigrants at the border and those who are living in the U.S. illegally," according to the Chicago Tribune.
However, those familiar with United States immigration enforcement policies questioned the validity of the social media posts due to the claim that ICE was targeting Chicago schools and churches.
"People need to know that they could seek sanctuary in a church," Arnold said. "Even if the church doesn't offer it, they could run into a church and they should be protected by running into a church. So that is an actual sanctuary space (but) only because ICE won't go in, not because it's (against the law for ICE to enter a church)."
Going forward, Klein and Arnold both said people should be sure claims of immigration raids are verified before sharing them on social media.
"I think if they were correct information they would be really good but the fact that they were fake can hinder the cause and I do definitely think people have the responsibility to fact check before sharing them," Klein said.
Arnold mirrored this sentiment, saying even those with the best of intentions are only benefitting those trying to raise fears among undocumented immigrants.
"Even though they're well intentioned, they're actually doing the job of whoever is trying to spread this stuff," Arnold said. "And so they really need to check their facts. We're going to be doing this for the next four years if (President Trump) isn't impeached."