Guest speaker promotes activism through art
The Emergent Speaker series proclaims all cannot be free until those marginalized by society are free. The message carried by this series is not in support of assimilation, but seeks the need for liberation. The Emergent Series works with speakers to carry this message, and it is where Jennicet Gutiérrez is called to carry on her activist work.
Since 2011, the DePaul Art Museum seeks to project not only a diverse culture through an art lens, but it invites different social perspectives that promote community and enhance global perspectives.
This is what took place on Thursday, Feb. 16, as LGBTQ and immigration activist Jennicet Gutiérrez decided to make a stop at DePaul University.
"Today I want to bring into this space the legacy of our trans-warriors, Marica P. Johnson, and Sylvia Rivera," said Gutiérrez. "Also, I want to bring into this space the victims who have been murdered to this date. This year we have already lost three trans women of color." Johnson and Rivera are known for their activist work; before their deaths, they founded the Street Transgender Action Revolutionaries, an organization whose purpose was to help transwomen of color.
Gutiérrez, an undocumented immigrant woman of color, and a transgender person, has been involved in activist work since she was young.
"You think that your own community is going to support you," said Gutiérrez. "I remember with our family, having conversations around immigration reform." Gutierrez recalls speaking with family and goes on to say that family members thought including the LGBTQ community in immigration reform would hinder progress.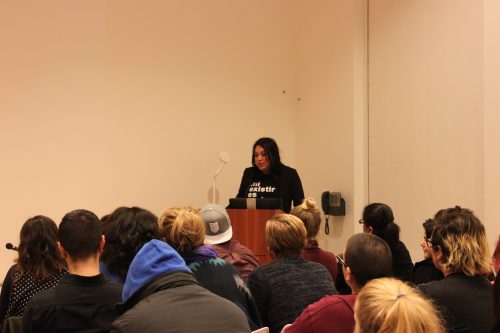 Gutiérrez gained national attention when she took action at the White House in June 2015, speaking out during one of President Barack Obama's speeches. "I spoke out because transgender immigrants need to be heard," said Gutiérrez in an interview, hours after she was escorted from the premises. Gutiérrez reminisces on this day with DePaul students, staff, and community members. "I received a call, and I'm like yes, without hesitation," said Gutiérrez. "But you know deep down I was shaking."
"I'm coming from the queer perspective, but I'm also a white person," said Jax Witzig, a DePaul graduate student. "I'm very interested in hearing more about the different experiences that people of color face when their also queer. I Feel like it's my responsibility."
"For us transgender women, especially like a Latina, the fact that we are often silenced and thrown under the bus is nothing new," Gutiérrez said. Gutiérrez went on to say that this happens constantly, particularly when issues outside the mainstream of LGBTQ organizations are talked about; even when it comes to issues of immigration.
Responsibility is something that Gutiérrez believes involves everyone, "at this moment I want you to take a look at each other," said Gutiérrez. "Often times we get so distant and get caught up into this whole fight for social justice. What we see here is our community, we are part of the resistance."   
Amidst her content, Gutiérrez still managed to garner some chuckles from her audience. "Whether you voted for Trump," Gutiérrez said with a smile. "Don't raise your hand."
And while Gutiérrez did go on to speak for an hour, before taking questions, the information presented was something sought by some DePaul students, who wanted nothing but to support the efforts of the LGBTQ community.
"I'm more interested in learning something about the LGBTQ community," said Kevin Cho. Cho went on to say he does not know anyone personally affected by LGBTQ or immigration rights, but decided to come to the event because he was interested about the cause and wanted to learn more.
DePaul student, Ahtziri Barba, empathized personally with Gutiérrez's message on more than one level. "I came here because I think it's(LGBTQ)rights are something that has been on a lot of our minds," says Barba. "This whole idea on whether we should be united. I think sometimes we differentiate each other based on identities." Barba also said, people should acknowledge differences and be willing to accept someone for who they are.
And while acceptance was something that Gutiérrez spoke on during her speech, she believes the change starts at the community level. "Reach out to your local organizations," Gutiérrez said. "I think the change starts locally." Gutiérrez further said that whether its LGBTQ or immigration rights, this is one step that anyone can take. 
The event at the art museum was just one of two speaking events for Gutiérrez this year. Next month she says she will carry on her work to Ohio, and plans on speaking at two more universities there.