Ald. Pawar casts himself as outsider in governor's race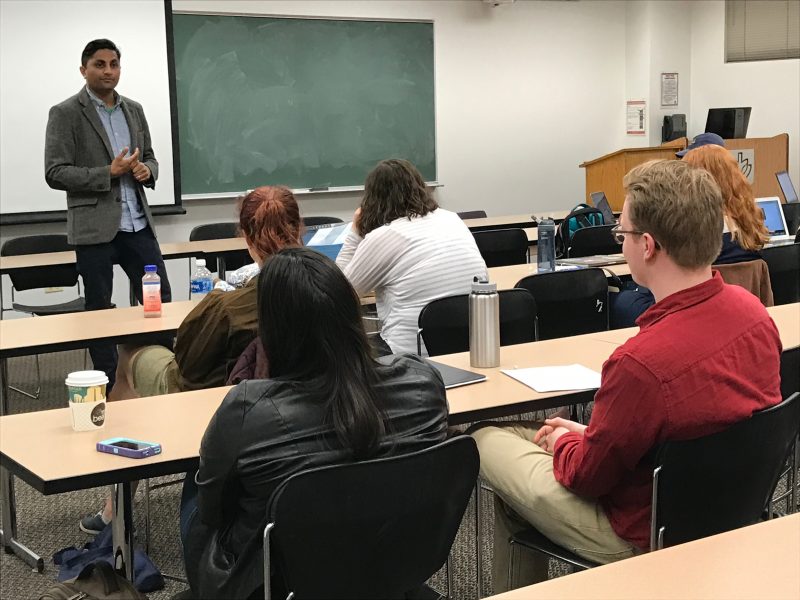 Ald. Ameya Pawar (47th Ward) brought his start-up gubernatorial campaign to DePaul last Tuesday night, making a progressive case for the merit of government while jabbing at Gov. Bruce Rauner and his wealthy Democratic primary rivals.
Pawar, who represents the Lincoln Square, North Center and Ravenswood neighborhoods on the North Side, was here to talk with the DePaul Democrats at their weekly meeting. Beforehand, the twice-elected alderman talked with The DePaulia, where he shrugged off questions about the viability of his campaign and positioned himself as the outsider in the race.
"One thing we've been seeing is that while we may not have a legacy family name — I'm not a millionaire, I'm not a billionaire, I'm not a hundred-thousandaire — people (are) reaching out to us," Pawar said. "So while the establishment may not be interested in my campaign because we're running a grassroots, progressive campaign, people are reaching out to us directly."
Oftentimes, the next step for a city alderman is Congress, a countywide office or the mayor's office. In his current position, Pawar represents about 55,000 people, a far cry from the nearly 13 million people that live in Illinois. This has raised questions as to whether or not Pawar is qualified to run the fifth-largest state in the country.
But, when asked about the topic, Pawar answers with a question: "What makes a billionaire qualified or a multimillionaire qualified?"
The message is a clear jab at Pawar's opponents. In the Democratic primary, he will face wealthy businessman and son of Robert F. Kennedy Chris Kennedy. Another possible primary foe is billionaire businessman J.B. Pritzker.
And then of course, waiting for the winner of the Democratic primary, there's Illinois' wealthy incumbent governor, Republican Bruce Rauner.
Pawar saves most his fire for Rauner, someone he cast as out of touch with the "struggles working families have to go through."
"Austerity has never worked, and more importantly, cutting wages and benefits from one group of working families doesn't help all working families. It's never worked," Pawar said. "That's Bruce Rauner's vision and he's just wrong."
Instead, Pawar has developed a platform inspired by the spirit of Franklin Delano Roosevelt's New Deal. Some of the pillars include universal childcare, investment in infrastructure, criminal justice reform, and school funding reform.
Despite an age where government is often unpopular, Pawar makes a passionate case for it. For instance, Pawar misses earmarks, saying they often gave elected officials with different types of districts an incentive to work together.
"Ultimately, good government is good politics," Pawar said.
But, with four of Illinois' eight most recent governors having spent time in prison, good governance has not always been the rule. And for the past 30 years of state politics, the elephant in the room has been House Speaker Michael Madigan.
Madigan has been criticized for his stewardship of the state, which has the lowest credit rating of any state in the country as well as a structural budget deficit and mountains of unpaid bills and pension obligations. While Pawar said he doesn't know Madigan or "have a relationship with him," he gave a mixed assessment.
"I'd argue that (Madigan's) the one person standing in the way of the utter destruction of public sector unions," Pawar said. "But I also recognize that both Democrats and Republicans got us here over the past 40 years. So, we all hold some responsibility. But the path forward is to stop turning (Republican leaders Christine) Radongo, (Jim) Durkin or (Democratic leaders) Madigan and (John) Cullerton into cartoon characters as they get into the room and stop demonizing each other and cut a deal."
In terms of balancing the budget, Pawar acknowledges that tax increases and spending cuts are not an either/or proposition, but did not offer specific examples of what he would do to solve the state's fiscal mess. But, Pawar believes that growth will be key, which means "certainty and stability" from the state are crucial.
Speaking to the Democrats, Pawar ended by telling the college students that "wealth and success are not the same thing."
Pawar has served on the City Council since 2011.