DeVos discontinues Obama-era student loan protections
Less than a year after the policies were introduced under the Obama administration, Secretary of Education Betsy DeVos has rolled back protections created to prevent the exploitation of student loan borrowers.
In a memo released April 11, DeVos said the move will "improve outcomes and experiences for federal student loan borrowers, as well as demonstrate sound fiscal stewardship of public dollars." According to Fortune Magazine, the rollback followed "a letter from industry lobbying National Council of Higher Education Resources asking Congress to alter or delay the Education Department's changes."
DeVos' announcement means three memos issued by former President Obama's education secretary John King will no longer be enforced. These memos called for "(Federal Student Aid Operating Officer James) Runcie to hold companies accountable for borrowers receiving accurate, consistent and timely information about their debt" and "the creation of financial incentives for targeted outreach to people at great risk of defaulting on their loans, a baseline level of service for all borrowers and a contract flexible enough to penalize servicers for poor service, among other things," according to the Chicago Tribune.
On April 3, about a week before the Obama-era protections were reversed, the Federal Reserve Bank of New York released a study finding that outstanding student loan debt has reached $1.3 trillion. According to the bank's study, the average student loan borrower graduates $34,000 in debt — a 70 percent increase from 10 years ago.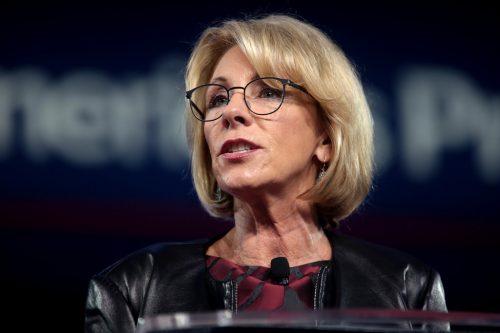 DeVos has defended her decision, arguing the Obama administration's student loan protections make the system less efficient and are an unnecessary use of taxpayer's money. This concern is legitimate as, according to Bloomberg, "the Obama administration's vision for how federal loans would be serviced almost certainly meant the feds would have to increase how much they pay loan contractors to collect monthly payments from borrowers and counsel them on repayments."
However, the increase in funding would be used to help students like DePaul senior Khaela Correa avoid future issues dealing with student loan services.
"It's definitely frustrating dealing with student loan servicing companies and I've experienced some miscommunication with my loans and the college," Correa said. "The federal government should do something about protecting (students), especially (because we're) dealing with something that will affect us for a large period of our lives in terms of paying off these loans." 
According to a study by the Government Accountability Office, 70 percent of borrowers who defaulted on loans "actually qualified for a lower monthly payment" but "services failed to provide sufficient information." Additionally, when student loan services did contact "delinquent borrowers, the information (was) often inconsistent."
The Consumer Financial Protection Bureau filed a lawsuit in January against Navient, one of the country's largest student loan servicers. According to the lawsuit, Navient's practices broke federal law and "prevented some of the most financially vulnerable borrowers from securing some or all of the benefits of plans that were intended to ease the burden of unaffordable student debt."
The Obama administration's student loan protections were created to prevent practices such as these and to provide incentives for servicers best assisting student loan borrowers. DePaul senior Stefan Sampaleanu said the current situation forces student loan borrowers to try and "work around (the current) exploitation of (student loan) systems."
Attending a private university like DePaul University is a more costly choice than attending a community college or public university, and students like Correa and DePaul senior Bethani Randolph took out loans with the hopes a return on their investment.
"I'm nervous," Randolph said. "I'm going to be a slave to the education system for a long time."