Student group provides safe space for sexual assault survivors
The Office of Health Promotion and Wellness (HPW) and University of Counseling Services (UCS) are collaborating to create a new group that aims to provide a space for survivors of sexual assault and childhood sexual abuse as they navigate their road to recovery.
The group, called the survivors group, was created to give female and female-identifying survivors a chance to connect to other survivors, understand the impact of sexual assault or sexual abuse on their daily lives and learn effective coping skills to manage distress, like meditation, breathing and mindfulness.
The collaboration has been in the works since fall quarter. A screening process for students was conducted over the past two quarters to help determine whether or not students would be a good fit for the group and whether or not it could help them.
Hannah Retzkin, sexual and relationship violence prevention specialist for HPW, said she and Rachana Doshi, a staff psychologist and outreach coordinator for UCS, felt a need for a space for survivors on campus.
"Being a survivor of sexual assault may not be a social identity like race or gender, but there's something powerful in finding people who have similar experiences to you," Retzkin said. "With the survivors I was seeing, I saw a need for (this) space."
The group brings together the work experiences and expertises of Retzkin and Doshi. Retzkin, who has extensive experience with survivors, teamed up with Doshi, who has a lot of experience with group therapy. Together, they hope to comine their expertise to walk students through recovery and the various shapes it might take, while also fitting their process into a more national context.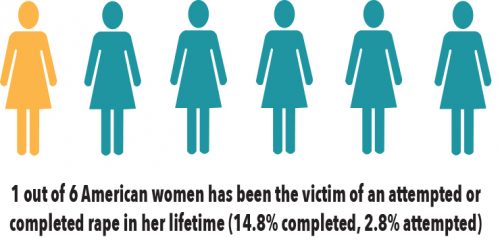 Around 11 percent of all college students experience rape or sexual assault through physical force, violence or incapacitation, according to the Rape Abuse and Incest National Network (RAINN).
Among undergraduate students, 23 percent of females and around 5 percent of males experience rape or sexual assault through physical force, violence or incapacitation, RAINN found.
It's partly because of these stats and other stats nationally that the group focuses primarily on female and female-identifying survivors.
The survivor group is currently open to just a small group of female survivors in order to reduce the possibility of students having to relive their trauma and to build trust between members. There are currently no plans to have the group be a mix of female and male survivors, though, depending on the responses to the group, a separate group could be in the works.
Around one in six college-aged female survivors received assistance from a "victim services agency," according to RAINN. At DePaul, these services may include reaching out to HPW or to UCS in order to get support.
Doshi said that the group aims to not only teach skills, but also provide a network to survivors so that they don't feel alone during the recovery process.
"Trauma is stored in the memory and in the body," Doshi said. "It's important for people to understand the neurobiology of trauma, and we want to help students understand that and give them the tools to do so."
The goal is to start meeting as a group soon in order to give students a good amount of time to get adjusted to the group and to begin going over the tools that may help them in their day to day life. Both Doshi and Retkin emphasized they want students to know they're not alone.
"Community can be a really important part of recovery and students should know that they're not alone," Retzkin said. "We want students to know that this is a safe space and that we're here for them and that this is an intro to therapy to meet and build a community."