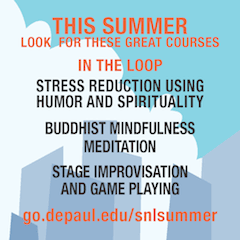 This year's Battle of the Bands competition hosted by the DePaul Activities Board (DAB) showcased a show-stopping mix of talented student DJs, bands and solo artists. The winning DJ gets to perform at FEST After Hours, while the winning band gets to be a featured artist on all of Music Garage's social media, free rehearsal time at Music Garage, and an opportunity to book a local show with Music Garage.
The seven acts that performed a 10 minute set each at Lincoln Hall and Schubas on May 2 were DJs DIY Dan, SNOOF, DJ Tawasahn and CLB, solo artists Beach Bunny, and Mike Fulahope and six-member-band Punting Baxter.
The winning DJ of this year's competition was CLB, who is junior Max Foley. Foley has been DJing for four years and producing for three, which was evident in his laidback, chill style and smooth transitions between songs. His new EP called "Hood Euphoric 2" drops on May 29.
The winning band this year was the garage-funk outfit, Punting Baxter, with vocalist John Micensky, guitarists Jack Kapson and Nick Scholz, bassist Austen Goebel and drummer Aidan Kranz. According to the band their name came from their "love of leather-bound books and rich mahogany," a reference they say that for some people immediately pick up on and for some it goes right over their heads. Punting Baxter calls their genre of music garage funk because their music mixes punk, funk and psychedelic rock in an interesting way. Their most recent EP, "Garage Dogs," is influenced by their love of Cage the Elephant, Rage Against the Machine and Talking Heads. They recently recorded their new song "Iron Jungle" at IV Labs Studios and released it the weekend of May 5. Punting Baxter will also be performing at a house show on May 12.
When it came to winning the grand Music Garage sponsored prize, lead singer John Micensky said it was a bittersweet victory.
"I don't like that in order to win, someone else has to lose," Micensky said. "Music has always been appealing to me because it's not really a competition, it's a collaboration. It's great to win the actual prize, but I don't like being pitted against a fellow musician."
The first act to kick off the Battle of the Bands night was sophomore Danny Thomas, who goes by the DJ name DIY Dan. Thomas had a brilliant mixture of lighting and sounds to get people off their feet and onto the dance floor. He has been DJing for nine months, starting off at a party at the beginning of the school year. He's gone on to perform at several DePaul events, including the DAB's Silent Disco. He will be releasing an EP this summer.
The second act of the night was sophomore Lili Trifilio, who is a surf pop artist that goes by the name Beach Bunny. The self-professed 'sad girl' graced the stage with her acoustic guitar and powerfully mature vocals. Trifilio has the heartbreaking beauty of indie artists like  Julien Baker, Lucy Dacus and Best Coast. She played three songs that night, including a favorite of hers called "6 Weeks." Trifilio's EP "Crybaby" will be released June 1 at a launch party at the Elbo Room. She will also be performing at Battle of the Bands in Elgin throughout the summer at the art gallery Side Street Studio Arts.
DJ SNOOF, who is freshman Christian Salas, started DJing because of a high school DJ club started by assistant principal, Tyrone Nelson, at Jacobs High School in Algonquin.
"We had a solid 15 person group. During our first year we got an $8,000 grant," said Salas. "The next year we got an $18,000 grant for sound equipment. From then on we played homecomings, proms, father daughter dances, and really any event that would hire us. So almost every weekend we would DJ."
SNOOF produces his own music and focuses on hard hitting trap, heavy hitting bass and underground EDM sounds. He was able to get the crowd hyped up during his set at Battle of the Bands and did not miss a beat, even when his headphones broke. Salas' sound that night consisted of mixing his own music with hits like "Bad and Boujee" and throwbacks like "Crank That (Soulja Boy.)"
"I dig through my SoundCloud to find tracks that no one has heard of," Salas said. "I only did a handful of sing-a-long songs that are 'party' songs (at Battle of the Bands). I wanted to go the route of playing songs people may or may not know, just because it's heavier. When you get into the festival scene you need to know how to play those heavy hitting songs."
SNOOF has five songs planned for an EP this summer. He released the song "Control" in January and "Shine" in April.
Mike Fulahope is senior Michael Brookins, who says his distinctive sound appeals to diverse audiences. During Battle of the Bands he was a pro at getting audience participation and performed onstage with ease. He started writing music in sixth grade and got serious about it his sophomore year of college. Brookins' genres of music ranges from alternative rock to EDM to R&B, and he describes it as "clean, political and reflective."
Some of his musical inspirations are Marvin Gaye, Michael Jackson, System of a Down, Linkin Park, Public Enemy, Kanye West and, of course, Childish Gambino. Brookins' father is a jazz and gospel musician, and he says that music has always been intertwined with spirituality for him.
"I believe music can be the cure to racism, sexism, a lot of issues with poverty," said Brookins. "Music artists have the ability to appeal to people that even some politicians don't have. I want people to be able to listen to my music and feel good. I think that lack of critical thinking today is what gets people killed or allows for environments for people to be displaced or underprivileged."
DJ Tawasahn is senior Nico Tawa. He dominated the Battle of the Bands stage with a camo hoodie, laptop and a heavy hip-hop vibe. Tawa said he does not discriminate when it comes to music and he loves adding his own style and flavor to different genres. He says he is a unique DJ because of his Colombian ethnicity and Latin background. Tawa said his biggest influence for music was his grandfather on his Dad's side, who wrote several books and was an orchestrator at the University of Massachusetts.
"There are people who say they like music, but for me I enter this euphoric state when I listen to music. I have a great passion for it."
The Bogota-born DJ loves the huge music scene at DePaul and having the chance to perform at Lincoln Hall and Schubas.
"The sound system was great, I've never played with a sound system so good before," said Tawa. "I'm really grateful for the opportunity to have played at Battle of the Bands, I had a lot of fun."