DePaul student Bushra Amiwala isn't waiting to graduate college before she forays into political life. At 19, she's running as a Democrat for a seat on the Cook County Board of Commissioners held by long-time incumbent Larry Suffredin.
Amiwala, of Skokie, is running for commissioner in the 13th District, which includes Rogers Park and Evanston among other northern communities. As commissioner, she would be responsible for close to 300,000 constituents, which is about three times more than members of the Illinois House of Representatives serve.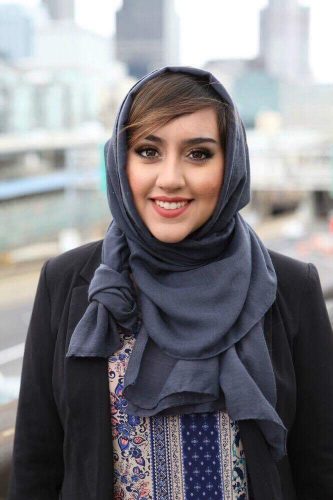 The Cook County Board of Commissioners is the legislative and governing body for the United States' second largest county. They craft policy on everything from public health services to cigarette tax rates.
In Amiwala's announcement of her candidacy for the position, she laid out the principles on which she is going to run.
"[I] believe in keeping the county financially responsible while increasing transparency, lowering unemployment, and giving low income people the opportunity to change their life," she wrote in a news release on Facebook.
The improvement of transparency within the Cook County government is high on Amiwala's to-do list if elected. She said that a lot of the county's website is old and dilapidated, and several pages are entirely defunct. She added that information regarding where tax dollars are allocated to should be easily accessible, not buried in a confusing website.
Increasing vocational and educational opportunities is also high on Amiwala's list of priorities as commissioner. She said there are "40,000 youth [sic] who reside in Cook County who choose not to further their education or get a job," and she wants to create a support system that gives them the tools to succeed in life.
Amiwala has been critical of the board's November decision to pass a tax on sugary beverages, an ordinance that was co-sponsored by her opponent, Suffredin, and championed by ex-candidate for Mayor of Chicago and 7th District Commissioner Jesús "Chuy" García. She saw how people in her area were negatively affected by the penny-per-ounce tax, and that realization was what drove her towards running for the seat.
"The beverage tax disproportionately affects people in poor and marginalized communities. Those communities are more inclined to buy sugary beverages because they cannot afford natural fruit juice," Amiwala said. "That was when I realized the perspective of someone who has worked in marginalized communities is needed because it became clear their voices were not being heard."
While her parents emigrated from Pakistan 20 years ago, Amiwala grew up in Skokie. As a young Muslim woman, she was aware at an early age of both the "privileges and oppressors" that marginalized people encounter.
"I feel like growing up a Muslim woman, people hold certain stereotypes in regards to how I should act and the way they viewed me was almost discouraging. I did not want to fit the stereotype of Muslim women being shy, timid and passive."
Shy, timid and passive Amiwala is not. On a mission to smash the stereotypes about Muslim women, she is campaigning to win, but running against a 15 year incumbent is already proving to be a challenge. Suffredin "already has the benefit of name recognition, support within the community, and connections throughout it," she says, but Amiwala is ready for a fight. She is already in the preliminary stages of fundraising and gathering the 500 signatures required to run for the position.
Though she is young and inexperienced, her candidacy is as much symbolic as it is real.
"I know me running would mean a lot more than just me running for a position, it serves a greater purpose. I'm a firm believer of be the change you want to see and this is my way of embodying that," Amiwala said.
Larry Suffredin did not respond to a request to comment for this story.