Eight DePaul students awarded hospitality scholarship
DePaul opened the School of Hospitality Leadership in the autumn of 2010. In 2015, it was named as the most recognized hospitality program in Illinois by the Journal of Hospitality and Tourism.
This past June, eight DePaul hospitality students were selected as the 2017-2018 IHLAEF Scholarship Winners by The Illinois Hotel & Lodging Association Educational Foundation. From a pool of roughly 40 applicants, IHLAEF selected 26 applicants to be awarded a share of $54,000 in total aid. From these 26 deserving Illinois college students, the eight selected recipients from DePaul were students Weronika Celer, Hayley Delaney, Kenzi Mocogni, Todd Pinta, Elizabeth Redhead, Gabrielle Serpico, Lindsey Wehking, and Sylvia Wtorkowski.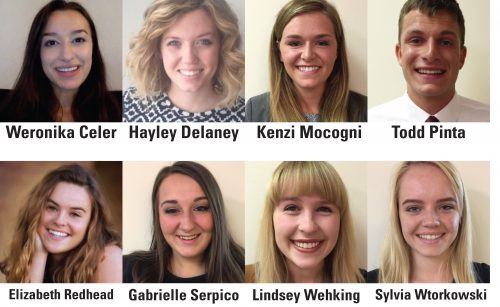 IHLAEF awards academic scholarships to Illinois college students pursuing a degree in hospitality management. DePaul's Hospitality Leadership program prepares its students for a management career in a variety of hospitality industry segments, including hotels, restaurants, private clubs, meetings and events. The program balances hospitality leadership courses with core business curriculum.
Haley Delaney, a senior in DePaul's School of Hospitality, was one of the eight DePaul students selected. She is studying Hospitality Leadership with a minor in English Literature.
"It makes me very proud to hear there was eight winners from DePaul," Delaney said. "Even though our program is pretty new compared to other schools', we are provided with so many opportunities for networking and developing professionally."
Delaney is studying hospitality management because she enjoys helping other people and making them feel at home.
"It's something I care about in my personal life," Delaney said. "Being able to find an industry that believes in the same things that I do is important to me."
DePaul students represent nearly a third of this year's scholarship recipients. Elizabeth Redhead, another one of the eight DePaul students who won, is a sophomore majoring in Hospitality Leadership with a concentration in Event Management. Redhead hopes to become a Corporate Planner after graduation.
"It's a unique industry, I really enjoy it," Redhead said. "Hospitality is not tangible. I can't physically give hospitality to someone, but I can create a good experience for people."
IHLAEF has been assisting college students financially since 1992. To select winners, they have a scholarship committee within a board of directors who review each application one by one. The committee varies year-to-year and is usually composed of six to 10 volunteers.
Karrie Teel, the Director of Education and Communications, oversees the scholarship committee. When selecting winners, Teel describes the importance in selecting students who show they are passionate about the industry.
"[The committee] really is looking for students that would most likely end up working in the industry long-term in Illinois," Teel said. "We have limited funds so we really want to provide to students who are involved and want to learn more about the hospitality industry in general."
Selected winners are awarded anywhere from $2,000 to $5,000, unless they are incoming freshmen or community college students since freshmen will have the opportunity to renew for four years, and community college students' tuition usually isn't as high.
"Getting money off tuition is always a great feeling, but it's also more than that. It's feeling supported, like someone out there sees potential in you and wants to help you out," said Redhead.
IHLAEF's scholarship fund is composed from corporate and individual donations, as well as annual individual fundraising efforts. Each specific "name scholarship" that a student receives is named after the company that donated that amount.
"We have a lot of companies that give $2,000 scholarships," Teel said. "Whatever donations we receive, goes directly to the scholarship fund and then directly to the student."
Redhead believes the outcome of the winners speaks strongly of DePaul. "It shows how qualified the hospitality students are and that we are clearly working hard not only with the initiative to apply but to earn it," Redhead said.
Teel agrees stating that they have great candidates from DePaul each year.