Making waves: One student has big ideas for ocean conservation
One day after President Donald Trump took to the podium at the United Nations General Assembly to threaten "Rocket Man" Kim Jong-un, one of DePaul's students, junior Baylee Ritter took over the microphone on Wednesday, Sept. 20 to share a plea with world leaders to cooperate in keeping the oceans clean.
Ritter was invited by Erna Solber, the Prime Minister of Norway to talk about her work with the presidents of Palau, Chile, Republic of Ghana and the Vice President of Indonesia.
This wasn't Ritter's first experience with the U.N. She has previously traveled on behalf of the United States to Canada, Turkey, Sweden and Kenya to speak about the daunting challenge of water conservation in the U.S. She also sits on the U.N.'s planning committee for World Oceans Day, a global celebration of the world's oceans that is similar to Earth Day.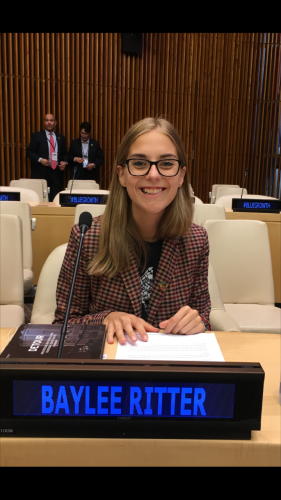 "We must begin building every single inch of where we come from with our words and actions," Ritter said in the beginning of her speech to the General Assembly. "We must be cognizant of the issues beyond our own backyard and aim our attention to things we have sometimes never touched."
Her first experience with the U.N. was as a freshman in high school when Ritter and some of her friends started a non-profit organization that was eventually recognized by the U.N.
"We started a very successful non-profit that eventually spread to 32 states," Ritter said. "The U.N. named it the best environmental program in the U.S. It was called the Prescription Pill and Drug Disposal program, and it allowed people to recycle their old prescription medications at police stations and pharmacies. When I was 13 years old, the U.N. invited us to Sweden to present with all of the other top programs from around the world. We were named the third best non-profit in the world."
Juggling a full course load and work is difficult for most students, but Ritter is a globetrotting activist who is constantly on the move. She is often given very little notice when an appearance is requested of her. She left Chicago at 10:30 p.m. on Tuesday after her public relations class so she could arrive at the U.N. headquarters in New York City for her speech at 8 a.m.
"I only found out I had been invited to speak at the U.N. a week before," Ritter said. "The week before I had been invited to speak at the Association of Zoos and Aquariums conference in Indianapolis. A friend at the conference told me that the Prime Minister of Norway was looking for someone of my caliber to speak at the conference so I took it."
She left Chicago at 10:30 p.m. on Tuesday after her PRAD 291 class so she could arrive at the U.N. headquarters in New York City for her speech at 8 a.m.
Sitting across from world leaders and beside foreign diplomats, she lamented about the pollution of the oceans and how governments all of the planet seem to disregard the well being of the oceans.
"Despite the fact that I live nowhere near the ocean, the waste and debris that my community is throwing into our local river is bleeding directly into the Gulf of Mexico, and no one notices that," Ritter said. "Although removing single-use plastics from our life and using sustainably sourced materials and food products may seem like a small step toward making a difference, an ounce of prevention is truly worth a pound of cure."
In a testament to just how busy Ritter is, when she finished her speech, the U.N. discussion moderator and head of environmental journalism at the New York Times Andrew Revkin thanked her "for fitting this speech into (her) busy schedule."
About the Contributor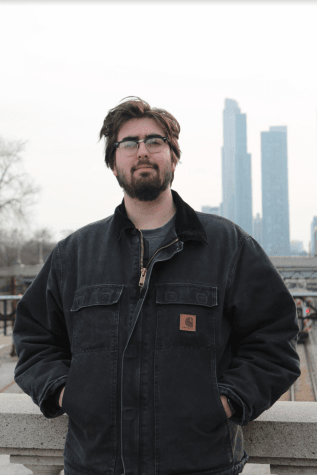 Benjamin Conboy, Editor in Chief
Benjamin Conboy is the editor-in-chief of The DePaulia for the 2018-19 school year. When he's not writing or reading about Chicago politics, he's hanging...