Attendees of the Vincentian Prayer Breakfast gathered the morning of Wednesday, Sept. 27 to share a meal and prayer service while recognizing the recent accomplishments of the DePaul Dax Program.
Student Government Association (SGA) vice president Gracie Covarrubias kicked off the breakfast by taking a moment to reflect on St. Vincent DePaul's living legacy at DePaul.
"Now more than ever, it is important to create spaces such as this to reflect on 400 years of the Vincentian mission," Covarrubias said.
Fr. Joseph Dien, a Vietnamese Vincentian scholar currently studying at DePaul's English Language Academy, led the breakfast's opening prayer that memorialized St. Vincent's devotion to serving those in need.
"Through (St. Vincent's) deeds and examples, his immense love and mercy, we are very happy to inherit his legacy, which is evangelizing the poor and helping them in practical ways," Dien said. "May we overcome our own troubles to bring joy to the sorrowful, happiness to the mourning and consolation to the afflicted."
Attendees ranging from President A. Gabriel Esteban to neighborhood locals enjoyed a bountiful breakfast before hearing the keynote speakers.
The program coordinator of the DePaul Dax Program, a subset of the global Vincentian group DePaul International, Sr. Judy Warmbold, D.C., began the keynote session by introducing the program and its mission.
"Homelessness has no place anywhere," Warmbold said. "This is the motto of DePaul International."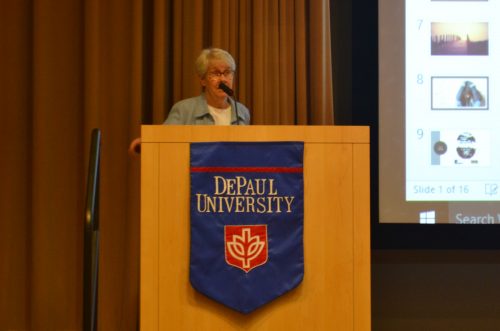 The program's roots can be traced back to 1989 where it began in England. From there, it expanded to Ireland, France, Ukraine, Slovakia and Croatia. Twenty-five years later, it was adopted at DePaul University in 2014 as a result of the Dean of Students Office highlighting the issue of homeless students.
The Vincentian Family in Chicago estimated there are at least 50 homeless students at DePaul every quarter.
"Our initiative is to address and erase the situation of DePaul University's students facing hard times, housing insecurity and homelessness," Warmbold continued. "Vincent said, 'The things of God develop of themselves.' I think these words tell the story of our Dax Program."
The program has previously paired at-risk students with volunteers willing to host them in their homes for one quarter.
Abraham Morris, the program director of DePaul's Dax Program, said that the organization is taking steps to eliminate the need for volunteers and provide the at-risk students with on-campus housing.
"I'm happy to announce DePaul opened its first Dax house on Sept. 15," Morris said. "Two students have already moved in."
The need to create housing independent of hosts came after Morris was approached by homeless students living with volunteers who were saying they felt like a burden on their families.
Morris began his keynote speech by sharing a story about his own close encounter where financial issues almost ended his college education at the University of Wisconsin at Oshkosh.
Morris got an email from his financial advisor saying he had an overdue balance on his tuition account of $1,300. His FAFSA money, in conjunction with a personal safety-net loan of $1,000, still left him in the red.
He tried to get another personal loan so he could continue classes, but his disabled mother's credit score was too low to cosign for him. He was left with no other option but to drop out of college and move home.
As he was preparing to go home, his financial advisor called him and said there had been an error. His balance was $13, not $1,300.
"I know what it's like to wonder whether you can continue your education because of financial troubles," Morris said.
Nashal Hashemian, a junior and an executive assistant to the SGA, said she decided to come to the event after becoming interested in how she could utilize the Vincentian ideology to do good by others.
"I've really begun to reflect on myself and what the Vincentian mission means to me," Hashemian said. "After listening to these speakers, I realized just how much more that I can do."