DePaul's signature win slips away at the end
So gruelingly close, again.
The DePaul Blue Demons were in position to notch a signature victory against a power-conference opponent in their crosstown matchup against the Northwestern Wildcats on Saturday afternoon at Wintrust Arena.
With 4.4 seconds remaining in the game, DePaul had the ball down 62-60 with a chance to tie or take the lead. Junior Eli Cain fielded the inbound pass off a stagger screen, dribbled the length of the floor with Northwestern guard Bryant McIntosh matching him step for step and threw up a floater from the right side on a dead run that bounced harmlessly off the side of the rim. Max Strus, DePaul's junior guard who poured in a season-high 33 points on 11-for-19 from the field and nearly single-handedly resuscitated a stagnant DePaul offense in the second half, stood in the corner behind the 3-point line waiting for a pass that never came.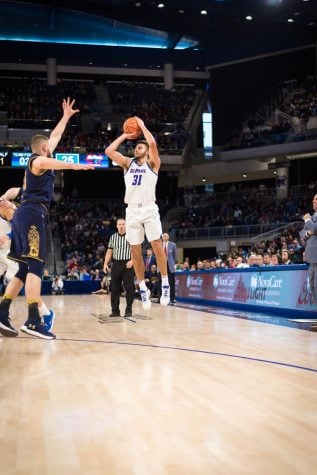 "The first guy (that) comes off of those stagger screens (off inbounds plays) usually gets the ball and Max came off of it so he was no way a decoy or anything like that," Blue Demon head coach Dave Leitao said after the game about that last play. "We wanted to get the ball in his hands and for reasons that I have to look at the film (to understand why Strus) didn't get it. We wanted to get the ball to him, but unfortunately it didn't work out that way."
The Blue Demons hung around late in the second half after Northwestern regained the lead at the 11:18 mark on a jumper by sophomore guard Isiah Brown.  DePaul had a chance to win when Strus, who won the Waldo Fisher-Frank McGrath award given to the MVP of the matchup, poured in three free throws with 35.5 seconds remaining to pull the Blue Demons to within two points of the lead. Blue Demon big man Peter Ryckbosch blocked Dererk Pardon's jumper to force a 24-second violation on the ensuing possession to give the Blue Demons a chance at the end. But it wasn't meant to be.
"This one hurts, I don't really care about the points I just really wanted to win," Strus said. "That would have been good for our team right now. It would have been a great win, but we need to keep moving on and try to get the next one."
DePaul's missed opportunities throughout the game made the loss sting even more.
In the first half, the Blue Demons shot 3-for-10 from the free-throw stripe, and forward Tre'Darius McCallum missed a tomahawk jam in transition and also fumbled a pass as he rolled uncontested to the basket that would have been an easy two points had he caught it. The Blue Demons finished the game 9-for-24 (37.5 percent) from the free-throw stripe and shot better from the field 41.5 percent than they did at the free-throw line.
Leitao said the free throw shooting isn't why the team lost today #BlueDreamin #DePaul #BeDifferent pic.twitter.com/CSzT1omT22

— Paul Steeno (@KingSteeno) December 16, 2017
Runs and counter runs, gritty rebounding, defense, and charge taking, a restless crowd loudly expressing their displeasure for every call that didn't go their way.  The 33rd all-time meeting between Northwestern and DePaul lived up to every pregame expectation. In addition, yelling out Strus while emphasizing and extending the sound of the middle vowel in his name may have become a new Wintrust Arena tradition.
"There's a lot that goes around this city about two good teams playing against each other, and I think that's what created some of this atmosphere," Leitao said. "It's good for college basketball in this area. We've played Northwestern year in and year out and whether it's been up there or in our home gym it (the matchup) adds a little bit of extra buzz to it. It's something that we can continue to capitalize on particularly as both teams continue to try to reach a higher level."
In the end, DePaul left too many points on the table and left Saturday feeling as if they let an opportunity slip away as they settled for another moral victory.