BREAKING: McKinney dismissed from DePaul men's basketball team, charged with battery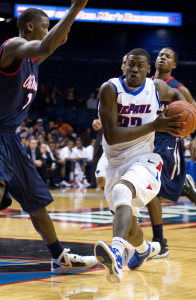 DePaul senior guard Charles McKinney has been dismissed from the men's basketball team due to a "violation of team rules," the University announced Wednesday.
Tom Negoven of WGN reported that McKinney was charged with three counts of battery. The program cited a violation of team rules as the reason for his dismissal. McKinney was also suspended for a violation of team rules last season missing one game.
McKinney's court time began dwindling in the 2013-14 season, averaging 16.7 minutes per game, compared to his career high of 20 minutes a game in 2012-2013. He averaged 4.5 points per game over his career, although his 2012-2013 average of 3.9 points per game was the lowest of his career.
McKinney was part of head coach Oliver Purnell's first recruiting class coming into the program as the 52nd-ranked shooting guard by ESPN for that class.
When asked, the DePaul Athletic Department said Purnell will have "no further comment."
McKinney's departure is the third player the program has lost since the end of the 2013-2014 season. DeJaun Marrero transferred to Chipola College and Raymond Doby reclassified and opted to attend prep school, adding to the mid-season loss of Cleveland Melvin in January.
DePaul now comes into the 2014-2015 season with only twelve players on the roster. They open their season Nov. 14 against University of Illinois at Chicago.