Flynn Cameron debut this season? 'we've been talking about it'
Someday new arrival Flynn Cameron will trade his gray, walk-on warmup sweats for the shiny white DePaul Blue Demon home uniform with the blue tint and blended blue and red lettering.
But when? He signed with the Blue Demons on Dec. 21, 2017 and enrolled at the semester break, but didn't arrive on campus until Jan. 10 because the NCAA Clearinghouse was closed during the holiday season and because the difficulty of saying goodbye to his parents around Christmas delayed his move to the United States. But now that he's been in Chicago for ten days, is his debut imminent?
"We've been talking about it," Cameron said. "You can't really play if you don't know the plays so I 'm trying to get my head wrapped around that as quick as possible. The practices have been good. I'm trying to get my head wrapped around the plays. Just trying to get that down pat."
Cameron is a 6-foot-3-inch point guard born in New Zealand who played his high school ball in Australia. Both Cameron and Blue Demon head coach Dave Leitao confirmed that he's been practicing with the team and the practices have gone well. However, Leitao said that the Blue Demons will view his status as day to day, and a redshirt year for the 17 year old is still on the table now that the Blue Demons are 19 games into the season.
"Before he even came here we put all options on the table, that being one of them (redshirting)," Leitao said.
"It's an option, but I'm not willing to take it yet," Cameron added.
Wait and see remains the public approach to the Flynn Cameron situation as the freshman adjusts to his new circumstances. He's navigating a new class schedule, a new set of teammates, and the icy Chicago winter after leaving Australia during the summer season (the temperature in Queensland, Australia today was 82 degrees). Don't worry though, he packed a thick coat in his suitcase on the way to Chicago after a coach warned him on his official visit on Dec. 16 that the weather would only get worse.
"I like DePaul a lot," Cameron said. "It took me a couple days to get comfortable, but since I've been here everyone has been friendly and there's been a lot of communication amongst the team trying to get me to my classes."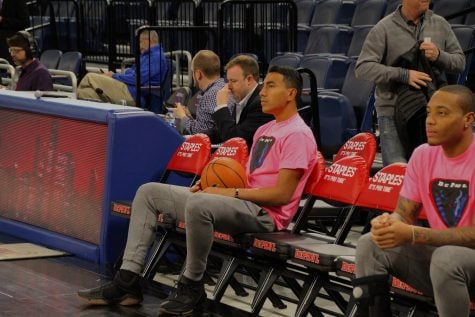 Cameron was a three-star recruit out of Hillcrest Christian College (a kindergarten through 12th grade school) in Queensland, Australia. Last season, he averaged 27.6 points per game in the Under-20 Australian School Division 1 Championships and helped his team finish in fourth place in that tournament.
In addition to his high school accolades, Cameron has a flurry of international experience. Competing for New Zealand, Cameron averaged 7.8 points, 3.3 rebounds, and 1.3 assists in four games at the 2016 FIBA Oceania Under-18 Championships. In the 2017 Under-19 Basketball World Cup in Cairo, Egypt, he averaged 4.6 points, 2.7 rebounds, and 2.7 assists also while competing for New Zealand
"High school in Australia is a lot different than high school ball here (less talent), so playing international has definitely helped me transition," Cameron said. "You have all the best stars in the United States and back there you a'int got that on your team. It's still competitive, everybody is hustling but the talent isn't there. The hustle is there, the grit is there, the dirtiness is there (but not the talent). Competition wise it (the international experience) has kind of made me more prepared, made me a smarter player, and it's helped me confidence wise being such a young player on that team."
Billed as a pass-first point guard with a knack for knowing where his teammates are on the floor, Cameron's passing instincts could immediately help out a Blue Demon team that checks in at seventh in the Big East Conference with 15.1 assists per game. The Blue Demons have averaged 17.75 assists per game in wins this season, and just 13 assists per game in losses. Right on cue, the Blue Demons dished out 13 assists in a 79-67 loss against Butler on Saturday.
"I like to create, and most importantly I like to win," Cameron said when asked to give a self-scouting report. "Maybe not now, but I reckon I can make an impact in a couple years time, maybe junior (or) senior year. I'm just trying to get as comfortable as I can with the team and fit in during practice"
YouTube
Depending on how Leitao approaches it when the time comes, Cameron's insertion into the lineup would shake up the Blue Demon's point guard situation. But while Cameron's status remains in limbo, junior guard Eli Cain will continue to embrace his role as the starting point guard.
"Devin (Gage) went down, there's nothing we can really do about it," Cain said. "I'm the point guard now so it is what it is. The team needs me to be the point guard (and) I just try to do what I can."
Freshman point guard Justin Roberts has struggled to find the floor consistently even after Gage's injury shortened the depth chart at this position. He played three minutes in the Blue Demons 79-67 loss against Butler on Saturday and recorded no points and no assists in that time.
If he plays this season, the Blue Demons could have Cameron assume the point guard duties, pushing Cain to his more natural shooting guard position. This would displace Brandon Cyrus back to a reserve role and Roberts would continue as backup point guard.
However, Leitao could take the opposite approach and continue to defer to Cain's experience (in his third year as a productive collegiate player) even with Cameron in the fold which is consistent with what he has been doing since Gage's injury.
But it's all a wait and see game as the Blue Demon basketball program remains tight lipped about Cameron's status moving forward.