DePaul's Haitian community sees country moving forward every day
Haitians shrug off "shithole" comment;
In 1779, in the midst of the Revolutionary War, American revolutionaries descended upon Savannah, Georgia to lay siege to the British-held city. Although the Americans were at a great tactical disadvantage, they had a trick up their sleeves, which came in the form of some 550 "gens de couleur" – free men of color from Saint-Domingue, Haiti who volunteered to fight alongside the revolutionaries in their quest for freedom.
Today, a monument to the freed slaves of Haiti who helped the U.S. free itself stands in a Savannah square; four Haitian soldiers aim their rifles toward the enemy, and one lies defeated, clutching a wound over where his heart would be.
239 years later, the President of the United States does not seem as keen on accepting Haitians as the Founding Fathers were.
In a meeting on Thursday, Jan. 11 in the Oval Office, President Trump sat down with lawmakers to discuss protections for immigrants from Haiti, El Salvador and some African countries. According to The Washington Post, he asked the bipartisan group, "Why are we having all these people from shithole countries come here?"
Then, singling out Haiti, the president asked, "Why do we need more Haitians? Take them out."
Now, a week and a half after his original comments, Trump's Department of Homeland Security has banned Haitians and people from more than 80 other developing countries from applying for visas for low-skilled workers.
The president has since denied the fact that he made the disparaging remarks, but senators who were in the room from both sides of the aisle have come out to confirm his remarks, despite Trump's protestations that he is the "least racist person."
This isn't the first time Haitian people have been in Trump's crosshairs. The New York Times reported on Dec. 23, 2017 about how America had accepted 15,000 Haitian immigrants, and Trump said they "all have AIDS."
What is it about Haiti that is so undesirable to Trump? Is it because two out of three Haitians live on less than $2 a day, or because 100,000 children under the age of five are malnourished? Could it be because less than half of Haitian households have access to safe water, or because 1 in every 285 births results in the mother's death?
Laura Hartman is the Vincent de Paul professor of business ethics who started a nonprofit, the School of Choice, which administers a primary school near Port au Prince (Hartman is currently on leave to focus her efforts full-time on her work in Haiti and will return to her position at DePaul on July 1).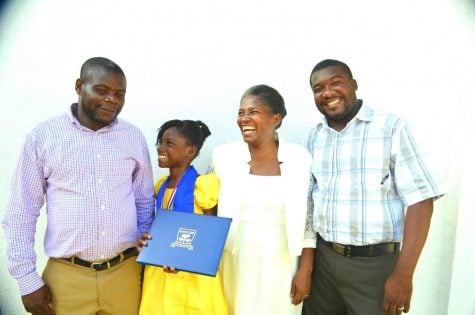 Hartman began her work with the Caribbean island in 2002. She then led DePaul's initiative with Vincentian Family's Haiti Initiative in 2009 to create opportunities for Haitians through microfinancing.
The School of Choice was established in 2010 in Mirebalais by Hartman to help forge leadership skills in children that were born into poverty.
"My first thought (when I heard of Trump's remarks) was, 'Why does he keep singling out Haiti?" Hartman said. "Haitians do not make up a large group of immigrants in this country, so why does he keep focusing so much on Haiti? I'm confused by it."
When Hartman travels to Haiti, she sees a people who are resilient, much the same as they were when they, as a country, lifted themselves out of slavery during the Haitian Revolution.
"Haiti is the only republic in the world of people of color who overcame their own slavery and oppression by themselves, and they have remained free ever since," Hartman said. "Haiti is unique in that particular way, and we need to respect and honor it."
Not only are the president's comments damaging to the dignity of Haitians, Hartman said, but also could be damaging to massive NGO operations to stabilize the country and create a self-sustaining economy.
"When one of the most powerful individuals in the world dismisses (a country) with a flippant comment that is so uninformed, it makes it difficult for our nation (to see the progress in Haiti)," Hartman said.
The Haiti that Hartman sees is very different from the one that Trump apparently sees.
"No way do I look at Haiti and think of it as a 'shithole'," Hartman said. "When people ask me how Haiti is, I tell them that it is a sign of progress, that it's resilient, that it's beautiful and that it represents a strong nation that continues to move forward everyday."
Haiti has been ravaged by natural disasters over the last decade, like the earthquake in 2010 that killed more than 200,000 people and Hurricane Matthew in 2016 that left 1.4 million people in need of humanitarian aid.
Nadia André, a professor of French at DePaul who emigrated to the U.S. from Haiti at the age of 22, sees a lot of the negative stereotypes that people project on Haiti right here in Chicago.
"I was in Haiti a couple weeks ago for the holidays, and I never saw anyone in tents," André said. "However, I live in Uptown, and every single day I see homeless people in below-zero weather in tents in the wealthiest country in the Americas."
André finds it "astounding" that a country of immigrants can turn its back on them, particularly those from a country whom the U.S. has always had a close relationship with. Once a "melting pot," André sees it now as just "melting."
"Apart from my African brothers who were brought here involuntarily, and my Mexican brothers who found themselves in California after (the Mexican-American War), everyone in this country voluntarily left their countries to come to the U.S.," André said. "People come from anywhere in the world, and if they have the willpower, they can make a living (in the U.S.). This is the land of immigrants, period."
The daughter of two Haitian immigrants who came to Chicago in the mid-1990s, DePaul student Johanna Dezil spoke to how hard it can be for some Americans to fully grasp the desire that immigrants have to come to the U.S.
"In America, people are raised to think that the person next to them is their competition," Dezil said. "Us Haitians take pride in being communal and relying on each other, everybody, not just other Haitian people."
In the same meeting where the president called Haiti a "shithole country," he also questioned lawmakers on why the U.S. doesn't bring more people from countries like Norway.
"I don't see how anyone can sit there and pick and choose who is the 'good' and 'desirable' immigrant," Dezil said. "People want to come (to the U.S.) to work and look for a better life.
Mariah Myrtil, a public relations and advertising major of Haitian descent, is troubled by the Trump administration's new immigration policy for low-skilled Haitian workers. Her father, who had dreams of becoming a chef in the U.S., used those same H2-A and H2-B visas that Haitians were just barred from applying for to fulfill his dream. He subsequently gained citizenship.
"Even when my dad was going through with his citizenship, it was a very scary situation of living in fear and unknowing," Myrtil said.
Chicago has a sizable community of Haitians, estimated at around 30,000, including undocumented residents, according to the Encyclopedia of Chicago. The founder of Chicago, Jean Baptiste Point du Sable, was a Haitian immigrant. The World's Columbian Exposition in 1893 hosted Frederick Douglass at the Haitian Pavilion.
"The Haitian community in Chicago, any Haitian that I've ever met, are all smart, resilient people," Myrtil said. "They have the same dreams and goals that any American has. They're hardworking people, no matter what job they do. If you focus on only the bad parts of certain places, you miss the rich history and culture of the people."
André is frustrated with the stereotypes of Haiti being an impoverished slum. When she visits, which she does frequently, she sees a people who are eager to help their neighbor, eager to work hard and enjoy the freedom their slave ancestors fought for them to enjoy.
"There are people who left looking for a better life," André said. "I was lucky, because I was not looking for a better life, because I could not have had a better life in Haiti."