Unheralded freshman shows late season promise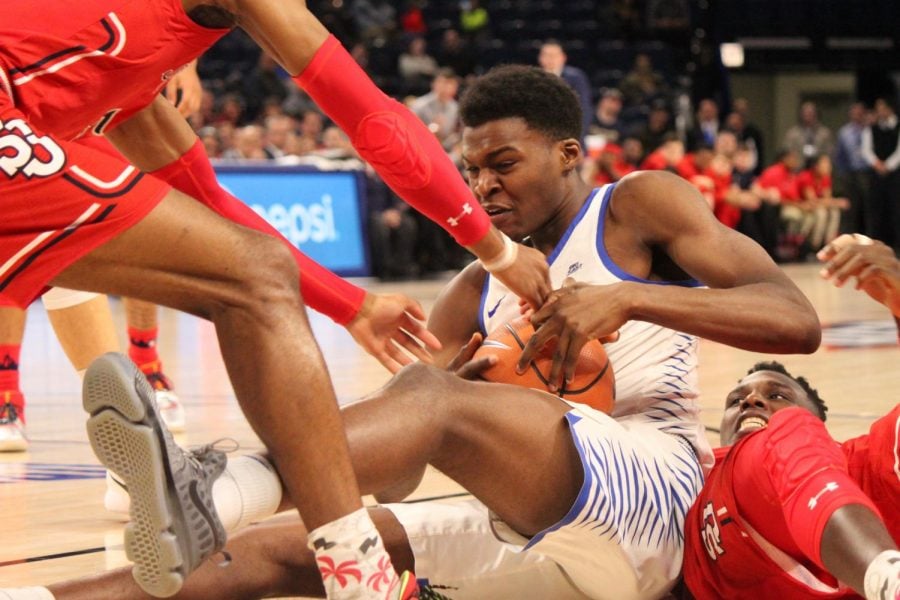 Going from high school star to struggling to scratch out playing time at the beginning of his true freshman season in college hasn't been an easy transition for DePaul Blue Demon big man Paul Reed.
But guidance from Jaylen Butz, a fellow freshman big man, helped him get through that trying period and mature as both a player and as a person.
"It helped me (having Butz around)," Reed said. "At the beginning, he was handling situations better than I was handling them so at practice if the coaches were yelling he wouldn't get mad, he had better body language than me. Like I had bad body language and that's another reason. And I was just thinking negative because I wasn't playing. Watching him helped me learn how to react to what coaches were saying."
It's one element in an attitude makeover, as a more mature, disciplined and self-aware Reed has finally carved up an important role for himself by staying patient and trusting the process has paid off.
As Reed sat in one of the blue chairs in the Wintrust Arena press room while two reporters grilled him with questions after a 77-76 loss to the St. John's Red Storm on Feb. 14, there were two common threads that tied together the answers from the mild-mannered freshman.
For starters, it was his competitiveness. Reed did a lot of winning in high school. He guided Wekiva High School in Apopka, Fla. to a 26-6 regular-season record and a runner-up finish in the state final tournament in Florida last year. So, all the losing that DePaul is doing this season isn't sitting well with him.
"I'm not going to sugarcoat, I feel like we are doing bad this season from what we could be doing," Reed said. "We should be winning way more games. We are still connecting the pieces, and it's coming along; I can see it. You just need to get over the hump."
Reed's voice changes as he talks about this topic, more stern and determined, as he clearly holds himself at least partly accountable for turning around this Blue Demon basketball program. Reed is competitive (he said he tries to "kill" his teammates in practice; metaphorically of course), but that's almost a prerequisite for competing at the Division I level in basketball.
The more impressive takeaway from the 10-minute interview was his thoughtful and detail-oriented critiques of his own game as he focuses on the process of improvement. It's a hallmark of a freshman who is growing up quickly in his first season of Division I basketball.
"During the course of how the season has transpired, he has gotten more and more minutes because, more than anything, he has stayed the course," Leitao said. "He really has a strong desire to be a good player. He puts time and effort into it, he's in the office all the time watching film, he's in the gym extra. When a guy has the mindset like that and he's as long as a son of a gun and can get the ball when others can't and can finish with a real nice touch, it's only a matter of time."
To start the season, it looked like Reed wouldn't have an opportunity to meaningfully showcase his skillset. Through the first 14 games of the season, he averaged 4.7 minutes per game and played less than three minutes in eight of those 14 games. Ironically, an illness that sidelined Butz for two weeks opened the door for Reed to play more minutes, and he has thrived in this expanded role.
"It was easy for me (to integrate into the lineup) just because I had already been waiting on my moment to play," Reed said. "He (Butz) went down, I wasn't really expecting any difference because I wasn't really playing much so I wasn't expecting to play at all. Just because I thought the coach didn't like me so I wasn't expecting to play at all. He put me in and I just tried to play hard and make the most of my opportunity."
The Paul Reed appreciation video against #Georgetown. All of Reed's baskets and steals. He also had 9 boards. Excellent game. #DePaul #dpubb @Bball_paul pic.twitter.com/0d3fzqEd6q

— Lazybluedemon (@lazybluedemon) January 26, 2018
Reed has flashed high upside this season despite some predictable freshman mistakes. In a Jan. 24 game against the Georgetown Hoyas, he nearly dropped a double-double (11 points and nine rebounds) as DePaul stole the game on the road. Predictably, he said this was his favorite performance of the season.
Since Butz missed that first game in Milwaukee against Marquette due to his illness, Reed has averaged a modest, but effective, 5.6 points and 5.4 rebounds per game in 16 minutes of playing time.
With Butz as his model, the process of improving his body language and turning negativity into positive energy has been the successful formula for a hungry Reed who is just beginning to tap into his talent. That's good for DePaul and scary for the rest of the Big East Conference as his patience and commitment to trusting the process has begun to pay off.
"Everybody was telling me to be patient and be focused and that my time was coming," Reed said. "Stay positive, it was very easy for me to be negative about myself not playing as much so I tried to stay as positive as possible in every situation."
Reed had a lot to feel good about in DePaul's most recent win against Marquette, pulling down eight rebounds in 23 minutes of action.