Journalism students worked behind the scenes at the forum
Last Tuesday, the first Illinois Democratic Gubernatorial Forum took place at Chicago's NBC Tower. 
NBC 5 political editor Carol Marin served as the moderator, while NBC Chicago's Don Moseley worked as the editorial producer.  Both Marin and Moseley are the directors of DePaul's Center for Journalism Integrity and Excellence.
Together, these colleagues also teach an upper-level journalism course, Advanced Reporting, in the College of Communication.  Just 10 students make up the class.  They formulated questions for the candidates, some of which were used during the forum.
Each question had to fall into one of five categories: Medicaid, sales tax, population and tax base, public colleges and universities, and finally, transportation.  After each team received a topic, it was their responsibility to research that information and return with some potential questions in mind.
"Over the course of three weeks, we worked on questions for the candidates, and challenged each other to dig deeper week after week," graduate student Darrah Perryman said.
Perryman and her classmates gathered information on each of the six candidates.  These topics ranged from policy to personal history and everything in between.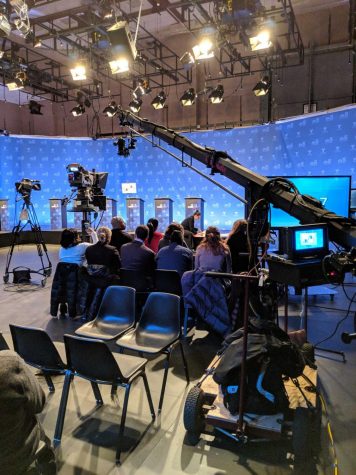 "We looked at the questions they brought in, refined them, and told them to come back again with better questions," Moseley said.
Each time, he explained, the students were able to hone their intrigue down to the best possible question.  Marin also emphasized the importance of anticipating each candidate's answers.
"That meant fine-tuning the language of the questions to encourage the candidates to give answers that are as specific as possible," said graduate student of journalism Will Sullivan
"In a lot of journalism education, I think, you're a soloist," Marin said.  "You do your papers, you do your projects, and you do your stories.  In this, they have to collaborate.  They have to be partners, so they are only as strong as their weakest link."
"It's one thing to think you want to do this kind of work," Marin said. "It's another thing to be in the middle of the mosh pit watching it happen."
"It's a lot of gears.  So (the students) got to see the studio when it wasn't ready.  There were so many people at NBC involved in this.  It was Don who designed the format and the structure.  If I was the air traffic controller, he was the tower."
It's that type of collaboration that Marin and Moseley were pleased to see from their students. 
"There are a lot of fingers in that pie," Moseley said. "You see Carol up on stage, but there's a director, there are producers, and there are just many, many moving parts that go into making a successful broadcast like that."
"Our students are right on the verge of going into the business," Marin. "They're either seniors or grad students.  Our intent is to give them a last, deep dive into complex reporting."
"We each played such a vital role in this," Perryman said., "And each person had to put their best effort forward each week to produce the best outcome.  It was such a blessing to be able to attend the forum live, and watch Carol and Don pull it off so successfully."