14 school shootings in 2018
Violence affects campuses across the nation
The first month of 2018 is over, and there have already been over a dozen school shootings across the U.S., raising questions for many about what can be done to stop the violence on campuses.
According to the non-profit organization Everytown for Gun Safety, there have been a total of 14 shootings on school campuses as of Feb. 1. Everytown classifies a school shooting as "any time a firearm discharges a live round inside a school building or on a school campus or grounds, as documented by the press and, when necessary, confirmed through further inquiries with law enforcement of school officials."
The latest school shooting came on Feb. 1 in Los Angeles, when police received a call around 9 a.m. reporting that a female student had opened fire in a classroom supposedly by accident, injuring two students, according to police spokesman Josh Rubenstein. One student was shot in the head, the other in the wrist.
The Los Angeles shooting came just a little over a week after a student opened fire in his Benton, Kentucky high school killing two students and injuring nearly 20 more. The shooter was a 15-year-old male student, who was arrested and has been charged as an adult for the shootings.
"As a parent, this is everyone's worst-case nightmare – worst-case scenario and a nightmare for all of us," said Robert Arcos, commanding officer of the Los Angeles Police Department's Operations-Central Bureau in a press interview.
The high number of school shootings is nothing new. In 2017, there were 65 school shootings according to Everytown. Kids from kindergarten to college go through procedures to prepare for a school shooting or an intruder. Police officers talk to students and teachers run drills that include students hiding under desks and climbing out of windows. The idea that an active shooter can come on campus at any time has become a reality for many.
Programs and organizations have started in an effort to lock down gun laws and teach young people about gun safety. Moms Demand Action for Gun Sense in America, a nationwide nonpartisan grassroots organization that came from Everytown, started five years ago after the Sandy Hook Elementary School shootings in an effort to help reduce the gun-related violence. Illinois has 22 groups across the state that are working to change gun laws and educate people about gun safety.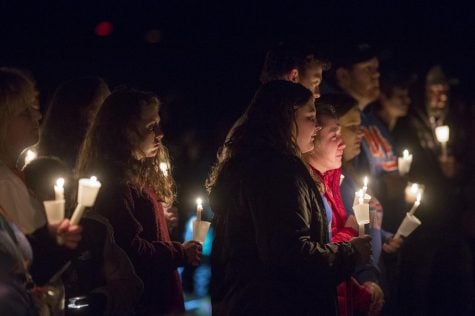 "I have two children and I am not exaggerating when I say every single day I worry when they go to school, and I'm not alone," local group manager for Moms Demand Action Caryn Fliegler said.
Many say that there shouldn't just be the push to keep students safe, but also prevent the shootings. Moms Demand Action respects the 2nd Amendment but wants gun safety to be taught to every gun owner and for "loopholes" in background checks to be taken out, according to Fliegler. Most states do not require background checks on people who are purchasing firearms at gun shows, allowing people who would otherwise not qualify to buy guns.
However, the perpetrators of school shootings usually didn't buy a gun at a store. Fliegler said that parents who have guns in the house but don't properly lock them up leave the risk of their children having easier access to guns. Moms Demand Action runs a program called "Be SMART," which educates adults about how to keep their firearms safe and away from children.
"The key headline is that children should not have easy access to guns," Fliegler said. "That's unfortunately what happened in at least one of these school shootings. A lot of these shootings, it's too late (to educate people) once it happens, and these are absolutely preventable things."
Another approach that many groups take is lobbying and trying to get gun laws changed on a local, state and national level. The Illinois Council Against Handgun Violence (ICHV) tries to educate young people through a wide range of programs, but they are most well-known for their advocacy groups to get laws on the books that will eventually minimize gun violence. The group tries to attack gun violence from all sides in order to reduce its effects in Illinois.
"There is no one simple solution," said Colleen Daley, the executive director for ICHV. "There is no one law or one policy or one program that can stop gun violence. It's a really multifaceted approach."
The numbers show that school shootings are getting more prevalent in America. Whether a gun goes off accidentally, someone commits suicide on campus or someone purposefully brings a gun to a school in order to create panic, gun violence on school campuses has become an increasingly large concern for many people across the nation.
"Children's educational environments should not have to interact with gun violence, but it happens all too often," Fliegler said. "Schools should be safe places for learning."
View Comments (2)