Mark Cuban invests $250,000 for 25 percent of student's app
When Nick Skrzyniarzc was fresh out of college, he said he was drowning in student debt. One day he thought to himself, "Something needs to change."
That little idea, he said, was what inspired the idea for the app he developed with his brother Dan Stelmach, called ChangEd. It takes debit purchases, rounds them up to the nearest dollar, deposits them in an FDIC insured account, and once the user's wallet reaches $100, it automatically sends a payment toward their student loans.
Currently, there is $1.3 trillion owed in student debt around the country and ChangEd aims to help student tackle the seemingly-insurmountable debt with mere pennies. So far, they have already sent out more than $100,000 in student loan payments, and now they are looking to make that number much higher.
"We all know college is an experience you'll never forget," Stelmach told the group of investors. "And you won't, especially if you have to pay for it 10 to 25 years after graduating. It's going to delay any goals you have."
"
We have a saying here at ChangEd. 'Mom isn't going to write you a $10,000 check, but she will give you the spare change from her morning cup of coffee.'
— Nick Skrzyniarzc
Their small startup found its way onto ABC's "Shark Tank," where they had the opportunity to court high-profile investors.
When they gave their pitch on "Shark Tank," the investors were initially skeptical of their high valuation and their ability to create revenue. However, the brothers' lively pitch piqued the attention of technology and sports investor Mark Cuban.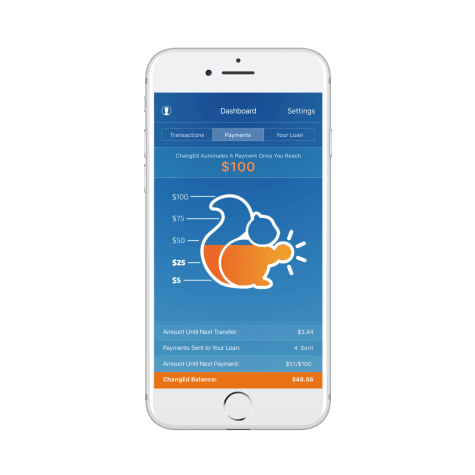 "Student debt is really one of the biggest problems facing our country right now," Cuban said on the show. "It takes away from the economy and it prevents people from moving up and getting a better job."
Their pitch first enraptured investor Robert Herjavec. But he thought they had overinflated their valuation and offered them $250,000 – but for a 48 percent stake in the company, much less than they had hoped.
Cuban ended up being so impressed with the brothers' pitch that he offered them an investment of $250,000 for a 25 percent stake in their company – the closest offer to their valuation and a massive boost in funding from the $30,000 of savings that Nick threw into the company to get it rolling. 
Liam Belter, a public relations and advertising major at DePaul, first got connected with ChangEd after finding the internship on DePaul's Handshake page. When he first applied, the app hadn't even been launched on the app store.
Belter said that working in the tech startup industry is wildly different from any job experiences he had before. 
"This is really my first run at doing the whole PR thing," Belter said. "I had done paralegal work before, but this is so different. So, when they asked me to stay on, it was one of the most exciting things."
It is important for Belter to work somewhere that has solid ethical footing, 
The startup's founders ended up asking Belter if he wanted to stay on as a part-time employee, where he runs the company's social media accounts and handles media requests, which have skyrocketed following their Sunday night appearance on "Shark Tank."
But an unforeseen issue has arisen for Belter. The sprouting interest in their app is obviously good for business, but now major PR firms are reaching out to them trying to offer their services to the newly cash-infused startup. Belter, however, remains committed to doing whatever is best for the business. 
"Now I'm getting emails from people trying to do what I do (for ChangEd)," Belter said. "As a PR person, if I'm needed to, I will gladly step aside." 
They are working on rolling out a number of new features, including one that would allow family and friends to contribute their spare change to the user's account to help compound their own contributions.
Another feature they are close to implementing is adding multipliers, so a user can multiply the amount of change they put into the app to contribute put more money in more quickly. 
They are also looking at rolling out an Android version of the app. 
ChangEd is still a relatively fresh app to the market. They only launched a beta in January, 2017 and were surprised when the App Store featured it on its "New Apps We Love" list before it was a finished product.
"We weren't really caught off guard by it," Stelmach said. "All these people (working at Apple) are a bunch of recent college graduates and have a lot of student loans themselves. We knew we hit a pinpoint that a lot of people were feeling." 
ChangEd is still a pretty small outfit right now  – but they are looking to change that with their new infusion of capital.  
They couldn't give specific user numbers, per an agreement with Cuban, but they said in the few days since their appearance on "Shark Tank," interest in their app has increased "exponentially."