Former Blue Demon Allie Quigley hits her stride in WNBA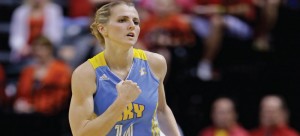 After a season with the Chicago Sky in 2013, Sky head coach Pokey Chatman hoped the Sky could retain former Blue Demon Allie Quigley. Chatman was worried another team would lure her in free agency.
"You've got to understand when I was in Europe, I was watching her every year," Chatman said. "It's the reason I wanted her to come to this team. Resigning her in free agency was a priority to me."
For Quigley, it was a drastic change. Having been with five different WNBA teams in four seasons before landing with the Sky, Quigley had been seen as the end of the bench player who just wasn't panning out.
Quigley persevered.
"I think it's just the love of the game," Quigley said. "If you didn't love it that much you wouldn't go overseas for seven months. You wouldn't be the 12th person at the end of the bench. You wouldn't just keep getting cut. Wanting to play and wanting to prove myself has kept me going through."
Quigley, originally from Joliet, played with DePaul from 2004 to 2008 before resigning with her hometown team after a season where she averaged 9.8 minutes per game and 3.4 points per game. Quigley resigned, but this time it was different. The 28-year-old was done with sitting on the end of the bench.
When Quigley got to play, she broke through. This season Quigley averaged 11.2 points per game in nearly 25 minutes per game off the bench.
Her numbers were good, but her impact was much greater. Quigley and the Sky, who went 15–19 in the regular season, made a surprise run to the WNBA finals and Quigley played a key role in the run. It was a role that the WNBA recognized with Quigley earning the Sixth Man of the Year award.
"It's what everyone wants to get to, to play for a championship," Quigley said. "I think it's been a lot of fun and it's something that everyone wants to do."
Quigley's rise took a toll on her. In addition to being bounced around the league, she went the entire 2012 season without playing in the WNBA. Instead, Quigley relied on having to play overseas. She spent time in Turkey, Hungary, Romania, Croatia, Slovakia and Poland.
Quigley said there were positives to playing abroad. The gyms were smaller, which created a better atmosphere for games. She loved the enthusiasm from the fans, but couldn't understand them. She didn't know the language. Another downside was that she was away from her family.
Quigley almost thought about quitting.
"It was my family (who helped)," Quigley said. "Every time I'd be down about not playing or getting cut, they would remind me that 'You're really good. Keep sticking with it. You're one of the best players in the world. Keep with it.' They'd always bring me back with a positive attitude."
To DePaul women's head coach Doug Bruno, Quigley's persistence isn't a surprise either.
"She's playing with old-fashioned instinctiveness," Bruno said. "Everybody talks about never giving up and never quitting. That's Allie. She's made herself into a European star playing against players in the WNBA. That experience of playing against them overseas has motivated her to keep working back here in the United States."
Both Quigley and Chapman said that Quigley's struggles early on were a mix of not getting enough playing time to showcase what Quigley could do and not being ready to play.
This season, however, Quigley improved in a different role than what she had played in college. Chatman moved Quigley over from a two-guard to a more traditional point guard with more ball-handling duties. With the switch, Quigley has improved her ball handling and being able to score of screens.
Quigley's newfound role has not only led to success in the regular season, but the playoffs as well. Quigley averaged 14.5 points per game in the playoffs, including a 24-point outing against the Indiana Fever to help the Sky advance to the finals.
"She's a big reason we got into the playoffs because she made the move from the two-guard to the point and never lost herself," Chatman said. "She's a junkie. She's always working in the gym. You know, she loves (Golden State Warriors guard) Steph Curry. He's really a point guard with a two-guard mentality. She's like that. She's always working on her weaknesses."
On Friday, the Sky were swept by the Mercury. The result was a disappointing outcome after Quigley's teriffic season, but if there's anything to learn about Quigley's experiences, it's that she'll only use it as motivation to improve herself further.
View Comments (1)