Bear down: High expectations for Chicago Bears not being met early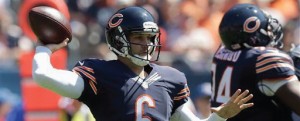 When you work, live, or attend school in a place like Chicago, standards and expectations are naturally high.
A city like ours isn't home to citizens with mediocre expectations. We work hard, and we tend to play hard too.
It's a hell of a lot more fun to play when the Bears are NFC Contenders. The energy in the city shifts; like it does for the Hawks and Bulls. Same canvas, different brush, if you will.
The Bears entered the 2014 season with some lofty expectations. These are expectations that carry significant weight when you consider the offensive juggernaut that we saw in 2013. The Bears threw up Techno Bowl (is that reference too dated?) in 2013, and their skill players are second to none in the NFC when you refer to Brandon Marshall, Alshon Jeffery and Matt Forte.
Both Forte and Marshall rank in the top five in their positions across the league, and Jeffery is not far behind, finishing fourth in the league in yards per reception. The Bears have their skill guys ready to go with quarterback Jay Cutler, who was just paid about $55 million in the offseason and is finally healthy.
Ah, Cutler. Is it the year he takes the next step? I'm not so sure. Yes, Cutler has a cannon for an arm and a great rapport with Marshall. Yes, Cutler can move in the pocket, and create his own throwing lanes.
However,Cutler's shortcomings will dictate the Bears success this year. The confidence he has in his arm often lead to ill-advised throws, better known as interceptions. Over the last five years, only three quarterbacks have thrown more interceptions than Cutler — who has thrown 128 in his eight years in the NFL. The common Bear loyalists aren't going to be very patient with Cutler's reckless ways. Especially after the success backup Josh McCown had in his six starts.
Lucas Sonneborn, a graduate of Columbia University and three year employee of the Bears in their Fan Services Department, echoes those sentiments.
"When we decided to pay Cutler the big bucks, we only had a Super Bowl berth in mind," he said. "At this point in his career, given the kind of talent he has around him, anything less than that will be yet another disappointment."
Yes, Cutler hasn't helped the cause. But there are two sides of the ball in this sport.
8–8 was a major disappointment last year. However, when you're asked to score more than 30 points per game because your defense couldn't stop running water, it can be difficult to win football games.
The Monsters of the Midway added some "help" on defense in the offseason in the form of All-Pro defensive end Jared Allen and defensive end Justin Houston. Finishing 30th in overall defense and dead last in defending the run in 2013, any help would suffice, right? Wrong.
Allen, 32, has still shown some quick actions off the line and remains crafty in finding ways to get to the quarterback. With that being said, Allen was on the line in Week One when Fred Jackson, the oldest running back in the league (33), ran for 61 yards on just seven carries. Houston was also a non-factor in the game against the Bills.
This is the same defense that let second year Bills quarterback EJ Manuel complete 72 percent of his passes and remain upright for most of the game registering just two hits. Not a great start for a championship team with a "revamped" defense.
Editor's note: Results of 49ers-Bears finished after deadline.