En Garde: DePaul's fencing club brings ancient combat to the Ray
Hang on for a minute...we're trying to find some more stories you might like.
If you walk into the Ray on a Saturday afternoon, you might see people in weird mesh masks, wearing white uniforms and brandishing swords.  They are members of DePaul's fencing club.  According to their club website, they "provide the ability for DePaul students to participate from simple practices, to club tournaments, to competitions located in the Chicago area."
"The DePaul Fencing club has been around for approximately two years," said senior Ray Dittmer, president of the DePaul Fencing Club.
They currently learn and practice in the Ray.  Dittmer is an experienced fencer who says he started practicing the sport about a decade ago.  Back home, Dittmer is a teacher at a fencing club called Le Grand Cercle in San Francisco.
Another experienced member of the Fencing Club is a sophomore biological science major Alexandra Krak, who started fencing when she was a freshman in high school.
"I instantly fell in love with it," she said.
Not everyone who is a member of the fencing club is as experienced as Krak and Dittmer.  Senior Jack Riley is another one of the club's members, and he says it's the swordplay that got him hooked.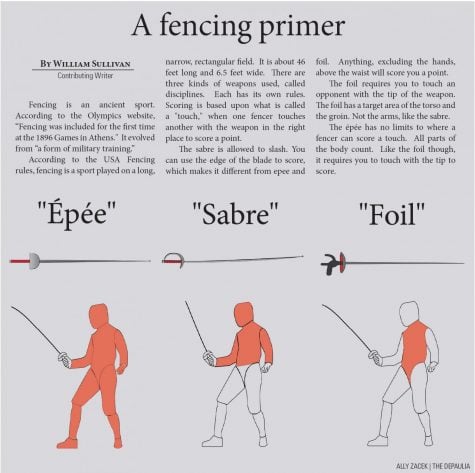 "I've always been into swordplay, and I noticed the people fencing at the Ray," Riley said. "The next year the club started and I joined. We all largely started off in the club, but everyone has learned pretty quickly."
And sophomore environmental science major Esmahan Elasmar joined the fencing club last fall after she saw the group's booth  at the 2017 student involvement fair. "I never fenced before then, and I have been learning in the club," she said.   
Some people might question whether fencing is a sport at all.  It does not have many of the trappings of what people imagine when they think of sports. Hitting the weight room won't make you a better fencer, neither will running the 40-yard dash in under five seconds or a five-minute mile without breaking a sweat. But there's a lot more to it than just shuffling around and jabbing your opponent with a pointy stick.
"Fencing is a sport set in tradition, honor and respect," Dittmer said.  "Fencing provides a great workout both physically and mentally."
The club currently focuses on only one discipline, though fencing includes three: sabre, foils and épées. DePaul's fencers have taken to sabre, a style of fencing that allows competitors to use the edge of their blade to score points by striking any part of the body above the waist — including the face mask.
In foil, competitors must touch their opponent in the torso or groin with the tip of a thin, flexible sword. Using a thicker and heavier sword, épée fighters must touch their opponent with the tip of their weapon, but the entire body is in play.
"Right now we're just sabre," Riley said.  "It's the more interesting weapon, in that it's fastest paced."
"Sabre feels like a highly underutilized weapon in the fencing world and bringing it to DePaul was something I think is rather unique," Dittmer said.  "I noticed that people usually found the slashing motion of the weapon a bit more natural than the stabbing gestures of the foil and épée."
There are a few barriers to becoming a fencer, and  one of those is getting access to the equipment. Luckily, DePaul's fencing club has a few sets of practice gear and electrical gear for its members to use. Riley says the club does request that members purchase their own gloves, however.
"DePaul's fencing club is great in that they provide most of what you need so that you don't need to spend a ton of money," Elasmar said. "They require only a glove which you can get online for around $10."
Even if fencing has high costs of entry, once you get in it is an equal playing field.  "Fencing is a sport that well respects women," Krak said. "All the rules apply to each gender, and the judges are fair."
Members say fencing isn't just a physical sport – it's a mental one even more so.  "The mental gymnastics a fencer must perform in order to score a touch has carried over to my life outside fencing," Dittmer said. "Now I am constantly looking opportunities when the situation calls for it, whatever that might be."
"Fencing has taught me to be patient and observe outside of class," Krak said. "It's shown me how to use skills in fencing that I can use in class like critical thinking."