Live recording of political podcast discusses the mass incarceration of Latino population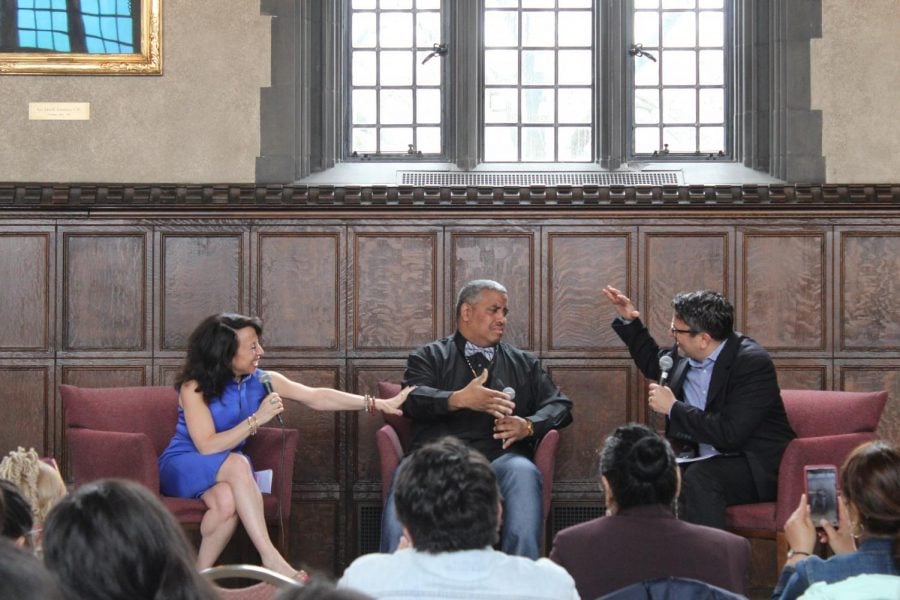 Latin American and Latino Studies professor Maria Hinojosa hosted a live recording of "In The Thick," a podcast about politics from the perspective of people of color (POC), with co-host Julio Ricardo Varela at DePaul on Thursday, May 3. Covering a three-part series on Latinos and mass incarceration in the United States, "In The Thick" welcomed five guests to join the conversation.
Part one of the series featured Luis "Suave" Gonzalez, who received a life sentence without parole at a prison in Pennsylvania, for a robbery-turned-shooting that resulted in a death. He was sentenced at the age of 17 for a crime he didn't commit.
"I didn't tell on anybody, cause at that time I believed in the code of the streets," Suave said.
Suave was released on November 20, 2017; he is now a prison reform activist. As the discussion got started, Suave became emotional over the simple fact that he is alive after 30 years of thinking he was going to spend the rest of his days in prison.
"The fact that now he's out and he can cry on stage is actually a really profound statement about who he is as a human being and where he is in life," Hinojosa said.
When Suave was convicted he was offered a five year plea, but at the time he was also illiterate; he couldn't read or write, and he didn't understand that in Pennsylvania, going to trial without taking a deal meant getting the maximum sentence.
Fast forward to 2012: In Miller v. Alabama, the United States Supreme Court ruled that mandatory sentences of life without the possibility of parole are unconstitutional for juvenile offenders.
"If it wasn't for Barack Obama who appointed (Supreme Court Justices) Sonia Sotomayor and Elena Kagan, juvenile lifers across the United States would not be out," Suave said. "Those were the two deciding votes that said, 'No, juvenile lifers should be let out of jail.'"
At one point, Suave spent five years in solitary confinement, which Hinojosa and Varela described as an inhumane punishment. But Suave pointed out that five years "in the hole" in the prison system is nothing compared to the 25-35 years of solitary confinement that some people in Pennsylvania get.
"Don't feel sorry for me," Suave said. "We still have brothers in Pennsylvania in the hole that have been there 30, 40 years. We should all be advocating for them to come out the hole."
Roque Planas, an Austin-based national reporter for the Huffington Post who covers immigration, and Aisha Davis, a civil rights attorney at Loevy & Loevy, joined Suave in the second part of the series where the focus was on the fact that Latinos are being pushed into a system of mass incarceration.
"It's an issue that goes beyond talking about mass incarceration; it goes into the conversation of why certain people are targeted," Davis said.
Communities of color are often over-policed, where any instance of "suspicion" means that POC are immediately targeted. Planas questioned not just who is targeted by police, but who isn't targeted.
Hinojosa and Varela stressed the fact that while discussing the prison industrial complex, the ICE industrial complex – immigration, detention and deportation – cannot be overlooked. Hinojosa said more money is spent on immigration, detention and deportation enforcement today than all federal law enforcement agencies combined. That means more money is being spent on tracking down, detaining, housing and then deporting immigrants than the FBI and the Department of Justice police budgets combined.
"It's not about immigration enforcement so much as reinforcing the idea that crime looks a certain way, that crime has a color," Planas said.
Davis raised the idea that if you're "dark enough," it is likely that you can be targeted.
Joining in for the last part of the live recording was David Manuel Hernández, an assistant professor of Latina/o & Latin American Studies at Mount Holyoke College and Mony Ruiz-Velasco, an immigration attorney and activist in Chicago.
Hernández and Ruiz-Velasco dug deeper into the issues of immigration detention and deportation, stressing that immigrants are being targeted regardless of criminal backgrounds. 
"You have fewer rights in the civil justice system if you're an immigrant than if you're someone in the criminal justice system," Ruiz-Velasco said.
One thing was agreed upon by all of the guest speakers: We need to move forward alongside our communities of color that are being impacted in this day and era and consider strategies that might help us reverse the criminalization of POC.
Hinojosa and Varela will be producing these conversations into a series of podcasts within the coming week.