Political science undergraduates register fellow students to vote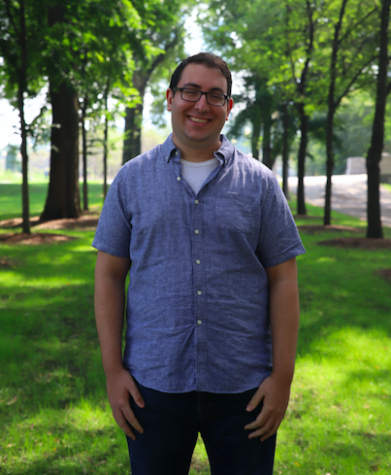 More stories from Brian Pearlman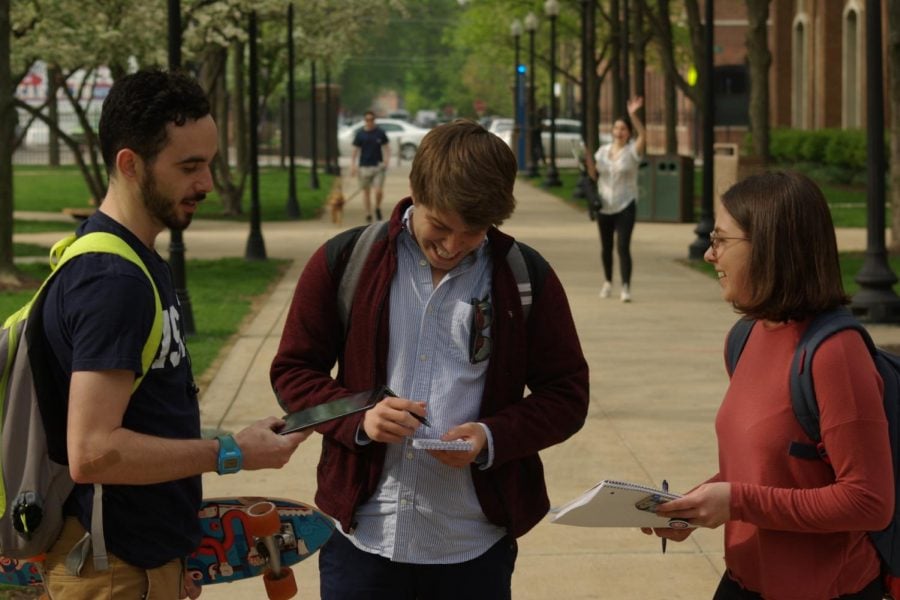 "Hi, we're trying to register people to vote – only takes two minutes," said DePaul senior Seamus O'Connor on a warm Monday afternoon in the Lincoln Park Quad.
The small group of students he was addressing smiled politely. "I'm already registered in my home state," said one.
"No thanks," said another.
"No problem," O'Connor responded. He thanked them and, with group mates Ally Sledz and Sam Tomko-Jones, moved on to another group of students who were sitting in the grass nearby.
The students weren't just asking others to vote for fun; it was all a part of a project for PSC 315 – Internet, Technology, and Politics. The class, which is currently offered once per year to DePaul political science majors, requires students to come up with an experiential web campaign project.
"It was semi-assigned. At the beginning of the course we were told to write down what our interests would be and kind of setting up this kind of project. And then the professor created a few categories and then we picked which one we wanted," O'Connor said.
"We all had similar interests," said Tomko-Jones.
After deciding that they would focus on getting students registered to vote, the group, which also includes senior Hadiya Afzal, did some research and created an outline. They looked at a widely-cited study published by Pew Research in April, which found that only 51 percent of Millenials turned out to vote in 2016. And they looked at a study from CIRCLE, the Center for Information and Research on Civic Learning and Engagement, which suggested that Millenials could have swayed elections in at least 10 states.
While voter engagement in primary elections is notoriously low, the group also had to grapple with the 3 percent turnout of those aged 18-24 in this year's Illinois primary elections.
"State and local officials arguably have the biggest direct impact on student lives–they make decisions about issues like student debt and funding for education, along with many other decisions," the group wrote in their information packet.
After creating a list of important dates for Illinois voters, including October's voter registration deadline and grace period, the early voting period that begins in late September and the absentee ballot deadline, the team created an online platform through which to spread their message.
Under the Twitter handle @18_for_2018 and with a bio that encourages people to "Excercise your voting power by registering to vote now!", the group posts voting memes, helpful hints and links to external voting resources such as website Ballotpedia.
"Getting visibility is the biggest thing," O'Connor said. "It's just hard to get people to register when you have 9 followers on Twitter." (The group had 21 followers as of this writing.)
On May 15, the group posted an interactive map they created using Esri mapping and analytics software, which allows users to select any state in the U.S. or its terrorites and view the voter registration requirements.
And on Monday they did some actual canvassing, in order to see how many DePaul students they could get registered. They weren't always successful – many claimed, whether it was true or not, that they were already enrolled to vote in their home states. When that happened, O'Connor, Tomko-Jones and Sledz smiled, shrugged their shoulders and kept on moving.
When someone did want to be registered (or wanted to check and make sure they were), O'Connor gave them his phone with the Vote.gov website pre-loaded onto it. Minutes later, after going through the prompts and answering a few basic questions, the student was good to go – a registered Illinois voter.
In every case, the group members made sure to stress just how quick and easy the entire process is.
"I feel like everybody thinks its this big task where you gotta go to a government office and do all these things, but really it just takes two minutes," O'Connor said.
"The tools are all there," Sledz said. "It's just a matter of letting people know how accessible they are and how easy it is."
After an hour, Sledz did the tally: 53 students asked, 33 "already registered," 10 refusals, 10 registered successes.
A modest success, but one that will hopefully go a small way towards raising the rate of voter participation for Millenials, both in Illinois and nationwide.