Car Seat Headrest heats up Riviera
September 10, 2018
Will Toledo is the kid you went to high school with but never noticed—but that kid found his voice, and the Riviera overheated with his fans Friday Sept 7.
After Naked Giants left the stage, Car Seat Headrest trickled onto the stage with a slow opening song, "The Ending of Dramamine." This was followed promptly by a cover of the Lou Reed classic, "Waves of Fear."
The show was an even mixture of new and old—or new and still-kind-of-new songs. Toledo and his gang hit the first half of the show with songs from their latest 2018 album, "Twin Fantasy." The ending portion off the gig was filled with tracks from the critically-acclaimed 2016 project "Teens of Denial"—all while sneaking in songs such as "Something Soon" from the 2015 album "Teens of Style."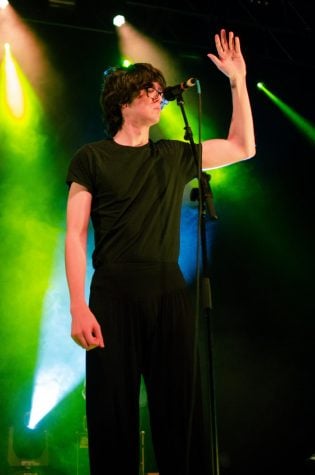 The show was a sweaty, skinny-boy riot and Toledo has set that standard. He's exactly as I pictured him: shaggy black hair half covering his aviator glasses and an all-black outfit draping on his body, swaying with every lanky movement.
Aside from picking up a tambourine half way through the show, Toledo provided only vocals to the live show. However, Car Seat Headrest's extremely large collection of music is all thanks to this man.
Car Seat Headrest began as Toledo's solo project, making music because he felt he needed to. Toledo would record in solitary places during his college years, such as his car—where the band gets its name. "When I was starting out, I recorded vocals in my car sometimes just for the sake of privacy," Toledo admits in the ending interview sample placed in "Not What I Needed," an ending song in "Teens of Denial."
Toledo released 10 solo songs himself before signing to Matador Records in 2015. After this sign-on, the band expanded to a four-man group including: Andrew Katz on drums, Ethan Ives on guitar, Seth Dalby on bass and of course Will Toledo. The four-piece toured and released the 2016 "Teens of Denial."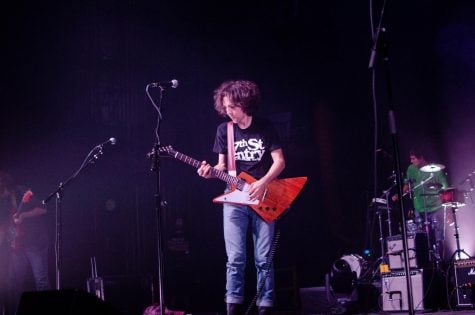 Since, the band had been working on the revamp and remake of an older album, which was released as "Twin Fantasy" this year. While touring, Car Seat Headrest is joined on stage by Naked Giants to perform the album, creating a seven-man ensemble.
The Riviera was closed out by the song "Beach Life-In-Death," the 13-minute, 20-second-long song on the band's latest album. This track is a perfect portrait of the band as a whole. The song is filled with clever individual lines, technical instrumental simmering and build up and memorable screaming choruses that easily bring anyone back to the golden age of pop rock.