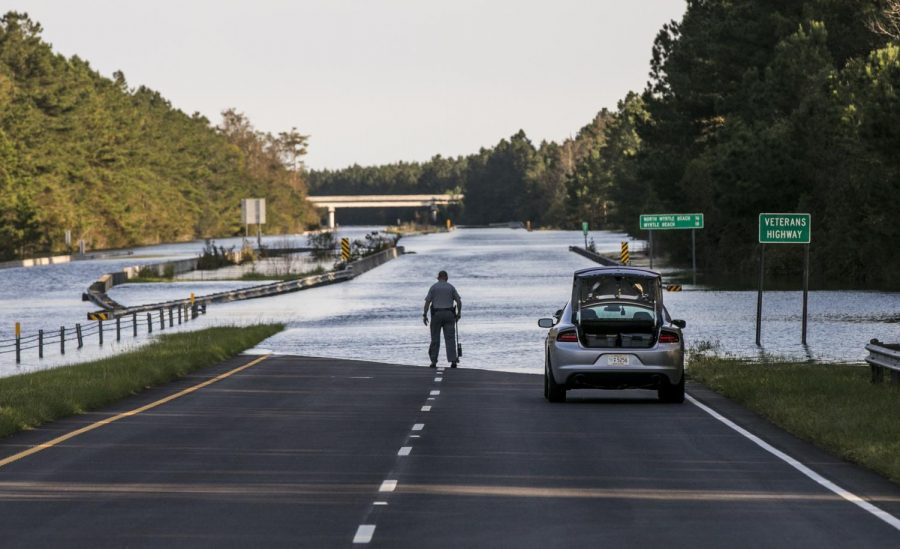 Jason Lee | AP
Over 600 prisoners abandoned following flood
Imagine being trapped in a cell, watching the water rise around you and having no way out. After being left behind to suffer during a hurricane, this was the reality of many of South Carolina's inmates.
In the wake of Hurricane Florence in South Carolina, 651 inmates were abandoned in MacDougall Correctional Institution while citizens were asked to evacuate by Gov. Henry McMaster. Another 1,165 inmates still remain at in Lieber Correctional Institution, just outside of the mandatory evacuation zone.
"It is an act of further dehumanization. It perpetuates the notion that not only are incarcerated people subhuman, but that they deserve to be treated as subhuman," said Sarah Hamilton, a DePaul University senior that has taken part in the university's Inside-Out program, which brings incarcerated peoples and DePaul students together in a common learning environment.
"Despite the fact that the governor of South Carolina told all people to evacuate, those in prison were somehow exempt from this warning as if they deserved to endure a hurricane."
During Hurricane Harvey, prisoners in Texas were left for weeks without working toilets, showers and safe food and water. In New Orleans thousands of prisoners were left standing in flood water with no food, water or electricity for days after Hurricane Katrina. South Carolina is not the first to refuse to move their prisoners due to expenses.
After taking classes at Stateville Correctional Center, Hamilton sees the value in each inmates opinions, personalities and experiences. "Their willingness to speak about their personal experiences with the rest of the class was an inspirational act of vulnerability, and hopefully the start of a healing process for many of them."
Inside-Out classes have been organized by the Stein Center at DePaul for the past six years. Students go to either Stateville Correctional Center or the Cook County Department of Corrections. By having half of the class comprise of DePaul students and the other half be inmates, the goal is to create conversations and understanding amongst two different groups.
"
"It is an act of further dehumanization. It perpetuates the notion that not only are incarcerated people subhuman, but that they deserve to be treated as subhuman.""
— Sarah Hamilton
"The idea is that they are learning about their own identity and the identity of the group that they wouldn't normally work with," said Helen Damon-Moore, the Associate Director of the Steins Center at DePaul University. Being able to pursue a social justice course with those who have been personally affected by the justice system helps outside students to better understand how the prison system works.
"Getting to know the guys from Stateville…has made me realize the urgency of prison reform," Hamilton said when thinking about the urgency of changing the judicial system. "It's guys like them who are literally trapped inside a system of injustice, who hold so many of the solutions our justice [system] desperately needs to hear but so rarely does."
"It's a devastating and illuminating action on behalf of the prison system," said Gabrielle Francis, a DePaul senior and president of DePaul's Amnesty International chapter. For Francis, prison reform is one of her top priorities. "Not only does it reveal the disposable perspective the system holds towards the inmates' beings and bodies, but it spells out the dehumanizing decisions that are made within the prison industrial complex each and every day."
Francis also stated that Amnesty International is taking a stance against mass incarceration and the dehumanization of prisoners in the U.S. On campus, Amnesty is establishing pen pals with those on the inside through nonprofit Black and Pink, as well as partnering with Students Against Incarceration, another DePaul club, as to "help divest funds DePaul currently invests into private prisons."
Through these efforts, Francis hopes to eliminate the idea that prisoners are "disposable" members of society.
"Prisoners, like any of the rest of us, have assets, and we see that in all of these classes where the minute you start talking with people you learn that they are artists or they are writers or they were beautiful woodworkers," said Damore- Moore. "These 650 prisoners who were going to be left to be water-rotted in the prison… to put people aside and let them vegetate or make them vegetate is just sick."