Fioretti announces run for mayor, criticizes Emanuel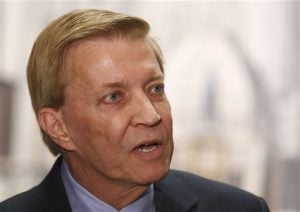 The mayor's race has heated up in the past few weeks as Ald. Bob Fioretti announced his bid to unseat incumbent Rahm Emanuel.
The second ward alderman made his announcement in front of a crowd of supporters in the gymnasium of East West University in the South Loop. He wasted no time going after the mayor for a slew of perceived failings and shortcomings on promises made.
"Our current mayor promised so much, and like many of us, I hoped he would deliver," Fioretti said. "But our schools are being gutted, our streets are not safer and so many are missing out on economic opportunities and jobs."
Fioretti, elected to his current office in 2007, has been the most outspoken critic of the mayor on the council and is one of the leaders of the eight member anti-Emanuel progressive caucus.
"Four years ago, Rahm Emanuel promised he was going to be tough," he said. "People voted for tough, but all we got was 'tough luck!'"
The speech focused on three main areas: the economy, education and crime. If elected, the alderman pledged to increase the city's minimum wage to $15 an hour, impose a 1 percent commuter tax for those who work in the city but live outside it and to hire 1,000 additional police officers to patrol the streets.
Fioretti seemed to take a page out of New York City Mayor Bill de Blasio's playbook by painting the narrative that Chicago is a tale of two cities, one thriving and one struggling. For his part, Fioretti promised "to be an advocate not just for the businesses in the Loop – but for the parts of the city that are too often ignored, where crime is a part of daily life, where there aren't enough jobs."
Despite having the backing of an overwhelming majority on the city council as well as having ties to hometown President Barack Obama, Emanuel's popular support has taken a dive over the course of his term. A Chicago Tribune poll taken last month showed the mayor with a 35 percent approval rating, well below where any incumbent would like to be five months before facing re-election.
"I think that part of it is his personality, I mean he comes across as a tough guy and some people think that he's unlikeable," said Michael Rance, president of the DePaul College Democrats. "I also think that there are a lot of problems in Chicago right now that need to be addressed and some people feel like they aren't being addressed quickly enough."
Emanuel has repeatedly been criticized for closing over 50 public schools largely on Chicago's South and West Sides, and he has also taken a hit as many do not believe that he is doing enough to combat the city's crime problem. Support amongst African Americans and Hispanics for the mayor has dwindled.
Despite this, Fioretti is the only major challenger to enter the field as of now. Chicago Teacher's Union President Karen Lewis has been exploring a run, but has not yet officially entered the race. Cook County Board President Toni Preckwinkle, considered by many to be the biggest threat to the mayor's re-election effort, passed on a run to focus on her own re-election.
Even with Emanuel's unpopularity, any challenge to him will be an uphill battle. The mayor is a seasoned political operative who already has $8.3 million stashed away in his campaign account, according to the Chicago Sun-Times.
"I don't think that [Fioretti] could defeat Rahm Emanuel in a mayor's race," said political science professor Larry Bennett. "People don't come out of the city council and run for mayor."
According to Bennett, Fioretti's lack of name recognition and ability to challenge the mayor's massive war chest will hurt him. He added that conditions are much more favorable for the mayor in a low turnout election, which this next one will likely be. And if Lewis decides to jump in, those who oppose the mayor risk splitting the vote.
While the mayor has yet to announce his re-election bid, his campaign appears as though it will be centered on making tough and sometimes unpopular, but necessary decisions.
"Time and again, Alderman Fioretti has shown no backbone for making tough choices and little respect for Chicago taxpayers' pocketbooks," said Emanuel campaign spokesman Steve Mayberry in a statement. "Chicago can't tax itself out of our problems. Chicago needs, and has, a strong leader who has shown that he is willing to make tough decisions."
With two contrasting views of how to lead the city, it appears as though the campaign will offer voters a distinct choice.
"I know that the DePaul Democrats were actually able to meet with Ald. Fioretti last year and he seemed like a great guy and a great alderman, so it'll be interesting to see how his ideas stack up with Mayor Rahm Emanuel's," Rance said.
Chicago voters will go to the polls this February. If no candidate receives an absolute majority, the top two finishers will advance to a runoff in April. Last election, Emanuel ran an absolute majority with 55 percent of the vote, with the next closest challenger, Gery Chico, only obtaining 24 percent.