88Rising looks to continue meteoric ascent
October 8, 2018
Almost half a century old, rap music finds itself maturing in ways DJ Kool Herc could barely imagine, and the collective 88Rising looks to carve a new niche in America's most listened-to genre. After throwing their own festival, "Head in the Clouds," in Los Angeles on Sept. 22, they then immediately launched on their nationwide tour, stopping in Philadelphia on Friday, Sept. 28. As they tour around the country of hip-hop's genesis, many students are keeping an eye on their progress.
"It's cool and inspiring for everyone to see [Asian influence] in a realm of music that's so far from what Asian music usually is," said Columbia College student Kayla Garcia. Having parents of Indonesian descent, she relates to 88Rising's Rich Brian, who was born in Indonesia. She talked about her little brother, a big fan of hip-hop, and how he was influenced by Brian as well. What's been the most exciting for Kayla has been the prospect of her sibling having a role model to look up to.
"I want to say that I'm living vicariously through Rich Brian and Joji," says Tom Le, a film major at DePaul.
"I dabbled a little in music when I was younger," Le continues. "I just never pushed it to make a career out of it; like I never had a desire. But I see people like 88Rising, and the artists that are underneath 88Rising, and I'm like, wow that's representation….so I identify with that as an Asian-American as well." Though they're exciting because of their heritage, the intention behind the hybrid label/collective/marketing group is to not only rely on being just diverse Asian role models. "I think that 1000 percent of the time, the music needs to be good," Sean Miyashiro, the founder of 88Rising told Pitchfork in a 2017 interview. "There needs to be something there, or it becomes more of a marketing gimmick."
By now there should be no doubt that the artists under the 88Rising umbrella are more than just tools to sell a brand. Rich Brian's debut single "Dat $tick" came out in 2016 and has accumulated over 102 million views on YouTube. Brian was barely 17 when the song dropped, and it was certified gold a little over a year later.
He has since worked with such artists as Young Thug, Diplo, Skrillex, Offset and fellow labelmate Joji, who is a star in his own right.
Joji, who rose to internet fame as the inventor of the meme "The Harlem Shake" under his former alias of 'Pink Guy,' is pushing the envelope with his own brand of hip-hop as well. Wavering between triphop and R&B, Joji is setting a thrilling precedent for hip-hop to live up to. As the two most prominent and popular members of 88Rising, Joji and Rich Brian have collectively garnered over 15 million views online just eating spicy chicken wings.
"There are a lot of rappers like, in Korea, in Japan … that are like, domestically very popular," Le says.
"But on an international scale I feel like 88Rising is like catering everywhere. A lot of America, a lot of Europe, and, like, specifically in their home countries as well …. kind of breaking the domestic [Asian] bubble, I mean."
Though they have taken up the collective mantle of "Asian," the members of 88Rising couldn't be more diverse: Rich Brian, as stated earlier, was born in Indonesia as was the singer NIKI. Joji is Japanese-American, The Higher Brothers hail from China, and 88-adjacent Keith Ape is South Korean. KOHH, who has been releasing mixtapes in Japan for years, is even set to have his American debut on this tour.
But not everyone believes this exposure is purely positive, "I think they're an interesting brand," DePaul student Shawn Wong says. "And it's refreshing to see Asian-Americans being represented through music, but I think the way they go about it is often exploitive of black culture."
Indeed, Rich Brian's original stage name was "Rich Chigga," an obvious Asian slant on America's most powerful and problematic racial slur. In his debut song Brian raps about shooting guns, both in general and aimed towards peoples' necks. In their single "Made in China," Higher Brothers rap about chains, gold watches and black cars before featured rapper Chicago native Famous Dex speaks about whipping a Mazi (referring here to the popular Italian sports car manufacturer, Maserati). And black appropriation isn't the only concern, either.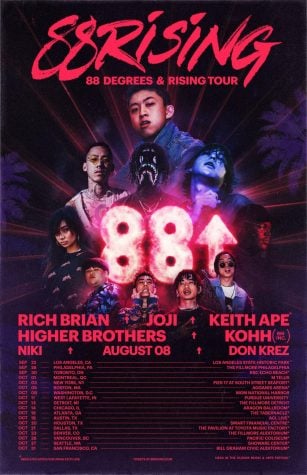 "I feel like Asian culture has always, like, been seen as like, a cool thing; kind of exotic, new," Le says. "So no doubt 88Rising is probably going to put a spike into that appropriation of Asian culture, but that's one of the few downsides of having Asian representation in the media."
This argument of appropriation is, however, the perpetual conversation regarding the art of rap music. "Always said if I rapped I'd say something significant," Kanye West writes in 'Breath In Breath Out." "But now I'm rappin 'bout money, hoes and rims again."
No matter where one's views lie on the appropriation debate, the artists of 88Rising are each captivating talents in their own rights, all with promising careers ahead of them both in the United States and abroad. "I think this is our time now," Miyashiro continues in his Pitchfork interview. "…. I think we're the ones the world had been waiting for – a wavy group of Asians combining like we're Voltron or some shit."
88Rising is coming to the Aragon Ballroom on Sunday, Oct. 14.