25-0 run dooms Blue Demons against Northwestern
Unbelievable.
Everything was going so well in DePaul Blue Demon men's basketball land (5-2) on Saturday before a 25-0 Northwestern Wildcat (7-3) run late in the second half erased an opportunity for the Blue Demons to record their first road win of the season.
The anatomy of that run?
Northwestern 25, DePaul 0 across a 6:50 stretch. DePaul went o-for-8 (0-for-3 from 3-point land). Meanwhile, Northwestern shot a scorching 8-for-8 from the field and drained six 3-point field goals. Wildcat forward A.J. Turner splashed in 11 of his 24 points during that stretch, while Northwestern senior guard Vic Law turned in 10 points. But it wasn't the scoring so much as what happened on the other end of the floor that fueled the run.
"We got stops first of all," Northwestern head coach Chris Collins said after the game. "It's hard to get the offense rolling if you are always taking the ball out of the net the way they were dicing us up for 30 minutes. We finally dug down, we finally got some stops. We got in transition. We finally started making the right reads where we were getting into gaps and kicking it to the right guys."
It all added up to Northwestern turning a 15-point deficit into a 10-point lead with 2:58 to play. They then staved off a late DePaul comeback to hand the Blue Demons their second loss of the season.
"We lost our focus in what our game plan was," Blue Demon head coach Dave Leitao said after the game. "Again I've said this before, they were 4-for-17 at halftime (from 3-point land). They are going to shoot 15 to 20 more [3-point field goals]. Either we are going to have a hand in their face when they do it, or they are going to be open. Our coverage on [Dererk] Pardon down low was really good [in the first half] and after helping and recovering guys got to shooters in time. [In the second half], it got stagnant so inside-out passes became catch-and-shoot threes that allowed them to kind of gain some momentum."
After that 4-for-17 shooting first half from 3-point territory, the Northwestern outside shooters poured in seven triples on 14 attempts in the second frame. After a sluggish first half, Law woke up to the tune of 18 points on 4-for-8 from the field (2-for-5 from the 3-point line; 8-for-8 from the free-throw stripe) in the second half. But Turner was the star of the game, earning himself the Waldo Fisher-Frank McGrath Most Valuable Player award presented annually to the star player in the matchup between DePaul and Northwestern.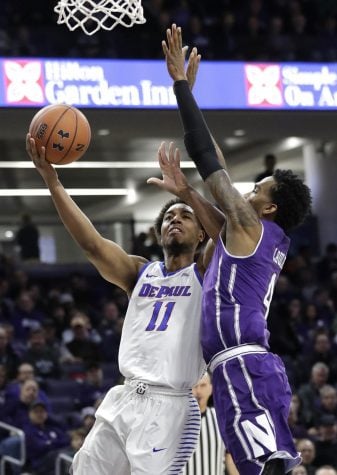 Overall, Northwestern outscored DePaul 46-27 in the second half as the Blue Demons shot the ball 28.1 percent from the field (9-for-32) and 9.1 percent from 3-point land (1-for-11).
DePaul carried a 12 point lead into halftime after shooting 58.1 percent from the field. Northwestern scrambled out to a quick 6-0 run out of halftime to wake up a Welsh-Ryan Arena crowd that didn't have much to cheer about in the first half. But the Blue Demon advantage remained mostly in double digits until Northwestern went on their 25-0 tear.
The final result wasted a solid performance from graduate student Femi Olujobi. The 6-foot-9-inch big man deposited a Blue Demon career high 22 points and eight rebounds while knocking down his second 3-point field goal of his Blue Demon career and playing rock solid defense against Northwestern big man Dererk Pardon (3-for-7 from the field with 10 points). Blue Demon point guard Devin Gage had a career high 17 points. However, the stats rang hollow without a win attached to them.
"The culture there's only so much we can do," Olujobi said after the game. "We have to translate it onto the floor and we have to do a better job of that."
The Blue Demons look to bounce back when they battle Chicago State on Wednesday evening.