Blue Demons get first taste of life post JCL injury in win against Incarnate Word
In terms of the DePaul Blue Demons [8-2] rotation in an 81-71 win against the Incarnate Word Cardinals (5-7) Wednesday night at Wintrust Arena, life without Jalen Coleman-Lands wasn't much different than what life had been like when the now-injured shooting guard was still on the floor.
"The only change I can make in the short term is that each individual that plays has to be the best version of himself," Blue Demon head coach Dave Leitao said after the game. "I'm not asking anybody to do anything different or step out of themselves on either end of the floor."
The rotation now sits at six main guys [Eli Cain, Max Strus, Femi Olujobi, Jaylen Butz, Paul Reed, and Devin Gage] who will play the bulk of the minutes and contribute the majority of the production. A few guys will see their role lengthen slightly to make up for the minutes at shooting guard that Coleman-Lands can no longer play after DePaul announced that he broke his hand against the University of Illinois at Chicago Flames on Friday.
"It hurts a lot," Cain said after the game about losing Coleman-Lands to injury. "Obviously it hurts a lot on the court. He brings a lot with his ability to shoot the ball and on the defensive end. But, I think the biggest thing about losing J Cole is his voice in the locker room and being one of the leaders alongside Max and me. He's very mentally strong and he gives that to other people in various ways. He's still going to be there on the bench, but it's different from him being on the court."
Tonight against Incarnate Word, six Blue Demons scored all 81 of DePaul's points, collected 90 percent of the Blue Demons rebounds, and dished out 85 percent of the Blue Demons assists. The Cardinals bench outscored the Blue Demons 27-8 and all eight of those points came from Butz.
While Leitao will continue to rely on this core group of guys for most of the production moving forward, he knows he'll need to give others opportunities.
"In the backcourt, maybe more minutes for some people who were playing minutes already," Leitao said. "[We need to] increase our bench minutes and somehow manage things both in the frontcourt and in the backcourt until he returns."
Transfer student Lyrik Shreiner played a Blue Demon career-high 14 minutes tonight, tallying three rebounds, one assist, and two personal fouls (he's second on the team in personal fouls per 40 minutes). Leitao frequently used Shreiner as an extra ball handler when the Cardinals pressed, although once DePaul set up their half-court offense he passed the ball off to Gage or Cain and retreated to behind the short corner 3-point line.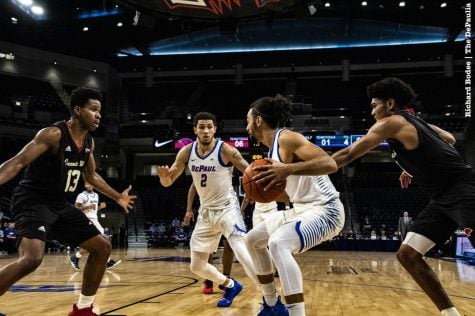 On two occasions in the first half, he received a pass while standing there, shot faked, drove baseline past his defender, and dumped the ball off to a teammate for a good look when the help defender came. He also received some of the tougher assignments defensively tonight. However, his only shot of the game, a corner 3-point field goal attempt, found just backboard.
Shreiner plays shooting guard and would be the natural choice to absorb some of the 29.8 minutes allotted to Coleman-Lands prior to his injury.
"Lyrik's skillset is different than Jalen's, so I can't ask him to do the same things" Leitao said. "I'm going to ask him to be the best version of himself. He drives the ball well, but because he hasn't played a lot yet we need him to become comfortable with the other four guys around him. Share the basketball. Drive it when necessary. Make good decisions and play really good defense."
Redshirt freshman point guard Flynn Cameron played just over eight mostly quiet minutes, although he did record an assist and took a charge. With Cain acting as a de facto point guard this season, Cameron essentially has fallen to third on the depth chart at that position. However, the Coleman-Lands injury could open up minutes for him as well.
In this game, the Blue Demons survived both Cameron and Shreiner being not particularly productive.
After a competitive first half in which the Cardinals nailed 8 3-pointers (which tied their season high for a whole game), a 5-0 run early in the second half increased the Blue Demon advantage to 47-40 with 17:06 to play. Behind 20 and 18 points from Cain and Strus respectively and a career-high 14 points from Reed who was a walking highlight reel for much of the game, the Blue Demons slowly built their lead up to 16 points with eight minutes to go in the half and cruised to an 81-71 victory.
DePaul's 8-2 beginning to the season is the program's best start since 2002-2003. DePaul also is 8-0 at home for the first time since the 1999-2000 season. DePaul looks to make it 9-0 at home when they square off against Boston College on Saturday.