Contrasting styles on display in Big East opener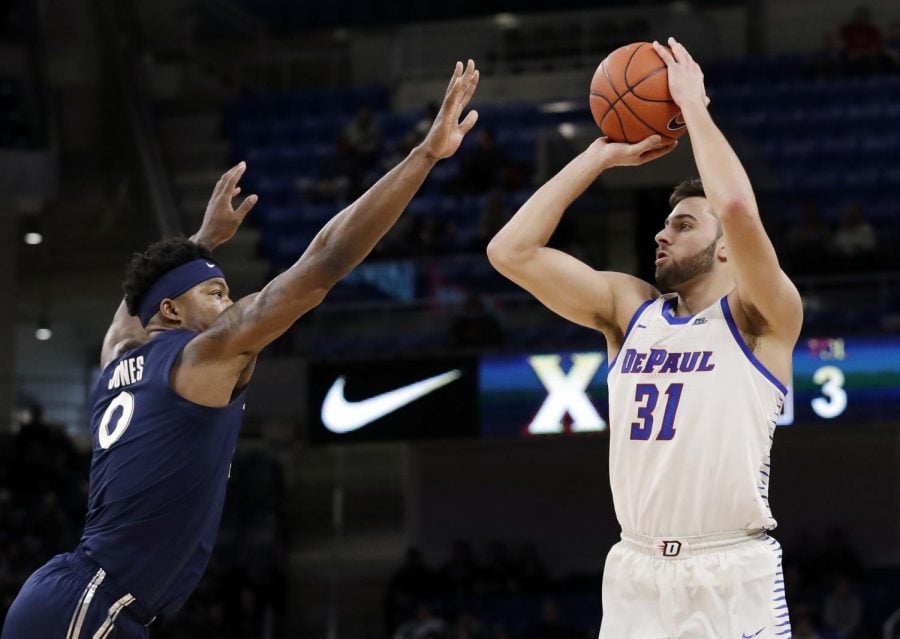 The Big East season tipped off Saturday with two exciting games to begin conference play with DePaul hosting defending regular season champions Xavier and Seton Hall taking on undefeated St. John's. Both games went down to the final minutes, in the case of Seton Hall and St. John's it took a buzzer-beater as the Red Storm suffered their first loss of the season.
Both games also featured totally different styles of basketball being played: one predicated on attacking the paint and getting to the free-throw line while the other survived on 3-pointers. Both worked. Xavier won by taking a lot of three-point shots and Seton Hall won by living in the paint and crashing the boards.
Focusing on Depaul and Xavier, the Musketeers won the game 74-65 with 19-4 run to close out the game. Although the Blue Demons trailed much of the first half they were able to get back into the game and even take the lead in the second half before collapsing in the last five minutes of the game.
DePaul was forced to find other methods to score after not getting their usual scoring production from senior forward Max Strus, who finished with 10 points after he picking up three fouls in a matter of minutes in the second half that sent him to the bench. Down the stretch, DePaul instead relied heavily on sophomore forwards Jaylen Butz and Paul Reed to carry the load on offense. Both had career high in points against Xavier, Reed with had 17 and Butz had 16.
"It would have been nice if we got the win," Butz said. "That's just a small accomplishment for me personally, but as a team I'd like to get the win. Other than that it's a nice small accomplishment."
DePaul outscored Xavier inside the paint 32-22, which is just another example of the emphasis the Blue Demons put on attacking the paint. Some of that has to do with the Blue Demons not being a great three-point shooting team as DePaul ranks last in the Big East in 3-point percentage shooting just over 30 percent.
"We knew if we attacked we would get to the line, even though we haven't been shooting it as well," DePaul Head Coach Dave Leitao said after the loss to Xavier. "Just like anything else you keep working at it and it should be a matter of time and I'm hoping it's one of the areas we can sure up and be consistent in."
Late in the game Saturday afternoon, Xavier turned to a 2-3 zone to try and slow down DePaul's paint opportunities and instead force them to take shots they were not comfortable taking. It ended up working as the Blue Demons missed five of their last six shots after a Reed jumper with 2:03 remaining. When the Blue Demons tried attacking the basket, Xavier had two or three guys already waiting to contest the shot and grab the rebound.
"We went 2-3 zone towards the end, they had Strus on the bench and they had a non-shooting lineup in, so we went 2-3 and Quentin Goodin had four fouls and I didn't want to take him out of the game," Xavier Head Coach Travis Steele said after the game. "I thought our 2-3 zone was very effective and I thought they took some rushed shots, some tough one's around the rim. We came up with those loose 50-50 balls that could have gone either way, but we came up with them late in the game."
Xavier who isn't really known to be a great 3-point shooting team this season, in fact they rank eighth in the conference, shooting 34 percent from behind the arc. However, DePaul who has had massive trouble stopping the 3-point shot this season, the Musketeers took advantage of that and going 10-26 from beyond the arc.  
Xavier started the game red hot from three hitting four of their first seven 3-point shots in the first couple of minutes before finishing the first half 6-17 from behind the arc. As the second half tipped off, DePaul did a good job of running Xavier off the line and forcing them to take mid-range jumpers and tough shots inside the paint. The first 15 minutes of the second half saw the Musketeers only hit one three-pointer as DePaul outscored Xavier 29-17
However, once DePaul went up six, 61-55 with 5:12 they all of sudden couldn't guard the 3-point shot once again as Xavier hit three huge 3-pointers in the final minutes. two from Ryan Welage, who entered Saturday's game shooting 50 percent from behind the arc the past six games. He was good again Saturday hitting five-of-eight threes. The two biggest one's came at the end of the game, including one to pull Xavier within one with just over four minutes to play that came as part of the 19-4 run Xavier went on to win the game. All three shots were wide open and no DePaul player in sight trying to contest the shot.
"If you looked at the 13 games prior to today they had a couple of guys, Welage and Paul Scruggs being the primary guys who shoot really well from three," Leitao said. "However, the core of their group operates in the paint, so we felt if we could build a wall early in their drives then their kickouts could be covered a lot quicker. I thought we were struggling to find that rhythm defensively where we could execute that game plan, and they let loose on some three-pointers because we were a step slow in our rotations inside and getting back out to shooters."
This season DePaul has been able to win games because they can punish people in the paint, and on defense do just enough against weaker opposition to stop them from making game altering 3-point shots. However, Saturday's game was another example of how DePaul plays an old school style of basketball by attacking the rim, whereas their opponents will take a lot of 3-pointers because they know the Blue Demons have a hard time stopping it.