Transfers play role in return to competitiveness
When DePaul and St. John's stepped on the court Saturday afternoon, the game featured two programs that have both relied on transfers as a way of restoring their program back to winning ways.
This is not a new strategy —it's actually becoming more common across the country. According to the NCAA, about 40 percent of Division I players leave their first school by the end of their sophomore year. This doesn't account for players transferring from a Division II school or junior college, which bumps that percentage up even more.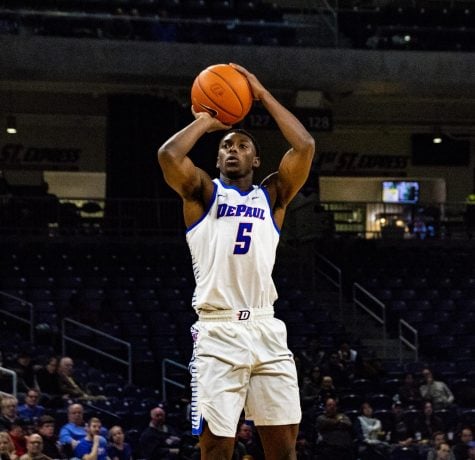 A player may opt to transfer can for a variety of reasons, ranging from a desire for more playing time to wanting to be closer to home. Between the Red Storm and Blue Demons, 12 combined players who have contributed this season did not enter the program as a freshman
"There are many many reasons for that," DePaul head coach Dave Leitao said. "We're in an environment, more importantly it's a quick fix most people get their food out of the drive- thru as opposed to sitting down at a restaurant and so people want what they want and they want it right now. If they don't get it as opposed to times gone by where you kind of work to wait your turn, they seek answers elsewhere."
While this isn't viewed necessarily as a good or bad thing, Leitao added that there are more good teams and options for players to get a fresh start at another institution.
So far this season, DePaul has relied on four players, who started their careers elsewhere before landing with the Blue Demons, in senior guard Max Strus and forward Femi Olujobi, as well as junior guard Jalen Coleman-Lands and sophomore guard Lyrik Shreiner
The transfer trend for St. John's has been more profound the past couple of seasons. Eight players on the team's roster who began their careers elsewhere, including four starters — including: Marvin Clark II, L.J Figueroa, Mustapha Heron and Justin Simon. However, this has long been a trend at St. John's.
"We've had guys like that," St John's head coach Chris Mullin said. "A lot of times they come with a little more maturity, little more experience, probably a little more open-minded because they've been somewhere else and probably a little more open to making things work at their next destination."
Finding a transfer and making sure they fit is another challenge coaches face every time they consider recruiting a player in. Ensuring that a transfer feels comfortable is largely dependent upon locker room leadership, especially with older players who come from different environments and may have differing opinions on how to operate. Led by a trio of team captains in Eli Cain, Strus and Coleman-Lands, the team has assimilated many of the new players, including freshman, into the locker room by spending more time with them off the court.
"I think they have to be willing to adapt to our standards because they're good people to fit in," Leitao said. "I think that's the key to recruiting when you're going to talk about somebody who is a transfer or graduate transfer or junior college player or somebody other than a high school player is their character. Where they come from and their mindset and expectations coming in here."
One advantage DePaul had with Olujobi that previously spent two seasons at Oakland and one at North Carolina A&T. With this in mind, settling in at Lincoln Park has not been a problem for him.
"I did some moving around so it was pretty normal," Olujobi said. "It wasn't my first time doing it but the guys made it really easy for me so it wasn't really difficult adjusting."
Both on and off the court, Cain praised the leadership of Olujobi and Coleman-Lands both on and off the court.
"I think they bring [a lot], especially those two guys those are probably the two biggest personality guys on the team," Cain said. "JB is always in a good mood, Femi is always in a good mood, biggest two jokesters on the team and it's easy to play with guys like that, especially on the court obviously you know what they do on the court something we haven't really had, that big inside presence. There are kind of two different Femi's, outside, inside, JB is a dog inside, lot of rebounds lot of blocked shots and things like that, I think they go hand in hand well with each other."
When Coleman-Lands suffered a broken hand against UIC before the new year, Olujobi made sure players didn't get discouraged with conference play around the corner.
Since that game, sophomore forward Paul Reed has stepped up, averaging 12.5 points and eight rebounds in the six games since Coleman-Lands broke his hand.
"Just keep everybody positive," Olujobi said. "We have guys who can step up and fill the role this is their time to do that. I think Paul has done an amazing job at just stepping up and showing that he can be responsible and take over some of those minutes and be very effective as he has been."