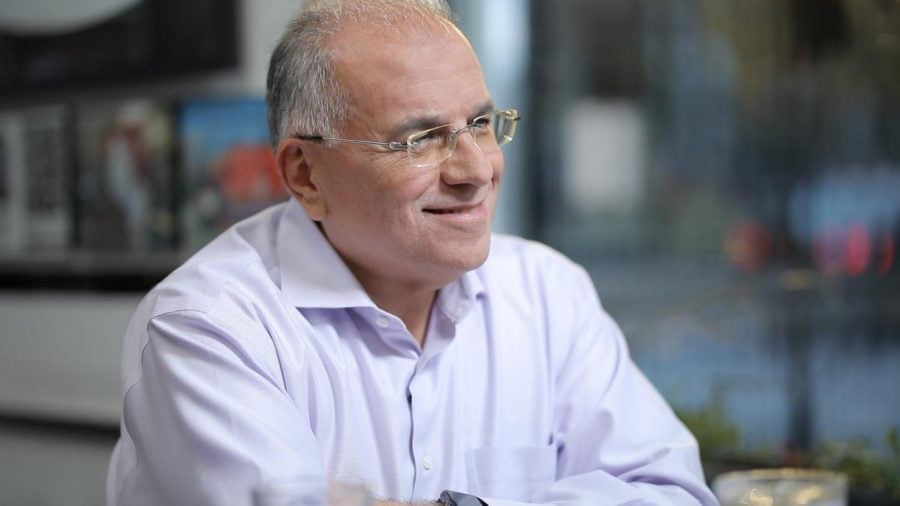 Photo Courtesy of Gery Chico for Mayor
Gery Chico adds experience and connections to mayoral race
Gery Chico has spent his life taking on many important roles in Chicago, but now he is ready to tackle a new one: being the next mayor.
Chico announced his plan to run for Chicago governor in September, shortly after Mayor Rahm Emanuel announced he would not be seeking another term. His announcement put Chico in the running in a crowded race, with 14 candidates now having publicly announced they will run. Among his opponents are Cook County Board President Toni Preckwinkle and Daley's brother Bill Daley.
Running a platform that highlights his Chicago roots, Chico is determined to bring a change to a number of key issues in Chicago should he be elected mayor.
"Our focus has shifted in a lot of ways," Chico said. "It is time that we have people in office who can help to refocus our efforts on the things that matter for the people of Chicago."
The native Chicagoan was born and raised in McKinley Park and graduated from the University of Illinois at Chicago before obtaining his law degree from the Loyola University Chicago School of Law. During his time in school, Chico volunteered and worked with different wards and aldermen, further pushing him into the Chicago political scene.
"I was amazed by the power of local government," Chico said. "These were the people who had the opportunity to make serious changes in my city, they are by far the most influential group in Chicago. It was with those experiences that I decided to pursue a life in politics."
After graduating law school, Chico worked as a lawyer before working as the chief of staff for former mayor Richard M. Daley. He was also the president for both the Chicago Public Schools board and the Chicago Park District, as well as sit on the board for City Colleges of Chicago. Chico recently left the board of trustees for DePaul University after 13 years before announcing his run for mayor.
Chico also is a partner at the law firm Chico & Nunes, which was formed in 2004 with Chico's colleague Marcus Nunes. The firm lobbies for clients seeking government business.
Education, public safety and immigration issues have been on the forefront of Chico's campaign so far. In October, Chico made headlines by saying that if he were elected mayor, he would end Chicago sending money to the Gary-Chicago International Airport in Indiana.
The airport has been used by federal immigration officials to deport those who are in the country illegally. Chico, a Mexican descendent, argues that sending money to the airport, which the city has been doing for 23 years, is against the welcoming city status.
"I do not believe that we should be pouring money into something that fosters such hateful rhetoric," Chico said. "If we want to be an accepting city, we cannot fund something like the Gary Airport."
In 1995, Chico was on the chair for the Chicago Public Schools and later went on to chair the City Colleges of Chicago in 2010. Chico has used his experience within education to further his campaign platform to continue encouraging young people to finish their education.
This isn't Chico's first time running for mayor. In 2011, Chico ran as one of the six candidates on the ballot, winning 10 of the 50 wards, while opponent Emanuel won the other 40.
Chico's reach in the city has given him "experience and understanding about the lives of the people," according to his communication director, Kelley Quinn.
Earlier this month, Chico made headlines by being the first mayoral candidate to run an attack ad. The ad attacked Cook County Board President Toni Preckwinkle, state Comptroller Susana Mendoza and former U.S. Commerce Secretary Bill Daley for their support in a number of tax increases.
Despite Chico's efforts to be seen as a candidate for the people, many still feel very detached from the lawyer and do not see him advancing far in the upcoming elections.
"He doesn't have a big name in Chicago like Toni Preckwinkle and he doesn't have that millennial liberal backbone like Amara," said sophomore Evan Kennedy. "Chico blends in with a lot of other candidates, at least for college students."
Despite the critics and the hectic mayoral race, Chico says he is determined to keep his hopes up that he will get to add the role of mayor to his list of accomplishments in Chicago.
"I know Chicago, and I know what Chicago needs," Chico said. "Chicago needs a strong mayor to help and build it up in the coming years. And I believe that guy is me."