Chicago bands together to help the homeless during deep freeze
As Chicago hit record-low temperatures last week, a number of organizations in the city and the surrounding areas took extra measures to ensure the safety of homeless residents.
Chicago was blitzed by a series of days marred by extreme cold weather, reaching a low of 23 degrees below zero on Wednesday, the fourth coldest recorded temperature in the city's history.
The below-freezing temperatures posed a particularly severe threat for the vulnerable approximate homeless population of 80,000 living in the city.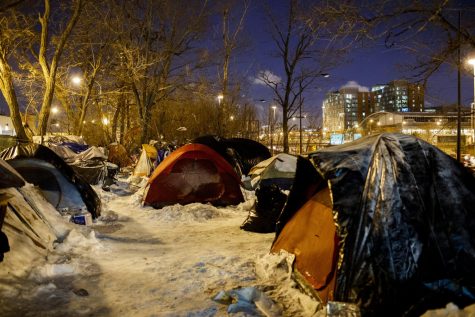 Zakat Foundation of America is a Chicago-based nonprofit dedicated to helping less fortunate communities. On Wednesday and Thursday, members of the organization braved the cold to provide homeless residents with warm meals, water, blankets, coats, socks and other warm clothes.
"As a humanitarian organization, days off are unacceptable, especially in times of immediate danger," said Abbas Haleem, a writer and editor for Zakat Foundation. "While many of us spent our Wednesday indoors, people throughout Chicago and the Midwest remained unsheltered and unsupported in subzero temperatures."
Haleem went on to say that by choosing to ignore the issues faced by the homeless, society as a whole is being weakened.
"It is my belief that leaving the homeless helpless weakens public order by under-representing the population," Haleem said. "This identification and social maintenance is imperative to finding rehabilitative processes that lift people out of poverty and lie them in warm beds at night."
On the suburban front, homeless shelter BEDS Plus utilized a pre-existing practice in which they drove those in need of shelter to their facilities free of charge.
"We do regularly provide transportation to clients on an as-needed basis, which might include taking them to jobs, healthcare appointments, train and bus stations," said Grant Suhs, Communication Specialist for BEDS Plus.
Suhs stated that it is often very easy for people to disassociate themselves from the homeless, theorizing that it is easier to chalk their plight up to a perceived low moral character rather than issues that can befall anybody.
"I think it's easy for anyone to turn a blind eye to the homeless, especially here in the 'burbs. Not to get philosophical, but their existence contradicts a lot of what we've been taught: that if you work hard and are a 'good person,' you'll be successful," Suhs said. "We don't like to see evidence to the contrary: that hard workers and 'good people' can lose their homes. So, we ignore the homeless, or assume they're 'bad' somehow: lazy, criminal, on drugs, et cetera."
In addition to shelters, citizens of the city took matters into their own hands to assist those braving the elements without a home. An unnamed Chicagoan paid for 70 homeless people to stay overnight in a hotel after a propane tank heating a tent city near the Dan Ryan Expressway exploded, according to CNN.
Residents of the city took to social media to provide assistance to the homeless, posting lists of heating shelters in the city to Instagram.
Chicago has a staggeringly large homeless population of approximately 80,384 people, according to 2016 data from Chicago Coalition for the Homeless. 
The issue of homelessness is one of great importance to the city, with some citing a lack of affordable housing in Chicago as a root cause.
"Chicago continues to see far too many of its residents experiencing homelessness for a multitude of reasons, with lack of affordable housing being the most glaring," said Dan Hula, Executive Director of Lincoln Park Community Services. "There simply isn't enough affordable permanent supportive housing options available to those in need.  Poverty and insufficient income also has a major influence on our city's homelessness crisis."
Hula emphasized the issue of homelessness as being year round, with action needed even without severe weather.
"Homelessness exists and remains a serious issue even after the cold weather passes," Hula said. "I think it's important to keep the spotlight on this issue than many individuals would rather not think about."
Haleem stressed the point further, stating that helping the homeless can lead to a positive cycle of altruism.
"It is not enough to help someone once or twice and walk away," Haleem said. "Help them until they can help themselves, and once they are able to, they may help others."