"We ran into a buzzsaw:" Golden Eagles sever DePaul at Wintrust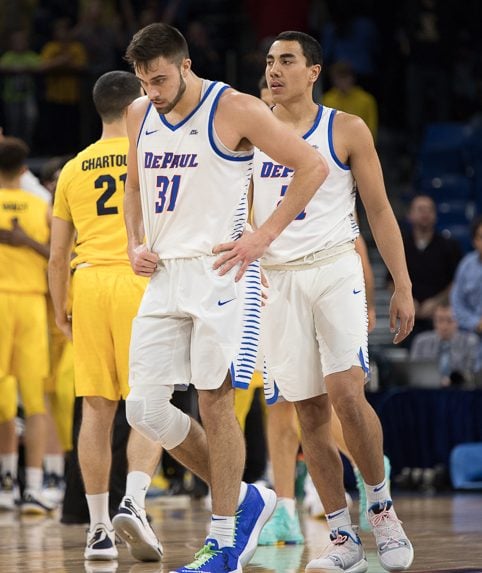 To beat the No. 10 ranked Marquette Golden Eagles (21-4; 10-2) on Tuesday night, the DePaul Blue Demons (13-10; 5-7) would have had to do something special.
They hadn't beaten a team ranked in the top 10 since they conquered a Brandon Rush, Mario Chalmers, Darrell Arthur led Kansas team in 2006. Tonight, nothing extraordinary enough happened for DePaul to end that drought.
Marquette junior guard Markus Howard, the leading scorer in the Big East Conference, poured in 36 points, and the Golden Eagles shot 52.4 percent from the field and 41.4 percent from 3-point land to hand the Blue Demons a 92-73 loss, snapping DePaul's two-game winning streak. It's the seventh time this season Marquette has shot over 50 percent from the field and they've won all seven of those games.
"I thought that the adjustments from the first time in regards to how we guarded Howard and how we rotated certain things would allow us to turn the tables a little bit," Blue Demon head coach Dave Leitao said after the game. "He's a very tricky cover because of his high skill level. He shoots the ball as well as anybody in America. The games [where we were successful against him] we were able to use our length and our size to at least bother him enough and then rotate and get to guys and today we didn't do a very good job of either one of those."
"[We tried to] take the ball out of his hands," DePaul senior guard Max Strus said. "He's a good player and he played well tonight."
Marquette hit six of their first eight field goals out of halftime to quickly build a 19-point lead and maintained a double-digit advantage for the entire second half to roll to a 19-point victory. Efficient shooting lines were the story of the game for the Golden Eagles, with Sacar Anim pouring in 12 points on 5-for-8 from the field, Ed Morrow quietly going 4-for-4 from the field, and the Hauser brothers combining for five 3-pointers although they weren't as efficient as their teammates.
In front of a Wintrust Arena crowd teeming with fans wearing Golden Eagle blue and gold, Marquette put on a show to keep pace with a Villanova squad that also has 10 conference victories.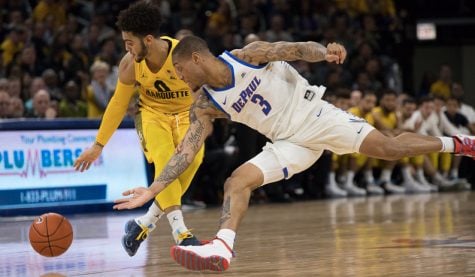 "Our fans have been awesome," Marquette head coach Steve Wojciechowski said. "A lot of our fans live in Chicago so they didn't have to travel as far. But on a day like today when it's a weekday, the weather isn't the best, for us to have such a strong showing [with the number of fans who attended] is so good for our guys. I can't tell you how much I appreciate the support our fans have given us."
Blue Demon big man Femi Olujobi put on a show from outside in the first half, pouring in the first three 3-point field goals that he attempted. He finished the game with a DePaul high 19 points on 5-for-8 from the field, but four successful free throws represented his only scoring in the second half. After connecting on a total of three 3-point field goal attempts the entirety of nonconference play, Olujobi has now sunk seven triples since the calendar flipped over to Big East play.
The Blue Demons return to action on Saturday against Butler when they'll attempt to avenge the 87-69 loss the Bulldogs dished out to them at Wintrust on Jan. 16. The game is at 7 p.m.
"When you set a GPS for a drive, you don't start marveling at the beach you're going to until you get there," Leitao said. "We're in the middle of a day-to-day battle. Ten [Big East] teams going back and forth. If you ask me, are we better than we were [I'd say] yes, but that doesn't mean anything it just means tomorrow is another day."
View Comments(1)