DePaul's struggles against Butler continue with 91-78 loss
Indianapolis — DePaul (13-11; 5-8 Big East) recovered from one double-digit deficit in the first half, but couldn't do it a second time as an 11-0 run midway through the second half helped Butler (15-11; 6-7 Big East) pull away for a 91-78 victory at Hinkle Fieldhouse on Saturday night.
After trailing by as many as 14 in a choppy first half filled with fouls, senior guard Eli Cain knocked down a three to pull DePaul within one at 57-56, but from there the Bulldogs responded with 3-pointers from Nate Fowler, Paul Jorgensen and Henry Baddley while the Blue Demons turned it over three straight times on the other end. Before long, Butler was back up 68-56 and the Blue Demons would get no closer than within eight points the rest of the way.
"We came out, we battled and found a way to get the ball inside and score some points and try as best we can to defend their multitude of shooters," DePaul head coach Dave Leitao said. "We had a stretch of three or four bad offensive possessions and they had three or four great offensive possessions which led to open shots and next thing you know we are down 12 again. It was later in the game, we had to do that same thing all over again."
The Blue Demons recovered from that hole in the first half despite battling foul trouble with Paul Reed, Devin Gage and Femi Olujobi all picking up two fouls midway through the first half followed shortly thereafter with Lyrik Shreiner collecting his third foul as he attempted to secure an offensive rebound.
Leitao was then forced to bring back Gage after senior guard Eli Cain left limped off the court following a pass to Olujobi with 9:30 left in the first half. However, he would miss just over two minutes of game action. Despite the first-half struggles, DePaul headed to the break with the momentum after Cain and senior guard Max Strus knocked down a pair of threes to cut the deficit to three heading into the break.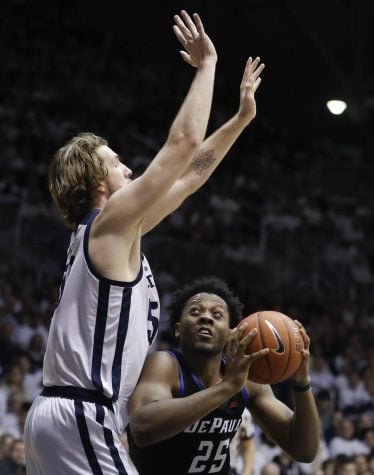 "We cut it down – there was a spurt that I feel like that they maybe got it to 10 – but cutting that down definitely gave us some momentum going into halftime," sophomore forward Jaylen Butz said. "Coming out of the halftime was kind of hard for us to keep that momentum so it was tough."
After missing the first game between the two sides, Butz was effective while finishing with nine points and eight rebounds in just over 23 minutes of action.
While DePaul shot nearly 52 percent in the second half, they allowed the Bulldogs to knock down eight threes and shot over 57 percent from 3-point territory. After holding the Bulldogs to just over 28 percent from behind the arc in the first half, Leitao said his team struggled at times with their screening coverages that forced them to be chasing shooters and break down their defense.
"The ball screen coverages or multitude of screens that they set creates a distortion of your defense," Leitao said. "Now you're chasing the ball around and you're closing out long close-outs to shooters. If you don't get over a Brunk or Fowler screen with Thompson or Baldwin and they start going downhill, it compromises you because the roll guy's got to be picked up which leaves shooters open on the perimeter."
After allowing an average of 58.5 points per game in wins over Providence and Xavier at the beginning of this month, the Blue Demons allowed over 90 points for the second straight game since then.
Strus said the issue Saturday stemmed from the Blue Demons' inability to keep Butler's guards in front of them, which forced DePaul's defense into tough spots.
"I think just keeping the ball out of the lane, that hurt us a lot today," Strus said. "The ball would get in the lane kicking out to guys and then we got to help and then rotate so getting guys in rotations hurts us so I think if we keep the ball in front of us, guys guard their own guy and keep your man in front of you I think that will help us out a lot."
Moving forward, he added that the Blue Demons' defense has to improve and if it does, it will help them in other areas as well.
"Our defense needs to get better," Strus said. "That's two games in a row we've given up 90 points so we obviously need to figure it out on the defensive end and come together on defense, and hopefully that leads to more offense and stops and rebounds and get out and run, so we really need to pick it up on defense."
With the loss, DePaul now sits in a tie for seventh in the Big East standings, however aside from the top two in Villanova and Marquette the rest of the conference remains wide open. The Blue Demons will be back in action Wednesday night when they take on Creighton at Wintrust Arena.