Creighton Bluejays stymie Blue Demon frontcourt; beat DePaul at Wintrust
The Creighton Bluejays (14-13; 5-9) executed head coach Greg McDermott's gameplan nearly flawlessly in a 79-67 win against the DePaul Blue Demons (13-12; 5-9) Wednesday night at Wintrust Arena
Force the ball out of the hands of the Blue Demons best players, their frontcourt, instead surrendering open outside shots to the DePaul guards with shakiest jump shots.
"Well, they got a couple of quick fouls which absolutely helped but we ran with some double teams when it went in there [into the post]," McDermott said in regards to how his squad slowed down the Blue Demon frontcourt. "Surprisingly, they haven't seen a lot of double teams during the course of the season. I think that may have upset their rhythm some, we lived with some shots from a couple of their players."
"We anticipated it [Creighton doubling the post]," Blue Demon head coach Dave Leitao said after the game. "Greg does a tremendous job of game planning and he snuffed out some of our guys that he played percentages with and they doubled our size guys. We touched on it, we've been working on it for two days on how you play out of the double team. We moved it around, but you got to get it out of there quick, you have to move it quick, and you have to attack quick and I don't know if all three of those happened enough for us to make them pay a price for doubling."
"When the ball goes into the post, what I'd like to see is a guy scoring one on one which has happened most of the year. Scouting being what it is, this league knows each other so well I think [Greg] put in a second guy [in the post] and dared someone else to beat you."
Paul Reed and Femi Olujobi combined for six shots and 12 points as the Creighton Bluejays earned a 36-16 advantage in points in the paint, nearly outrebounded (33 to 32) the second-leading rebounding team in the Big East Conference, and held Reed to just two points which was his lowest scoring output since the beginning of December when he scored just one point against Northwestern.
With the paint clogged with double teams, the shots funneled to the Blue Demon guards. Devin Gage finished with a season-high 16 field goal attempts (he connected on four of them), Lyrik Schreiner missed all four of his shot attempts, and Max Strus needed 17 shots to record his 18 points.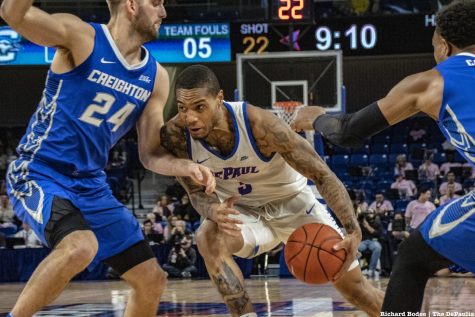 The one player who benefited from the increased attention to Olujobi and Reed was redshirt freshman point guard Flynn Cameron. The New Zealand native netted a career-high 11 points on 4-for-4 from the field including 3-for-3 from the 3-point line. He competed with the taller players on the boards, bringing down four rebounds, and on multiple occasions gave up his body diving for loose balls. He finished with one turnover in 18 minutes of playing time.
"A guy who hadn't played a whole lot all year long, but the thing I respect about him the most is that he's been the exact same person the whole season," Leitao said. "I've never seen him down, I've never seen him stop working. I've never seen him stop trying. Never seen him not practicing hard. He's been on the second team, he's been on the scout team. He's been all over, he obviously hasn't played a lot so to come out in the second half of the Big East season and hit four shots without hesitation speaks to the kind of man he is."
With the loss, the Blue Demons have dropped three straight games and sink into a three-way tie in a tightly packed Big East Conference. A bad first half contributed to the loss tonight.
Reed's two early fouls brought him out of the game for eight minutes and allowed him to hoist up one solitary shot attempt in the first 20 minutes of the game [which he missed]. Olujobi picked up three first half fouls, allowing him to play just six minutes in the half. He finished the game with 10 points on 4-for-4 from the field, but played just 16 minutes.
DePaul limped into halftime on a 4:35 scoring drought allowing Creighton to roll into the lockeroom with a 41-30 lead after Ty-Shon Alexander nailed a long 3-pointer that plopped softly on the back of the rim and nestled in the basket as time expired.
The Blue Demons have a one week hiatus before they travel to face Georgetown on Feb. 27.
View Comments(1)