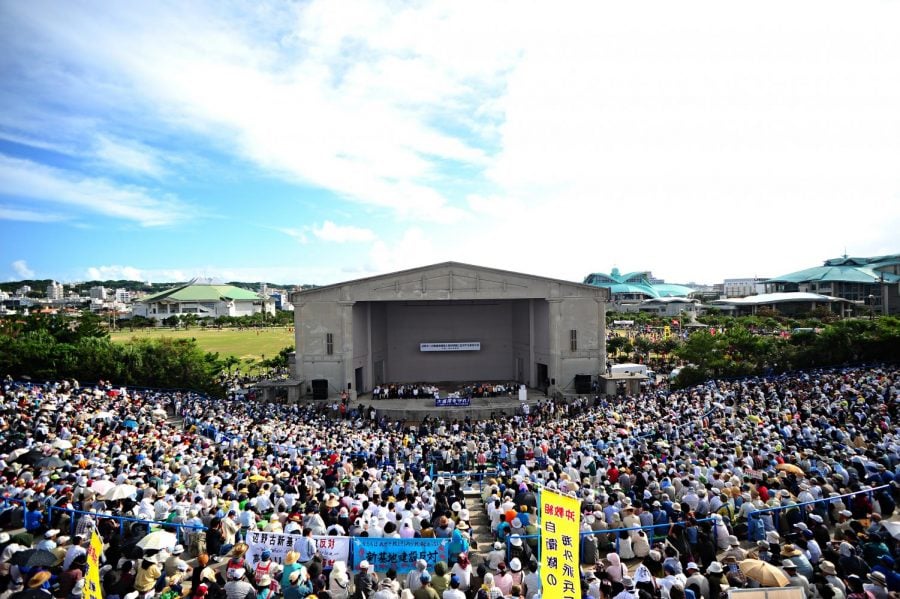 Nathan Keirn | The Wikimedia Commons
Okinawans vote against relocation of US air base
March 4, 2019
It was an important moment. On Sunday Feb. 24, with a voter turnout of more than 50 percent, 434,273 voters in the southern Japanese prefecture of Okinawa rejected the proposed transfer of the U.S. military base in Futenma to another location in Henoko. The non-legally binding referendum also saw 114, 933 votes in favor of the transfer, which has been discussed since 1995, and 52,682 votes for "neither."
America's military presence in Japan has long been a divisive issue for local residents, many of whom have complained about loud noise, falling pieces of aircraft and even violence against women. In 1995, the rape of a 12-year old girl by several service members prompted widespread outrage, and in 2017 U.S. army base worker Kenneth Franklin Shinzato was found guilty and sentenced to life in prison for raping and murdering a woman in 2016.
Even though Okinawa makes up less than one percent of Japan's total land area, it hosts over half of all American military personnel in Japan. Most of the U.S. military presence is concentrated in the southern portion of the island.
Mayor Denny Tamaki, who was elected in October of last year and is half-American, celebrated the results of the referendum. A longtime critic of building additional U.S. bases in Japan, he said he would call for the U.S. and Japanese governments to stop their planned relocation of the base.
Prime Minister Shinzo Abe stressed that he would continue to listen to the concerns of Okinawans even as the relocation project, which has been in the works for more than 20 years, gets underway.
Gunnery Sgt. Derek Carlson of the United States Forces-Japan Public Affairs directorate said the U.S. military presence in Japan is important for security in the Indo-Pacific region.
"The 54,000 service members stationed across Japan give the United States a vital forward deployed capability that deters aggression, aids in Japan's defense, and enhances regional peace and security," he said via email.
"The 2018 National Defense Strategy recognizes that North Korea, China and Russia all present unique strategic challenges for the United States," he continued. "Our alliance with Japan and our robust U.S. military presence here, including in Okinawa, not only helps  our [sic] both of our nations address these challenges but also helps develop and enhance regional partnerships with like-minded nations around the Indo-Pacific.
When asked how U.S. forces in Japan are addressing the concerns of local communities in addition to their broader security mandate, Carlson said: "Our forces in Japan and Okinawa in particular work very hard every day to balance the concerns of local communities with our treaty obligations for Japan's defense and our wider responsibility for promoting regional security."
Michael O'Hanlon, senior fellow and director of foreign policy research at the Brookings Institution, said that while U.S. air bases in Japan are important for regional security, he believes ground-force bases for Marine infantry need not be stationed on Okinawa.
"I think there are lots of concepts for alternative arrangements, including with forces in the region and the U.S., combined with greater strategic lift and pre-positioning to move them faster to the region if needed," he said.
The U.S. hasn't left Japan since 1945. During the Korean War, Kadena Air Base, the biggest on Okinawa, was a key launching point for U.S. operations in Korea. Camp Schwab in northeastern Okinawa played a similarly important role in U.S. actions during the Vietnam War.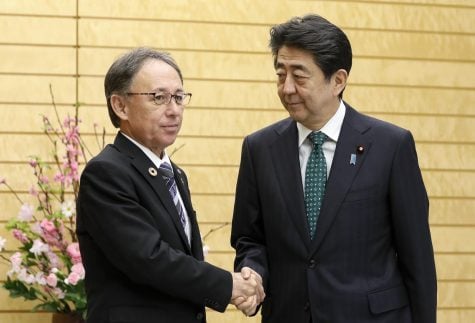 According to Article 9 of Japan's constitution, Japan's own military is not permitted to wage war outside its borders. But in 2014, Abe's administration approved a new interpretation of the clause that would allow Japan to defend its allies if war is declared against them.
Alexis Dudden, a professor of history at the University of Connecticut who specializes in modern Japan and Korea, said Okinawa's new governor has helped to bridge the divide between older and younger activists, who are critical of the U.S. presence in the province.
"I think Denny Tamaki has made it fresh, because he's kind of an unusual figure insofar as not only is he half-Japanese half-American, but he's not anti-American military per se," she said. "He's anti 'another base.' So what he's really doing is making this a Japan-Japan issue rather than Okinawans versus the United States."
Dudden visited Japan this past summer when talk of the referendum was picking up steam.
"I interviewed people on both sides," she said. "One of the women that gave the most powerful testimony said: 'Look, my boyfriend is in construction, this is how we're paying for our kid. If we build the base, I have a house. If we don't build the base my boyfriend's going to leave me and I'm going to be a single mom … does that make her wildly pro-American? This has nothing to do with it. It's rent."
This isn't the first referendum over the relocation of Futenma Air Base. A non-legally binding referendum in 1996, one year after the 1995 rape of a Japanese girl, saw residents voting in favor of both reducing and consolidating U.S. bases in Okinawa. The referendum also asked whether residents thought the Japan-U.S. Status of Forces agreement should be reviewed. And in 1997, a majority of voters in Nago City, which is near the Henoko district relocation site, voted in opposition to the construction.
One of the biggest issues of America's continued presence in Okinawa, Dudden said, is the question of if Japan is in truly in control of its own borders.
While protests will continue, future conversations between local politicians and Tokyo will likely focus not on how to keep the U.S. presence out, but on how to prevent it from spreading through Okinawa any further.