Seniors step forward in win over St. John's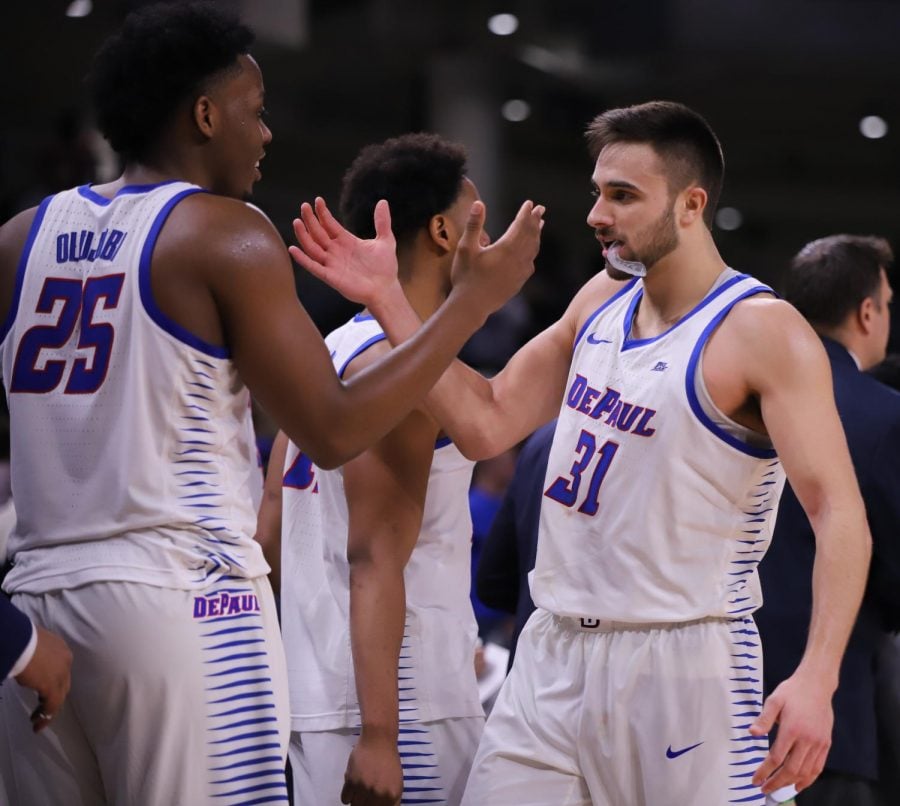 Being a player on the DePaul men's basketball team hasn't been easy over the years, with there being more losses than wins, long losing streaks throughout the season, finishing near or at the bottom of the Big East and fan support being small at times, the players, especially the seniors have had to stick together through tough moments. The one constant for the Blue Demons this season in their up and down season has been the play and leadership of their three seniors: Eli Cain, Max Strus and Femi Olujobi.
That was on full display against St. John's on senior day on Sunday at Wintrust Arena, where DePaul fought back from an early 12-point deficit to win for the second time against the Red Storm 92-83. In a game where the Blue Demons struggled early on, trailing 16-4 after the first five minutes and 42-33 after the first half, they relied heavily on their seniors, especially Strus and Olujobi, in the second half to fight back.
The duo combined for 49 of the team's 59 points in the second half with Strus putting up 36 of them en-route to a career high 43 points on 13-for-36 shooting, 5-for-8 from the 3-point line and 9-for-9 from the free-throw line. In a game where most of their other players struggled to get going because of the matchup on hand and because of foul trouble, Strus and Olujobi made sure to step up for their team.  
"The shots were just falling today," Strus said after the game. "I take those shots every game, teammates did a great job of setting screens, finding me and when they knew I was hot they kept coming to me. So, I think they did a good job of executing that, keep doing that and coach kept calling my number."
In conference play this season it has been the play of Olujobi and sophomore forward Paul Reed that on most nights that have carried the Blue Demons. With that transpiring, Strus and Cain took almost a back seat and allowed them to garner most of the attention, while they picked their spots to attack in games. However, with Reed struggling with foul trouble most of the game on Sunday and the same with Cain, Strus picked up the load and helped Olujobi to deliver a masterpiece in the final 20 minutes.
"We won, that's really all that matters," Strus said after his 43-point outing. "Made a couple of baskets, we won the game, back on the winning streak now. It was getting rough here for a little bit, but we are going to turn things around and that's a good step to do it. Happy the way we executed and played our game. It was a good way to send us off for Senior Day."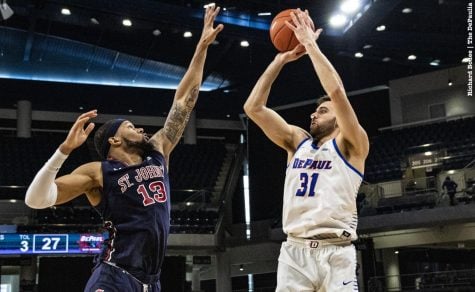 The game against St. John's is an accurate description of what these three seniors have meant for DePaul men's basketball, in a tough moment with the team in need of a lift, it was the veterans who led with their scoring, defensive effort and leadership to propel DePaul to their sixth conference win of the season, their highest mark since the 2014-15 season.
For these three seniors the stage never got too big for them against St. John's as the Blue Demons kept climbing back and eventually taking their first lead midway through the second half, only to see the Red Storm reclaim the lead on the next possession. Strus and Olujobi responded by trading baskets each time down the floor, hitting virtually every shot and holding onto the lead for the final 10 minutes of the game.
"First and foremost the commonality they have is they are tremendous people, they are giving people, they are kind and to do that in a sport that doesn't always get noticed," DePaul head coach Dave Leitao said after the game about his three seniors.
Leitao, who is in his second stint with DePaul, came back in 2015 and the first player that he recruited and signed was Cain, who is from New Jersey. Cain, unlike Strus and Olujobi, has been at DePaul for four years and has been through all of the ups and downs with Leitao. In their first meeting against St. John's on Jan. 6, Cain became the 50th player in program history, before Strus reached that mark on Sunday, to surpass the 1,000 point mark. Cain won't just be remembered for his scoring abilities, but the fact that he's been a loyal member of this school and that he was an important leader on the squad each season.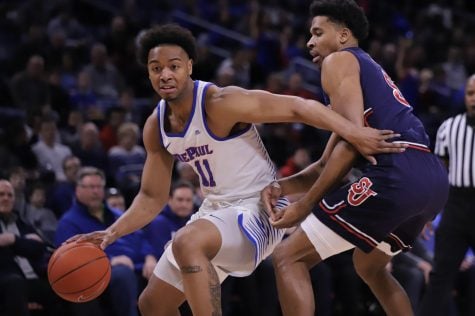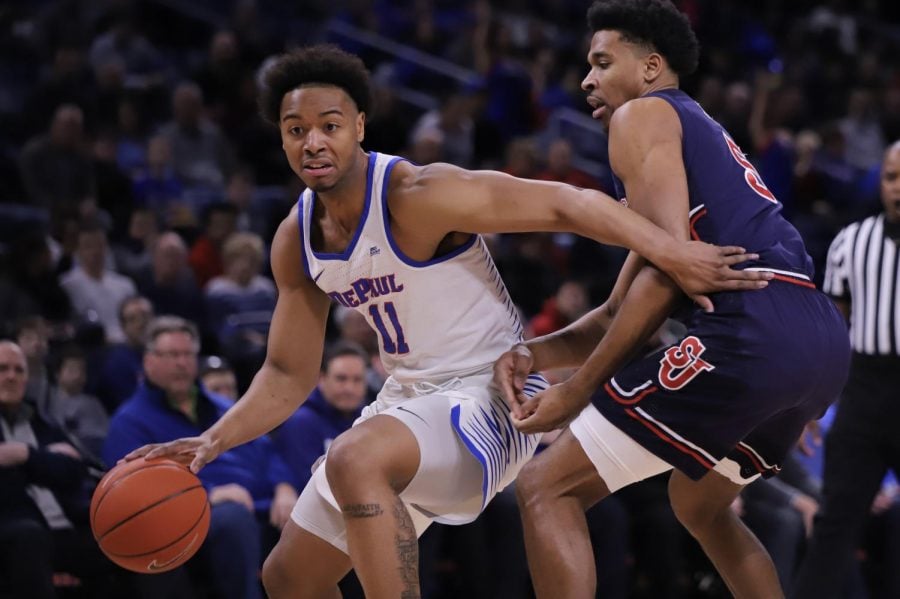 "…Then Eli, as I told his family, I went straight back on my first week on the job having to go to New Jersey to re-recruit him," Leitao said about Cain. "To sit with his mom and explain who I am and what my vision is, and to sit with he and his dad to do the same thing and they wrapped their arms around me. As I said that means more, for each one of them, but for Eli, means more than any win that any coach can ever have when you have someone who believes in you, especially when it's blind. I'm indebted to the three of them and their families forever."
Olujobi was the one who has been at DePaul the least amount of time, with Cain being in Lincoln Park for four years and Strus for three years, while Olujobi transferred over from North Carolina A&T this season. He has settled in with team and on the campus like he's been here for all four years. His presence on the court has also been noticeable and important, especially in conference play, averaging 15.4 points per game in the Big East, second on the team, and 5.3 rebounds per game.
"Just I realized that the great relationship I have with coach Leitao, I've always known we have a really, really good relationship, but just going out there and hugging him [knowing] next year I won't see him everyday," Olujobi said after checking out of the game for the final time and him and Leitao embracing on the sidelines. "It all hit me at once, it's just I appreciate him so much, he's done so much for me, so much for us as players, as men, which is more important than just the basketball aspect of it. It meant the world to me"
For all three, Cain, Strus and Olujobi, the win over St. John's was the perfect send off for the trio. As they checked out of the game for the final time, they all received standing ovations from the crowd and received a huge hug from their coach.
The trio and the rest of the DePaul squad will have one final home game of the season against Georgetown on Wednesday before traveling to take on Creighton on Saturday for the regular-season finale.