DePaul explodes for 101 points in dominant performance over Georgetown
Wintrust Arena amplified into a frenzy of applause, clapping, and chanting as DePaul seniors Max Strus, Femi Olujobi, and Eli Cain checked out for what could be the last time at their home arena.
This same energy the lively Wintrust Arena crowd put into honoring their seniors was present all night long as the DePaul Blue Demons (15-13; 7-10) gave the 4,756 fans in attendance plenty to cheer about in a 101-69 victory against a Georgetown Hoyas (18-12; 8-9) team fighting for their NCAA tournament lives.
Tonight, it was DePaul executing the devastating run, burying their opponent early in the game and then exploding for a 19-0 run late in the second half to seal a second straight Big East Conference victory.
"You just have to stay in your lane, you don't get too low, you don't get too high," Blue Demon head coach Dave Leitao said after the game. "You work your tail off, you do the little things, you keep your mind clear and that gives you the best opportunity. But what happens is there are so many intangibles coming from the other team. How they perform has a lot to do with it and that becomes uncontrollable. We just try to continue to stay in our lane, take it one moment at a time, and see what happens."
Georgetown nearly halved the Blue Demons 23-point halftime advantage when they clawed back to within 14 points with 11:55 remaining in the game. But tonight, DePaul countered with a 19-0 run of their own to rebuild their advantage to 38 points in a lightning quick 4:08 of game time. Strus canned 10 of his game-high 30 points during this stretch including his seventh and eighth triples of the game that moved him into a tie for DePaul's single-season 3-point record (85) and tied his own record for most 3-point field goals in a game (eight). Sophomore big man Paul Reed was Strus' sidekick during the 19-0 run, scoring seven points all coming in the paint.
Olujobi,  Strus, and Cain combined for 42 of the Blue Demons 54 first half points. When the game ended, the three had a combined 67 points (66.3 percent of the Blue Demons total scoring output) with Reed supplementing that scoring with 19 points and 10 rebounds for his sixth double-double of the season.
"When you're up 23 at halftime that becomes a difficult conversation because there's a very natural letdown," Leitao said about holding onto the lead. "At the start of the second half, at one point it went from 24 to 14 and the encouragement [from me] at halftime as well as during the early part of the second half was we got to just keep doing what we are doing and don't let up."
DePaul assisted on a tied-for-a-season-high 24 of its 32 made baskets with redshirt sophomore Devin Gage leading the way with 10 points and one turnover.
"It started on the defensive end," Cain said about the ball distribution tonight . "We're a really special team in transition and coach kind of stressed that. When we get stops it's easy for us to get into transition. We knew we had an advantage with Paul running down and Max and me on the wing. Devin played phenomenal tonight. He was the head of our horse tonight and we just followed."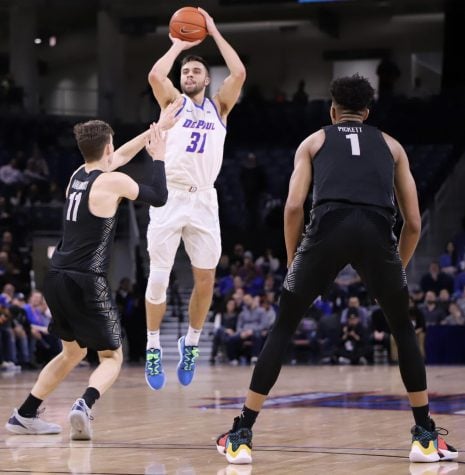 After a senior day performance that left something to be desired (14 points on 5-for-15 from the field against St. John's on Sunday), Cain stuffed the box score tonight, potting 24 points on 8-for-16 from the field, draining four 3-point field goals, and dishing out five assists to only two turnovers. He now has 388 career assists, good for the ninth most in DePaul history.
"The thing that I like most about him is he is even keeled," Leitao said. "Sometimes I wish he was a little bit more emotional, good or bad. But he's very guarded and very even keeled about it so there was absolutely no panic or ill feelings. You wouldn't see any different body language  if he was in foul trouble and had two points [compared to what you'd see if he did] what he did today. He was the same guy and that's one of the biggest keys to being able to maintain yourself and play through highs and lows. He had a tremendous game all the way around."
DePaul held a Hoyas team that came in averaging 80.9 points per game good for 29th highest in the nation to 35 percent shooting from the field (Georgetown's third lowest of the season) and 25 percent shooting from behind the 3-point line (Georgetown's fourth lowest of the season).
"It's about time," Strus said. "We've been waiting to do that. Everything is clicking right now. Coach has been stressing that defense wins games and when we went on that four-game losing streak we were giving up [a lot of] points. I think tonight it showed that we really take this personal and could get stops as a team."
In what could be their last home game depending on if DePaul earns a postseason berth in the National Invitation Tournament or the CollegeInsider.com tournament, the Blue Demons sent out their seniors in the best way possible. With a victory.
"That's the kind of way you want to remember playing in Wintrust Arena," Leitao said. "For all this building has brought us in a short amount of time, that's a tremendous way to write their story."