DePaul look to secure Big East Tournament first round bye in regular season finale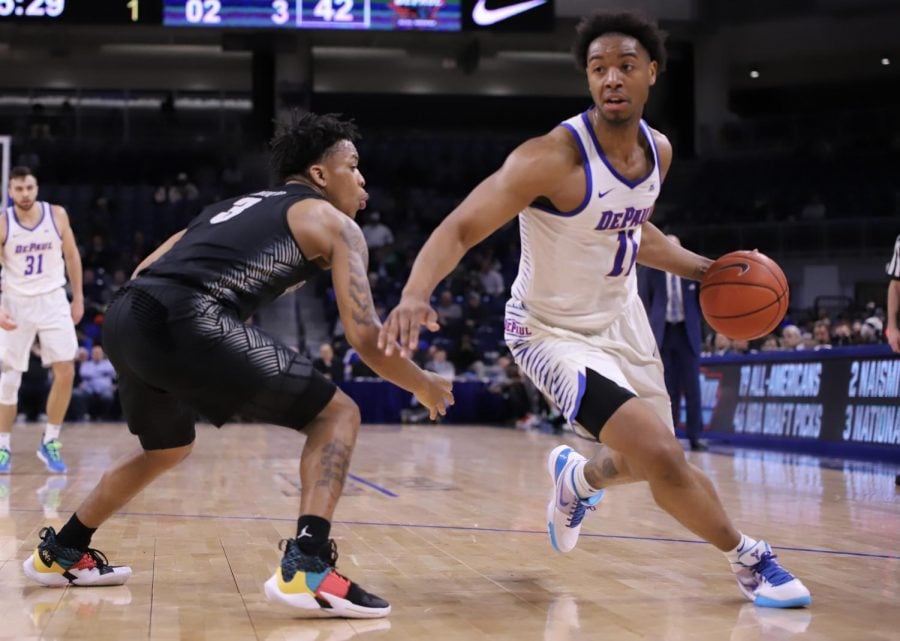 When DePaul and Georgetown met for the first time this season on Feb. 27 in Washington D.C., the Blue Demons played, arguably, their worst game of the season, committing 11 turnovers and allowing 49 points in the first half en-route to a 82-73 loss. The loss was the fourth straight game DePaul lost and dropped them to the bottom of the Big East for the first time this season.
Seven days later, DePaul got its payback in its final home game of the season.The Blue Demons erupted for 54 points in the first half and went into the break up 54-31 before winning 101-69.
"I thought from start to finish we played our most complete game of the season, both ends of the floor," DePaul head coach Dave Leitao said after the Georgetown win on Wednesday.
This was no doubt the most complete game DePaul has played all season for 40 minutes, the Blue Demons came out in the first half on the front foot, jumping out to a 14-point lead inside the first five minutes and led by as much as 27 points in the first half.
DePaul kept its foot on the accelerator in the second half even as Georgetown tried to cut into the lead on a few occasions. The Hoyas got within 14 points at one point in the second half, but DePaul responded by doing something they have been victims to at times this season: they went on a 19-0 run in a 4:08 stretch to build their lead up to 38 points.
"When you're up 23 at halftime that becomes a difficult conversation because there's a very natural letdown," Leitao said. "At the start of the second half, at one point it went from 24 to 14 and the encouragement [from me] at halftime as well as during the early part of the second half was we got to just keep doing what we are doing and don't let up."
That 19-0 run in the middle of the second half sealed the win for the Blue Demons and capped off a perfect final homestand of the season for DePaul as they escaped the cellar of the conference and sent their out their seniors, Max Strus, Eli Cain and Femi Olujobi, on a high note.
"It's special obviously, it's always special to get a win in general," Cain said on Wednesday. "With a win like this and an atmosphere inside and the last game for us seniors at home I think it's just special. But we are not done here yet."
As Cain said, his team is not done yet this season because they still have business to take care of Saturday night in the regular-season finale against Creighton.
"We knew we were capable of that all year," Strus said of the 42-15 start against Georgetown. "Unfortunately, it took till now to find it, but like I said this is the perfect time to have everything clicking and working the right way. So, we are excited to move on forward and we can't get complacent after this win. We have one more against Creighton on Saturday and we need to keep winning."
Since DePaul has joined the Big East in 2005-2006, there haven't been many games as important as this one against the Bluejays for multiple reasons. For starters, if DePaul manage to win this game on the road then it will be its first three game winning streak in the conference since the start of the 2014-2015 season.
DePaul also has a chance to earn a first-round bye in the Big East tournament next week in New York with a win and some help. DePaul can guarantee they don't finish in last place in the conference for the first time since the 2015-2016 season, when they finished in ninth, by beating Creighton.
There's also a possibility DePaul can finish as high as fifth place in the conference, which would be the highest ever finish for DePaul in the Big East. The Blue Demons need Marquette to beat Georgetown and for DePaul to beat Creighton to finish in fifth.
"Very, very happy, very proud and enjoy it for a little while because Creighton at Creighton, they won tonight, will be a [giant] task to come out of their with a win," Leitao said. "I'd rather go in a Saturday night winning this game than not, so very, very proud."
When Creighton and DePaul faced off for the first time this season on Feb. 20 at Wintrust Arena, the Blue Demons struggled to score all night with Strus leading them with 18 points. Olujobi and sophomore forward Paul Reed only combined for 12 points and sophomore guard Devin Gage had a horrific shooting night, going 4-for-16 from the field and 2-for-7 from the 3-point line.
DePaul are going to need a similar performance from their previous two games if they are going to pull out a win against the Bluejays who are also fighting for a higher seed, as they currently sit at 8-9 in the conference and sixth in the standings. This will be the final game on Saturday, as all the other four games will be played prior to this one, so both DePaul and Creighton will know where they might finish in the conference with a win or loss before tip off at 7 p.m. CT.
"Keep going, stay undefeated in March and just keep doing what we are doing," Strus said "Things are clicking right now, we are playing the way we want to so it's the perfect time to get hot."